AXA story
"You'll always be encouraged to learn as you go"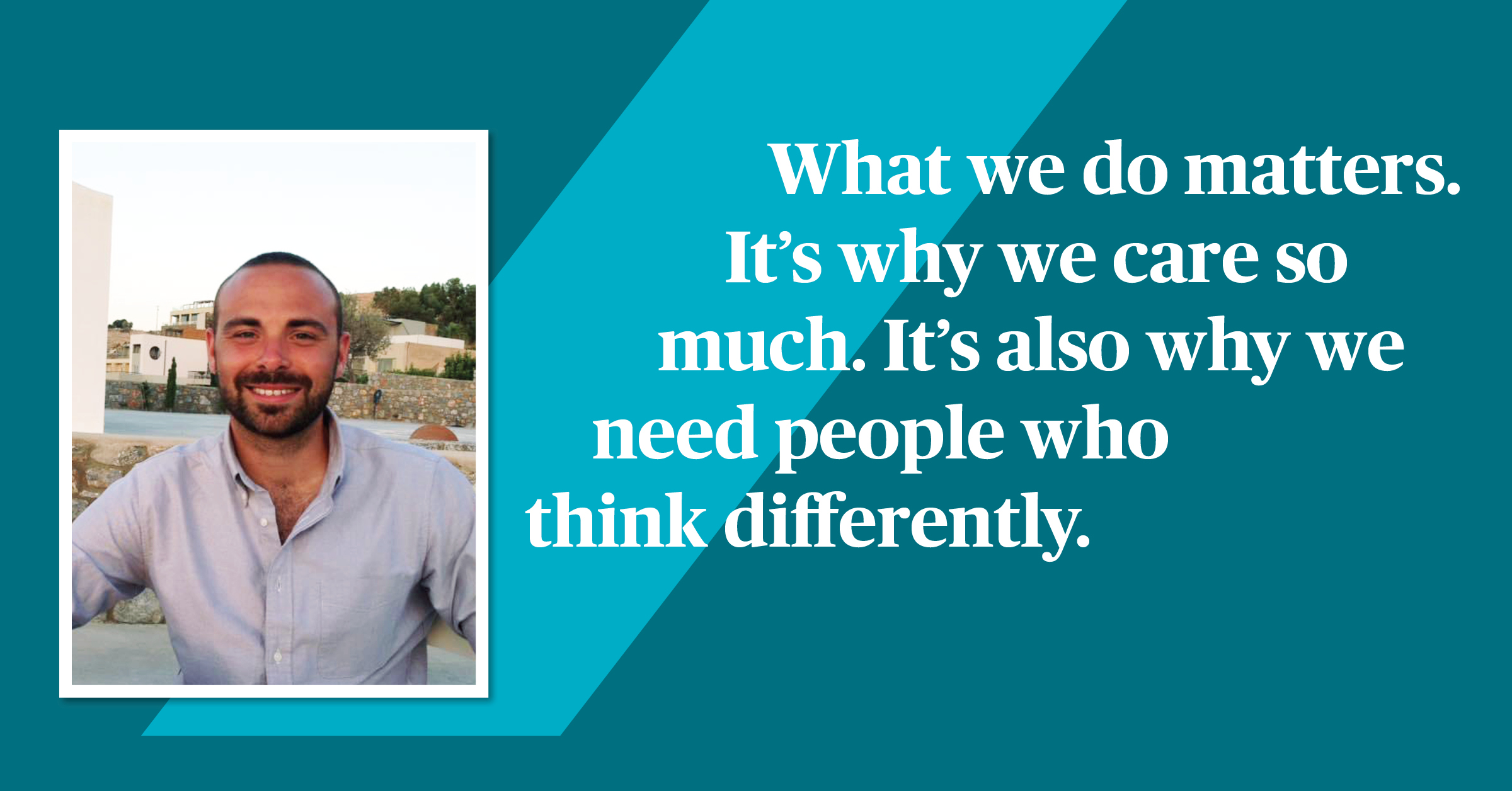 In AXA Health, we're revolutionising how we use data to empower millions of customers to live better lives. In our new series, we meet team members from our Data, Analytics and Intelligence (DAI) team to find out how they're helping to transform our business.
Sam Harmsworth's CV might not be quite what you'd expect for a Data Management Analyst.
"I was working in an entirely different world before I started my job here – contaminated land" Sam says. "I really didn't enjoy the fieldwork, so I knew I was ready for a new direction!"
That's how Sam came to join AXA Health in his first role helping the business to become GDPR compliant.
"I enjoyed meeting new people from different parts of the business, but I quickly realised that it was data that sparked my interest, so I decided to explore the more technical side of data and technology."
Sam talked through his thinking with his manager and was able to explore the possibility of moving into something more suited to his interests.
"I was initially offered a role that wasn't quite the right fit as it was away from data and computers, but my managers listened to my concerns and found a role more suited to me," he said.
Now, Sam is an analyst in our data management team. In his new role, he says he gets to experience the best of both worlds, interacting with the business whilst getting under the skin of the company's data landscape.
"We're the middlemen between the technical teams and the wider business," Sam explains.
"We're a small, focused team with individual specialisms. Part of what attracted me to the role was having the opportunity to move around and learn more about each other's areas of expertise, building my skillset and understanding of the different programmes we use."
Much of Sam's time is spent working on our UNiTY production line; a project which aims to bring together raw data from AXA Health's main applications into a single cloud-based platform.
Drawing on the skills of data specialists from across the business, the production line will produce good quality data which can be modelled into families. This output can then be shared and analysed more effectively across the business.
"It's a big project, but it will be hugely beneficial," Sam says.
"By bringing together data sets from different parts of the company, we're able to really ensure that it's telling us the full story. This helps our management information (MI) analysts understand the bigger picture and make better decisions for the business and for our customers," Sam tells us.
"UNiTY will also make a fundamental difference to the way the business operates, by helping our teams to minimise duplication and allowing us to analyse data more efficiently and consistently."
So, what advice would Sam share with someone looking to join the AXA Health data, analytics and intelligence team?
"It helps to be a 'people person' so make sure you're comfortable communicating with people across the business. Technical experience is good, but you'll always be encouraged to learn as you go. And don't be afraid to bring creativity and good ideas – the team is always open to trying something new."
We're on a mission to harness the power of data to help more people be the best version of themselves. If you are driven by curiosity and share our passion for transforming healthcare, apply to join us as an analyst today.