AXA story
Why I prefer dealing with customers in Teesside than butterflies in Peru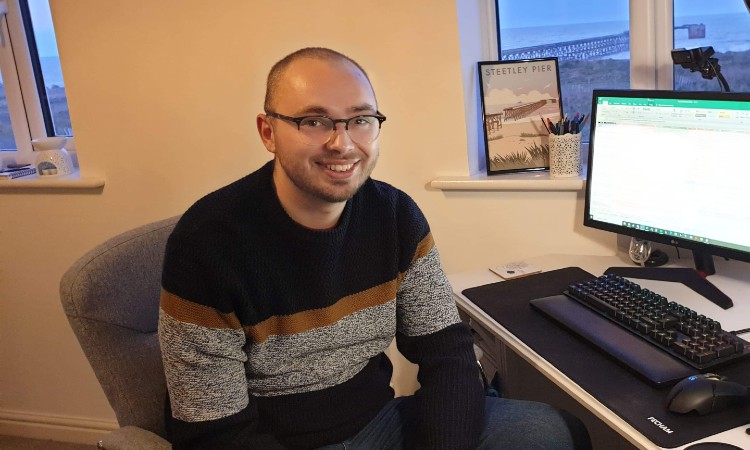 Career paths aren't always linear; in fact many of our customer service team members have had some unusual jobs before joining us here at AXA! We caught up with one of Teesside's newest recruits, Max, to find out about his unconventional career path and understand what it's like to be a new joiner during this time of home working.
"On leaving university I was lucky to land my dream job as an assistant ecologist - I got to travel to places like Mexico and Peru and gather data on my specialist field which was butterflies, I felt so fortunate. But what became apparent was that ecologists lead a solitary working life, and as someone who really enjoys talking, that's less than ideal!
I started to think about how I could use my skills in other ways, and over the last few years have gained experience as a secondary school teacher, as well as temping as a customer service representative in between. Having ruled out teaching as the vocation for me, I explored the job market and jumped at the chance to work for this big, household name company that has such a positive reputation.
Joining AXA during the Covid pandemic
As a new joiner during the pandemic, working from home is part of my role - initially while training and potentially longer term, because AXA supports flexible working. The training was fantastic; we had a day dedicated to setup of our AXA-supplied tech, followed by a month of really well organised online group training led by Jane Fyson, our Training Officer. There was plenty of variety, with our days involving a mix of group video conversations, self-study, quizzes and roleplays.
When we we're allowed into the office after first lockdown, I must admit it was a step I was dreading – I'd been enjoying having no commute, a comfortable 9am start and lunches at home. However, through the friendly, supportive atmosphere and the guidance from the team of experienced colleagues who are constantly on-hand to give us a nudge in the right direction – I can now honestly say that I miss the team immensely since we've had to switch back to working from home again.
Progression is not just a buzzword
Whilst progression and further opportunities did get discussed during the initial meeting, I was a bit sceptical. I assumed that these opportunities would be a long way off; however after talking through my goals during my first one-to-one with my Team Leader, Tina Smith, I'm already being given the opportunity to potentially progress to another role within AXA! I genuinely feel that AXA has really invested in us as employees, and I feel confident in my ability to both do my job and build my career within the company.
If you're considering applying for a job with AXA, I can't recommend it strongly enough. I wish you the best of luck with your application and interview, and look forward to meeting you here!"
If you'd like to join Max's team you can find out more about our latest career opportunities in Teesside here.