AXA story
Thrive in a diverse community: Meet Emily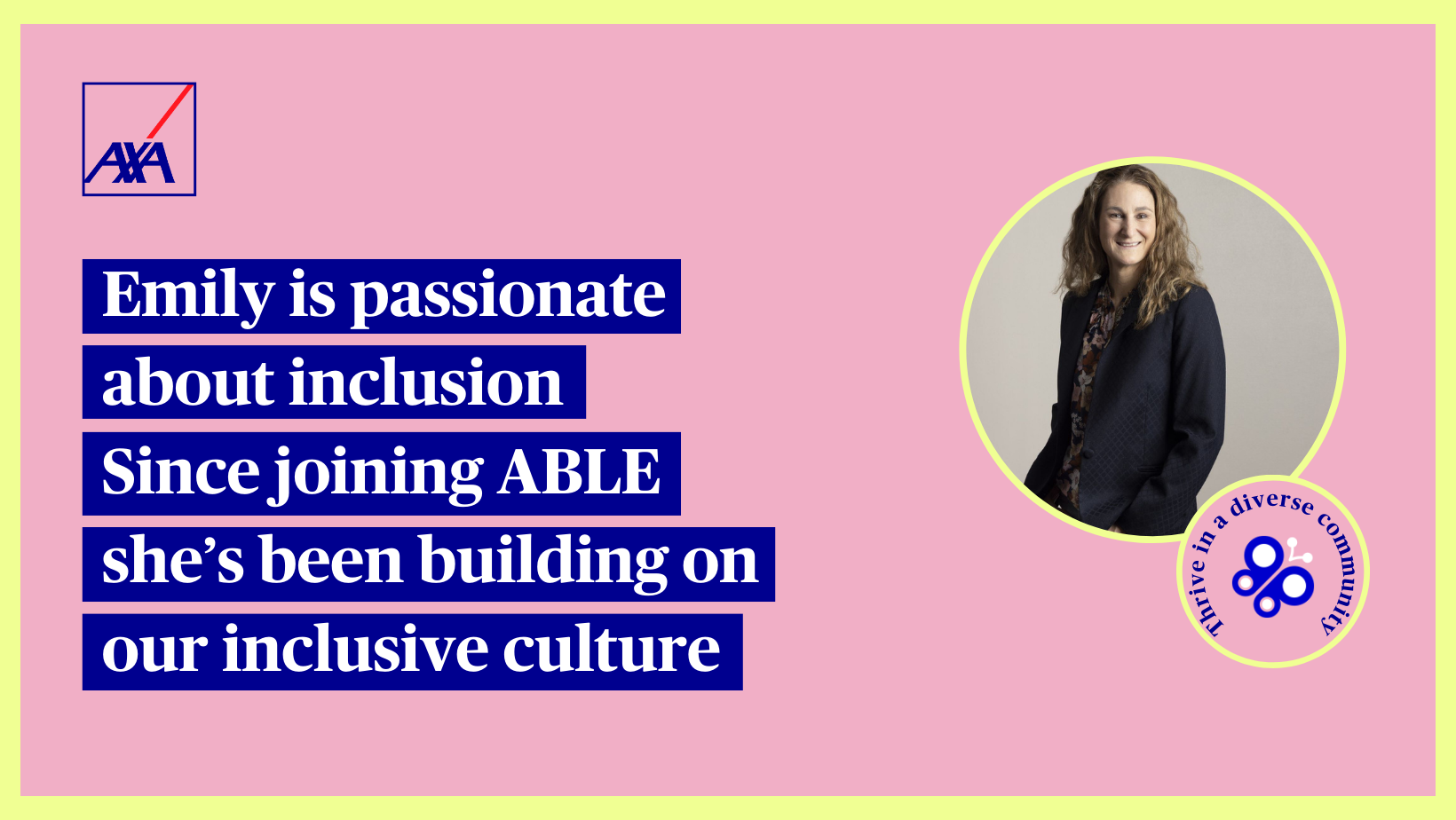 Emily Coupland, AXA UK & Ireland General Counsel and Executive Sponsor of the AXA ABLE network, tells us about what disability inclusion means to her. Emily has worked at AXA for over 20 years in various roles before progressing into her current role in May 2021.
As we recognise the International Day of Persons with Disability (IDPD), we discuss the meaningful work Emily and the wider ABLE employee network do to promote a culture inclusion at AXA UK. We also take a moment to celebrate the recent renewal of our Disability Confident Leader status as an Employer.
Why did you want to become the Exec Sponsor for the ABLE network?
I'm passionate about inclusion. I have two neurodiverse teenage boys and have seen the struggles they have gone through at school. Those struggles will only get harder if places of work don't put measures in place to create an accepting and dynamic environment. So I wanted to take an active part in driving change towards a truly inclusive working culture.
I believe employers have a huge part to play in driving that change. I want to help AXA drive even more change and build on our inclusive culture where differences are celebrated.
Tell us about some of the key achievements in the past year?
I'm really pleased with what the ABLE network have achieved. Inclusion has always been important to AXA, but now I'm hearing it being discussed more upfront in the context of strategy and planning thanks to the ABLE network. Being surrounded with people that are just as passionate as you, really spurs you on. Some highlights include:
Delivering a series of events internally to help to educate, celebrate and acknowledge IDPD.
Renewal of our Disability Confident Leader accreditation, being one of only two insurance companies to achieve this.
Recent appointment of Claudia Barber, Operational Insights Analyst, as the new ABLE network Chair, who I'm loving working with. She brings so much energy to the topic and has many ideas on how we can make a difference.
Adding T-Loop to all UK offices, a reminder for those wearing the hearing aids to flip the device to the 'T' setting, which tunes them into the hearing loop.
We've seen the launch of our Recruitment Concierge and have hired a Workplace Accessibility Specialist and an IT Accessibility Specialist. Ensuring that both our candidates and employees with a disability have the right tools and adjustments to be able to apply for roles and once onboarded, to then do their jobs effectively and without barriers.
Finally, being selected for the Generation Valuable which is an initiative being run by The Valuable 500. Generation Valuable seeks to accelerate opportunities and elevate the voices of people with a connection to disability by being mentored by a Senior Exec. I've been paired with Frederic de Courtois our Group Deputy CEO. The mentees gain insight into the knowledge, access, and tools they need to grow as professionals. The mentors gain invaluable insight into the experience of disabled employees and customers, whilst examining ways to further increase inclusion at their organisation.
What's to come from the ABLE network in 2023?
So many great initiatives from our Chair, the network, and our workstream leads. We split the ABLE network into 3 workstreams to focus on particular areas. Neurodiversity, Everyday Inclusion and Hidden Illnesses, which incorporates mental health and recognises that not every disability is visible.
We'll be launching roadshows, blogs, videos, podcasts and other methods to increase awareness and engagement internally and provide a supportive community for our employees with a disability and our allies.
Is the insurance sector doing their part to drive disability inclusion?
We're at the start of the journey with different firms being at different levels of maturity. I'm seeing that disability is on the agenda in the insurance industry, both in terms of our employees and our customers and that's really encouraging.
An example of this, is that I've seen recruitment practices change, be that recognising that some roles in insurance may be very suitable for a neurodiverse profile, or job descriptions being tailored to be more inclusive and ensuring inclusivity and accessibility in the recruitment process for candidates with disabilities.
What are your hopes for the future for people who are disabled/neurodiverse?
As the mother of two neurodiverse teenage boys, it's something I think about often. There are shocking statistics on the amount of people with disabilities who are not in paid employment. Businesses are missing out on an untapped talent pool. I hope that our drive for inclusivity continues to grow and thrive and we see differences not as 'odd' but as a strength.
Thrive in a diverse community:
At AXA, we believe our differences are what makes us great. And a diverse workforce allows us to create a fair, thriving and enjoyable work environment, and be the best we can for our customers.
We're working with our employees at AXA UK to collect their diversity data so we can better understand the makeup of our workforce and how we can support them. So far, 57% of our around 10,000 employees have shared their disability data with 16% advising they have a disability or mental health condition.
If you'd like to join an inclusive company focused on helping you thrive, ​​​​​​search our latest jobs to find a role that's right for you. Or follow us on LinkedIn to find out more about life at AXA.