AXA story
Thrive in a diverse community: Meet Olivia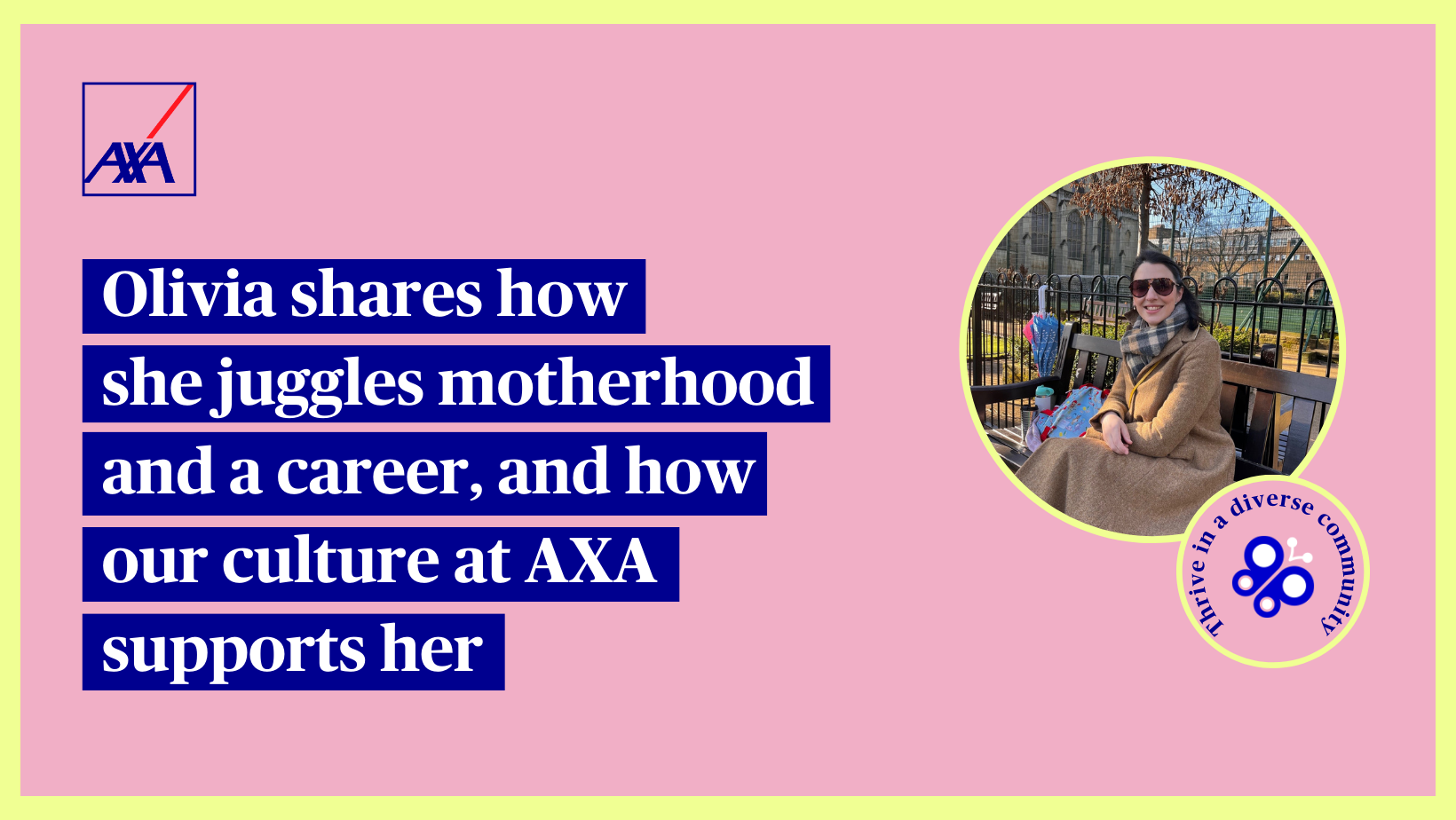 To celebrate International Women's Day 2023, we spoke to Olivia Banbury, AXA Retail Strategy Director about juggling motherhood and a career, how workplace culture has evolved and why she became Exec Sponsor of our employee network Balance, which represents gender equality and working families.
Why did you want to become the Exec Sponsor for the Balance network?
I've been a member of Balance, one of our employee networks for over 7 years. I've been inspired and supported by this fantastic community over the years, so for me it's both personal and hugely important that we continue to evolve and grow. When the opportunity came up to become the next Exec Sponsor, I absolutely leapt at the chance!
How do you juggle your career, Exec Sponsor role and motherhood/being a parent?
I think I can only be honest here and say it's really hard at times. I'm also very conscious that it doesn't have to be juggling parenting and your career; it could be balancing caring responsibilities or studying in your own time, for example.
When I returned from my first maternity leave and was feeling quite apprehensive about the juggle I anticipated ahead, my manager at the time was immediately reassuring and just said 'everyone has something they're balancing at home'. Those words stuck with me, and I've passed them on over the years by way of similar reassurance.
So, to answer the question, I don't have a perfect answer to the 'juggle', but I think having a great network around you goes a huge way to feel supported, and also setting clear, but easy, rules that mean you keep a little control over the boundaries of home and work. One for me has been that either my husband or I (and ideally, it's both of us) will always be home for bedtime stories and to put our children to bed. They're still very young, and this has been something I've always protected as it's important to me.
What does embracing equity mean to you?
I think I'll keep this really simple; to me it means everyone, no matter of their gender, it's doing everything they can to make gender equity a reality. Whether that's asking the difficult questions to make the playing field even, engaging with both male and female advocates or finding inspiration from the best organisations who truly demonstrate gender equity, it's about being passionate, acting (from the very smallest gesture upwards) and moving forward to create a more inclusive workplace.
How has the corporate workplace evolved and changed in regard to gender parity since you started your career?
Yes absolutely. I joined AXA in 2009 and whilst of course the conversation and focus on gender parity was alive then, we've really made leaps and bounds in the past 10 or so years. From signing the Women in Finance Charter, to having many senior women in key executive roles, to now having a mature and large employee network focused on supporting women and working families. The dial has definitely turned.
I'd also like to spotlight the voice and power of male allies. This has really grown during my career and I think it's critically important. Balance is now Chaired by a very passionate male ally, Joel Markham, and we have a number of male allies in the network (we'd love more!), this isn't just about women solving together for women, this is about all genders working together to make a positive change for the future.
Regarding equity, do you think a workplace traditionally designed by men for men, is evolving quickly enough to accommodate the needs of a multigenerational female workforce?
I think it is, gradually, but could definitely go faster. We know women, typically are more likely to explore flexible working opportunities; it may be for parenting reasons, but of course could be for many others too. But it's not always straightforward or consistently adopted. A wise colleague of mine recently said its 'output not hours' that matter, and I completely agree.
Creating, promoting and showcasing flexible working options should be a mainstay of any mature organisation that prioritises gender equity. It's a win win, the organisation retains a colleague who they might otherwise lose, and the colleague feels supported, trusted, and valued by the organisation. I personally work a 4-day week; so, for me it's all about my output across Monday to Thursday. I'm very fortunate to have the trust of a very supportive manager, it goes a huge way.
If you'd like to join an inclusive company focused on helping you thrive, ​​​​​​search our latest jobs to find a role that's right for you. Or follow us on LinkedIn to find out more about life at AXA.