AXA story
Supporting patients in need – life as a Dedicated Heart Nurse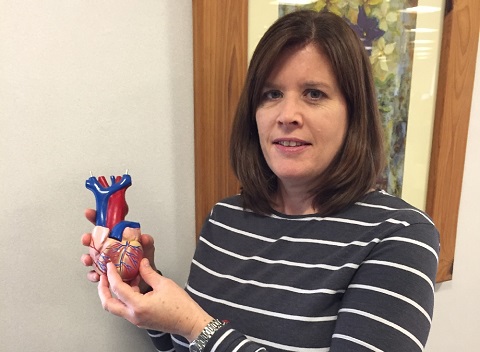 After 16 years in clinical practise, including cardiology, in her local hospital, Dominique Burrell was looking for a change of career. She was inspired to join our Heart Care team as a Nurse Case Manager and Dedicated Heart Nurse after talking with our AXA resourcing team. In her new role she gives vital support and advice to people with heart conditions and believes listening, engaging and supporting her patients is the most important aspect of the job.
The COVID-19 outbreak means it's now more important than ever for people to look after their heart health. So we caught up with Dominique to find out how the team has adjust their ways of working to ensure they continued to give vital help to the people in need during the lockdown.
All about the support
"We offer support, rather than medical advice," says Dominique. "So, I may take a call from someone with chest pain and call an ambulance for them, or speak to people who have had a recent, sudden heart attack and who want to discuss what has happened and what it all means. I also speak to people before and after heart operations, including parents whose children need treatment."
Adjusting to lockdown
"Back in March with lockdown imminent we were no longer able to work in the office. AXA very quickly and efficiently organised equipment for staff to be able to take home so that our work could seamlessly continue. We managed our workload the same as if we were in the office, but I missed the face to face interaction with my colleagues. My team has very supportive and conscientious managers who kept us in the loop on a very regular basis as to what was going on within the company and checked on our wellbeing individually. We had regular team meetings via conference calls to catch up with each other and discuss any issues. Once lockdown was partially lifted my team had a socially distanced get together in a local park; it was so nice to see each other again to catch up and compare hair growth."
Going the extra mile to support her patients
"There have been some memorable moments where I feel I've made a real difference to people. A lady called just as we were about to close, but I stayed to talk to her for around 45 minutes, talking her through everything and offering advice and support. The lady felt very reassured and much clearer on the process going forward. She called a few days later with a couple more questions and wanted to speak with me specifically and I was so happy to be able to help her."
"I also had the opportunity to support an elderly gentleman who lived by himself and had no family. I helped him arrange respite care – which is not done through AXA – and gave him the reassurance he needed."
Protect and care
Dominique loves having the opportunity to help others using her cardiology knowledge and feels like she makes a real difference to people going through a difficult period of their lives.
If you're interested in finding out how you could use your clinical knowledge in a very different way, take a look at our Clinical and Medical jobs.