AXA story
Supporting our LGBT+ community during lockdown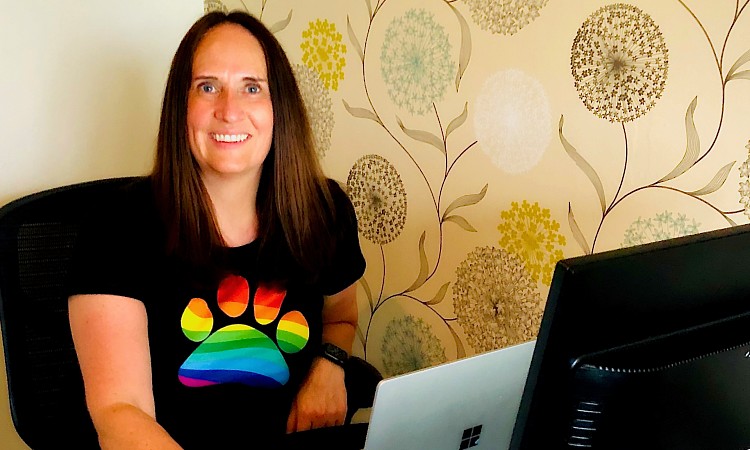 As the lockdown continues, many LGBT+ people are finding it difficult to cope with the isolation. Many of the biggest Pride events of the year have now been cancelled and LGBT+ people are left separated from loves ones and distanced from their support networks. Equality isn't a given, especially now, which is why we work tirelessly to help our people realise that they can be themselves, that they have a voice and can reach for whatever they dream of. We've been speaking to Arlene Stewart, Chair of AXA's LGBT+ Employee Resource Group (ERG) to discover how the group has been adapting their plans to ensure LGBT+ employees have the support they need at this time and for the future.
Creating an inclusive environment
"Inclusion is important to us and we want to help our people live better lives. Every year we start with a plan 0f what we want to achieve and do. Last year in Glasgow we held a screening in our office that was open to AXA employees and local businesses. It was a Scottish film for the BBC called "Coming Oot" and the two women starring in it were the first women to have a Scottish civil partnership. They themselves attended the screening and did a Q&A afterwards. We also organised a whole series of workshops across a lot of UK sites focused on helping people understand LGBT+ terminology and the importance of positive language. Earlier this year we ran an inclusivity workshop that is currently being made into an online learning module, to be accessed whenever, which is fantastic. We also released personal LGBT+ stories both internally and externally, and ran a podcast. All of these resources can still be accessed.
Stride for Pride online
Because of lockdown, it's even more important that we continue to push out information and updates out there so that people feel involved and cared for. It may seem more difficult, but actually we still have lots of great campaigns and ideas to improve the lives of the LGBT+ community within AXA. We have kicked off our AXA Stride for Pride campaign. Pride is one of the most celebrated events in our calendar, but in the current climate, Pride marches have had to be postponed or cancelled all around the UK. So this year we're taking Pride online with a virtual Pride walk, and we're asking everyone to take part using the hashtag #AXAStrideForPride – our aim is to walk together across the UK and all you need to do to show your support is to get moving. We'll then share weekly updates of our collective progress on Instagram, Twitter and Facebook, so everyone can check in and see how far we've travelled together – we're hoping to go as far as Lands' End to John o Grouts, the whole length of the UK.
We're also hosting an online Pride quiz so we can have some fun and encourage people to donate to LGBT+ charities. We'll be launching our positive language module online and we've a Stride for Pride email signature for people to use. Within the ERG, we'll also be continuing to do our chat roulette, which is a half an hour call to talk to other individuals and share ideas with each other that could get lost in a larger call.
Mental health and the LGBT+ community
Lockdown is also impacting mental health and that's one of the reasons why what we're doing is so important right now. It's well known that the LGBT+ community are far more likely to suffer from mental health issues, so we need to ensure we're visible and keep people feeling like they are a part of something. Our message right now is about staying safe and being kind. It's ok to not be ok and if any employee is not feeling their top self, we have some really passionate task members, trained as mental health first aiders, they can chat to, confidentially. AXA is about inclusion for everyone and we want to make sure everyone feels comfortable about bringing their whole self to work."