AXA story
Supporting disability in a new kind of workplace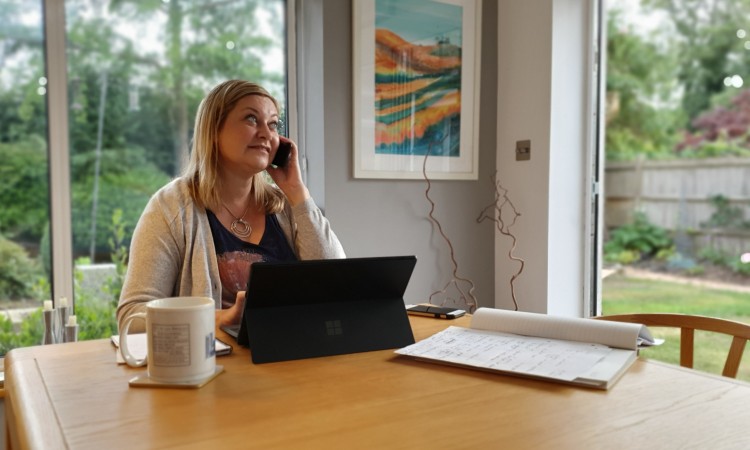 The world of work has changed drastically over the course of the last six months. The COVID-19 pandemic has shifted attitudes and forced businesses to adapt to remote working. Many teams have faced challenges around the way they work, but for people with disabilities it's been an especially trying time. We've been speaking to Becky Syms, Data Business Partner at AXA PPP and the Chair of the AXA Able ERG, to find out about how we've been helping to support people during this time and what we have planned for the future.
I actually became involved with the AXA Able ERG just because I've always been extremely passionate about, and motivated by, supporting people and I've always felt strongly about diversity and inclusion. The group was formed about 5 or 6 years ago and has a taskforce of about 15-20 active members. There are a whole range of people involved, some of whom have disabilities and some who are allies of the group. Our objective is to enable everyone, with or without a disability, to feel that they can bring their whole self to work and to feel comfortable working in an environment where they can be themselves. We want to make sure people can overcome any challenges they may face.
Adapting to the new challenges of COVID-19
We've made a lot of progress over the last few years, but we're always striving to improve and looking for new ways we can continue to grow. Last year, we focused on increasing the number of Mental Health First Aiders (MHFAs) that we have across AXA UK. We also gained the Disability Confident Leader accreditation, which is the highest level of recognition available in the Government scheme, which aims to get companies to think differently about disability and take action to improve the experiences of their disabled people and customers.
This year though, the COVID-19 pandemic is posing new challenges for us to adjust to. We're currently focused on supporting people through this time and then looking at how we offer support for going back into the workplace too. The biggest challenge is always the adjustment period, especially when you're used to working in a certain way. We've had accessibility issues that have needed to be addressed and we've been looking at making sure people don't feel isolated. That has involved using different tools that we haven't used before and making sure we have video calls so that people can lip read, or offering transcripts for meetings.
Some of the initiatives we've previously put in place are physically not possible right now, so we've had to adapt or put things on hold. One positive thing is that we're very used to meeting remotely as a group, because we have members at sites across the country. So we actually feel pretty connected as a group.
In terms of moving forward, I think that we'll start with reviewing our workplace adjustment policy. The people in our taskforce can really help with this, as they can feed in their own experiences to make recommendations on any changes that we might want to make. We especially need to make sure that anyone working remotely going forward doesn't feel isolated and is getting the support they need.
Planning for the future
Over the coming months, we'll be planning for two big events at the end of the year, which are World Mental Health Day in October and the International Day for Persons with Disabilities, in December. With COVID-19 still having an impact, we'll have to plan around whether people are back in the office or not and what kinds of activities we can organise. We might need to be fairly flexible with our plans so that we have both office and home based activities for people to be involved with.
Aside from COVID-19, this year we also want to focus on continuing our work on invisible disabilities, increasing the openness and creating an environment where people feel comfortable talking about things. We'd also like to look at how we can improve things for people with sensory disabilities or impairments. We recently became members of the Business Disability Forum too, who provide training and advice for businesses and hold events. So we're hoping to connect more with them and draw on their expertise as well.