AXA story
Pushing for more from myself and others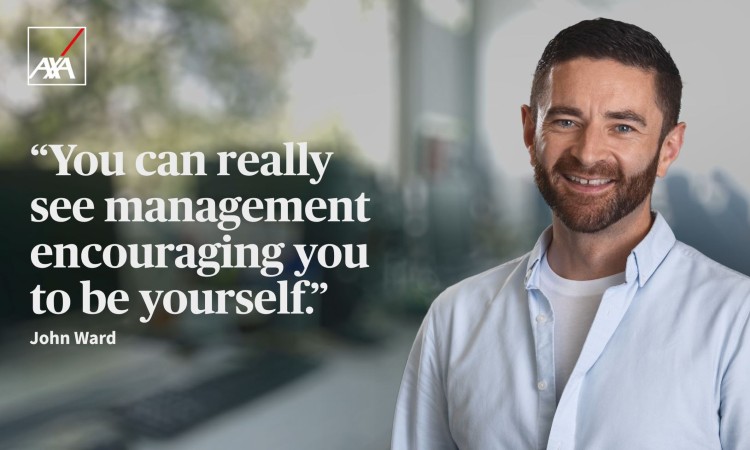 In 1982, in San Francisco, California, the very first Gay Games took place. Now, every four years, the LGBTQ+ community organises this sporting and cultural festival to celebrate and promote diversity, inclusivity and tolerance. Here, everyone is welcome to join in. And in 2018, with the Gay Games taking place in Paris, AXA supported me in becoming part of it.
It takes a lot of effort to become a really good squash player. When I'm on the squash court, there's a lot of running involved and I'm always pushing myself to reach further. I do yoga two or three times a week which gives me better balance, and helps with my breathing, both of which allow me to go that bit further on the squash court. The more training sessions I can get to, the more I learn and the better I get. It was my passion for squash that led me to become part of an LGBTQ+ squash group, in Ireland, called In4Squash. Then, in 2018, I was given the opportunity to represent Team Ireland at the Gay Games.
Learning to take chances
My openness to learning and improving doesn't stop on the squash court. We've been lucky at AXA to have training sessions around soft skills in the last few years and part of this included watching inspirational talks online from a list put together by a finance-driven culture team. As a team, we would watch two or three at lunchtime together, and that's when I was introduced to a technique called the 5 second rule by Mel Robbins. It's the idea that when you have the impulse to act on something, you only have 5 seconds to physically do something about it or your brain will start talking you out of it.
Not long after this I found myself in a situation where Bertrand Poupart-LaFarge, who was Executive Sponsor of Diversity and Inclusion at the time, was in Dublin giving a presentation. He'd just finished talking about the main areas of diversity he wanted to focus on and I had a sudden impulse to ask for sponsorship. I'd been asked before if AXA might be interested, by one of the co-organisers of Dublin Pride, but I hadn't ever taken it further.
Now I had the opportunity staring me in the face and I just thought 'Why not?' I asked Bertrand if AXA would sponsor Dublin Pride and when he said yes, I thought, 'Well I've come this far' so I also asked if the squash team could get kit sponsorship for the Gay Games in Paris. It was very much a case of 'what have I got to lose?' AXA ended up becoming a silver sponsor of Dublin Pride and they co-sponsored the Team Ireland kit at the Gay Games.
Helping others to find courage
It was a really incredible experience. We actually took a pride wrapped Dublin Bus down to Áras an Uachtaráin and went for lunch with the President of Ireland. He came around and shook everyone's hands and that was a really nice acknowledgement of all the work people had put into this individually. As for the actual games, I came 8 out of 88 in the squash competition, which I was pretty pleased with.
Now I'm trying to encourage other people to do the same. I'd say for anyone else in a similar situation – don't be afraid to ask the questions. The door is always open and you never know what response you're going to get. I really want to make our workplace a more open and inclusive space now, so that people feel like they can talk about things which are important to them.
Supporting each other to move forward
I think that it's important that we work with the community groups, and that we ensure that our policies are up-to-date and inclusive, so that everyone can be themselves at work. You can really see the culture and values and that encouragement to believe in yourself coming from management and the leadership teams.
When it comes to self-belief, a lot of it is nurtured as you grow up. Once you get into the workplace environment, and you start building relationships both inside and outside of work, self-belief comes from other people pushing you to have belief in your own abilities. You become more confident as you go along. I've been in AXA for 17 years now and gradually you learn more about the business and how to approach things, and all of this experience helps to build your confidence.
I hope that seeing what we've achieved with the sponsorship, inspires other people to do similar things. We're hoping in a post Covid world to go to the Eurogames in Copenhagen in 2021 and then to come back together for the Gay Games in Hong Kong in 2022.
Post Covid-19
As with most events post Covid-19, Dublin Pride 2020 is not going to have a physical parade. Instead Dublin Pride is having its first Digital Pride parade. AXA Ireland have happily continued their silver sponsorship of Dublin Pride for the 3rd year running. Members of our Pride Crew and members of our other Culture Crews (CSR, Mental Wellbeing and Know You Can) have come together to create a 45 second video that will appear during the virtual pride parade, on the topic of "What Pride means to you".
We have had to drive a lot of content through our digital channels. This has been achieved through blogs from staff and executive directors. We have also curated a longer video for internal sharing again on the topic of "What Pride means to you".