AXA story
Pursuing my passions and progressing my career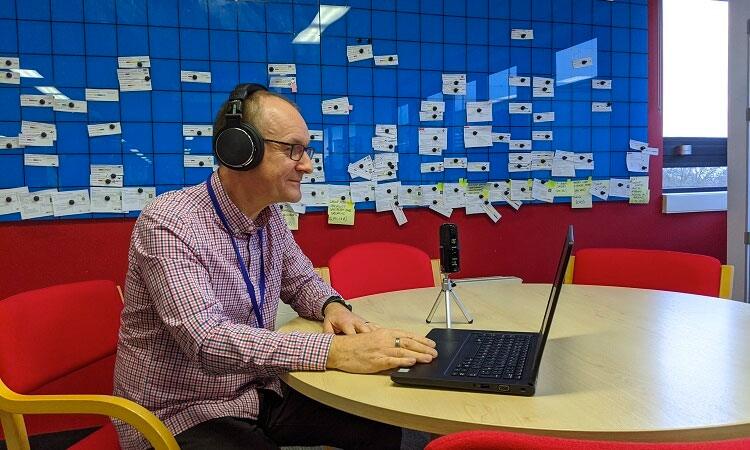 At AXA we encourage our people to broaden their horizons and pursue their passions, so they can grow the career that they want. Network Development Advisor in Provider Management at AXA Health, Simon Rawley joined AXA 11 years ago. As well as his day-to-day role, he's part of AXA's Employee Reporter Network. Here, he explains how the opportunity to join the network has empowered him to achieve more, both at work and personally.
Back in 2018, I saw a post from the internal communications team on our intranet, calling for employees around the business who had an interest in writing or photography to join the Employee Reporter Network. The network is about putting an employee's perspective forward when it comes to what's going on with the business. I was hesitant about putting myself forward because I wasn't sure I would be up to the standard that the team were expecting, but I went for it.
My first assignment was to go behind the scenes at the filming of an infomercial on driverless cars. I'd never been involved in anything like it before, but it was thoroughly enjoyable and everyone was supportive and happy to have me there. When I submitted the copy, I was surprised that only a couple of aspects were tweaked, and that the whole story was used. It was great for my confidence and it meant I was keen to get involved with some other assignments. Since then, I've had the opportunity to go to a day's filming with Sue Perkins, interviewed people for an AXA campaign and joined a film shoot for an ad partnership with Sky.
Going behind the scenes
From my point of view, it's been brilliant to get involved in an area that I've been interested in – being creative, writing and seeing behind the scenes – and being supported to do it, particularly from my manager and team, but also from everyone I've interviewed and learnt from. I've also enjoyed getting exposure to other parts of AXA. I'm based in Tunbridge Wells and work day-to-day within my own specific department, so I don't generally get involved with people from other areas of the business. This opportunity has been great, as it has opened up a whole new network of people in our global business for me. Seeing the bigger picture and learning more about what different business units do has been eye opening and made me feel more engaged with my work as I see AXA in a whole new light.
Improving myself
The whole experience has changed the way I feel about myself and my work. I feel much bolder. I've done some internal podcasts with our CEO and some external work, too. Last year, I put myself forward for an engagement champion role, which looks at how we can improve employee engagement in our department. It's been challenging, but I'm really enjoying the role. I also volunteered to do a presentation to our whole department – I never would have done something like this before my experience as an Employee Reporter, just the thought would have terrified me!
AXA is truly committed to helping every employee reach their potential – whether it's through online learning or a mentoring programme, or getting involved with internal communications reporting like me – because it means you'll be happier at work and able to do a better job for your customers too.