AXA story
Meet some of the AXA Health Team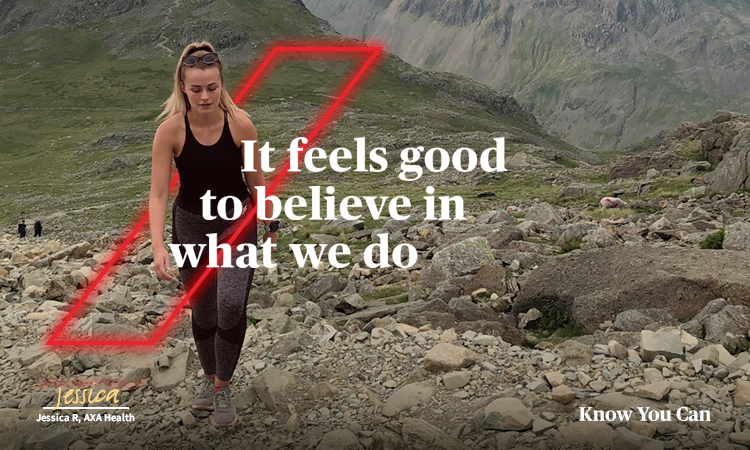 A place where everyone gives their all, are relentlessly curious and can always be themselves.
Hungry to grow? Have a passion for health? You'll fit right in. At AXA Health, individuality matters. It's important that our people can be themselves at work and can shape a career that works for them. We are a team that really values, respects and supports each other which enables us to chase new opportunities and make a real difference to our members lives.
But don't just take our word for it. Meet five team members and hear what they had to say when we asked them what they loved most about life at AXA Health.
Meet Bharat, Head of Data Technology Transformation in our Tunbridge Wells team.
"I'm continuously challenged at AXA. I'm always having to adapt and learn new skills and knowledge as I go. We're all so focused on finding new and better ways of doing things.
The environment and the people really make the difference too. We're all encouraged to think out of the box and be creative. The team's ethics and the morals that we share really matter to me – I enjoy what I do because of the people. I also love the fact that AXA believes in having a genuine work life balance – it means I can focus on work and my home life when needed."
Meet Jessica, a Senior Quality Control Coach, based in Bournemouth.
"There's a real buzz here. I'm lucky enough to have worked in different areas of the business, so I have seen the positive impact that we can have on our members' lives. I believe in what we do, and I'm excited about our future. We're on a journey, and I'm amazed at how we support our members, but the energy we have makes it feel like we're just getting started.
I'm encouraged to go further at AXA Health, and really chase after what I want. I am surrounded by positive, supportive people who push me to be my best. I've never felt embarrassed to voice my views and am always encouraged to keep developing my skills. Right now, I'm studying for my apprenticeship in project management alongside my day-to-day job. I have the freedom to shape a career that's right for me, which is so inspiring."
Meet Vicky, a HR Business Partner, based in Bournemouth.
"I've experienced AXA as a member, and as an employee. We really do care about people and I know the difference we can make. I have a huge amount of pride in working for this business.
Everyone is hungry to learn at AXA. People are always willing to bounce ideas and help you tackle any challenges. There are so many opportunities to get involved and keep developing – the door is always open for everyone, irrespective of your role or background. We are all different and that's valued – I can always be myself."
Meet Joe, a personal advisor in our Glasgow team.
"The company really listens, and my team understands what I need to be my best at work. I love what I do - I really enjoy speaking with our members on a daily basis as part of the customer service team. We're a great bunch – everyone is so determined to succeed, and morale is always high. You also have an opportunity to work in a really flexible way too – you're trusted to work in a way that's right for you."
Meet Devika, a Proposition Owner in our London team.
"To help our members be their best, we have to empower them to be healthy and proactive. Every person you interact with pushes the boundaries to put those members first and make that happen. I come from an entrepreneurial background and I was worried that I would have to conform, but AXA has pushed and encouraged me to be agile. Which means I can always give my all."
If this sounds like somewhere you want to be and you're inspired by the world of wellness, we're always eager to meet fresh talent. Check out available roles at AXA Health now.