AXA story
Making D&I the new normal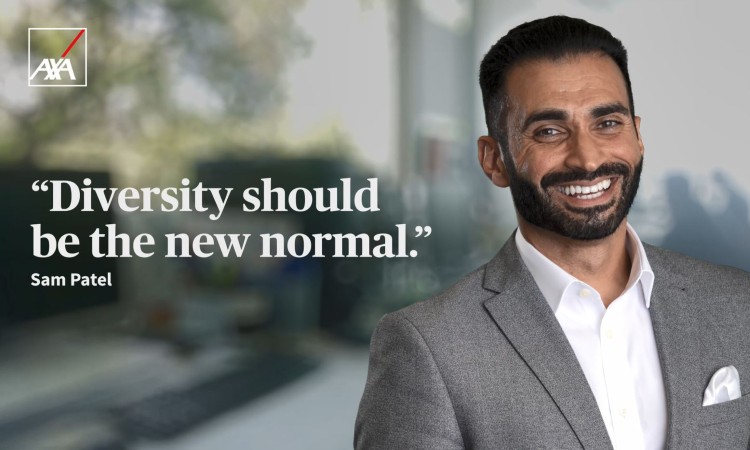 Initially, when I was asked to be part of the D&I board, I thought it was a tick box exercise. Actually, it was quickly apparent that everyone involved felt passionate about the issues and there was a real drive to change things. This is how I've made an impact in the BAME space.
Why is a diverse workforce important? The business reason is that diverse workforces generate much greater turnover because you get more people joining the dots in different ways. The moral reason is because equality needs to play a part at every level of any organisation and everyone should have their chance to realise their potential, irrespective of gender, colour, creed, sexual orientation and so forth. And, from an AXA perspective, it makes absolute sense for our people to represent our customer base to the greatest extent possible.
The AXA Diversity and Inclusion (D&I) board has monthly meetings and we run ad hoc events that link into one of our three priorities: raising awareness internally and externally, HR policies and social mobility. Any one member of the taskforce can suggest ideas, whether it's an event with a keynote speaker, or the best way to shape HR job descriptions, and if there's budget and time, we'll make it happen.
D&I covers a lot of different areas and for me, ethnicity is an important part of that. As part of the D&I board I was encouraged, based on my own interest, to see if there was scope or interest for a BAME task force – and the rest is history. Week on week we're seeing progress in this area. It's been great to be a part of it, but what's been even greater is seeing other people at all levels having a voice and being able to speak up. It feels good to raise awareness both internally and externally.
Supporting future generations
I enjoy being able to do something that makes a difference, something that's outside of my financial services day job. We've been working with schools in outer London and personally I've spoken at assemblies and had the chance to reach out to school children. I've talked about my own career path – where I started, what drove me culturally – and I've painted a picture of my own situation. My parents weren't educated and that's important because when it came to exams, unlike some of my friends who could be guided by their parents, I missed out. The young people I spoke to in the assemblies were very like me in that they believed they could only aspire to a certain sort of job, something where they could quickly support their family. I want to make these children aware of their options, so that they can look into other routes to work. I also found that some of the young people I spoke to weren't as confident with the practical side of things, like CV writing and interview techniques, so again we need to see what we can do as a business in this space.
Fostering a culture
I feel really lucky as I joined AXA shortly after qualifying as a lawyer and my manager from 17 years ago is still managing me today. He's been more than a leader, he's also been a mentor and he's interested in cultural difference. He was incredibly aware of the need to have diversity at a time when it wasn't a buzzword or phrase. So he's always fostered a culture of diversity and inclusion, and it's only now I'm on the board that I think about the practices that he encouraged over the years. I'd like to be able to do the same and really make diversity the new normal. I don't want the driver for it to be because we have to, or because of mandatory reporting. I want it to be because it's the right thing to do.