AXA story
How AXA's inclusive parental policy helped me grow my family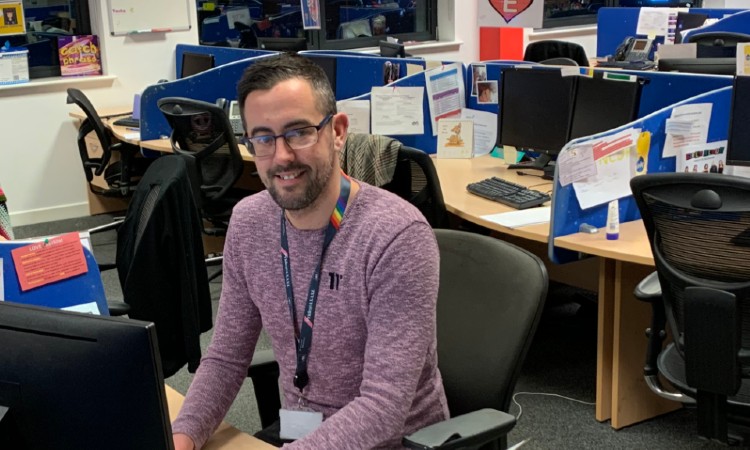 Welcoming a new member into your family should be a joyous occasion, but caring for a child can be very demanding. We believe that no matter what the family situation, all our people should receive the support they need to enjoy this magical time. That's why in 2017 AXA launched a ground breaking parental policy to give all our people the same rights and opportunities when expanding their family. Help Team Leader, Dean Walker, tells us how this has helped create an inclusive culture at AXA and describes the support he received when adopting with his husband.
I've been working at AXA for 13 years and I've never had an issue with being gay at AXA. My friends who work here would say the same – we've never once felt isolated or bullied because of our sexual orientation. It's great that a big company like AXA can be involved in recognising LGBT+ and Pride events. You really feel the commitment from the company towards fostering a culture that enables every employee to bring their whole selves to work. During LGBT History Month several offices around the UK are running workshops around LGBT+ history and sharing facts and figures, such as when it was made legal to be married and to adopt.
Continuing to do better
I also appreciate that AXA don't just get involved in events for the sake of it – the policy around working leave has been changed – it's now no longer maternity or paternity leave, but parental leave. It's things like this that make it feel like a genuinely inclusive environment here. In our department, AXA is also putting together a new leaning module on how we speak to LGBT+ customers. It's not always obvious on a phone call if someone is transgender for example, but we need to make sure we're being careful with language and not causing offence to anyone. I believe people would like agents to ask which pronouns they'd like to be addressed by, including 'they' or 'them'. That's the kind of thing we're looking into at the moment, and it's a great step forward for the LGBT+ community.
Supported with my adoption
When my husband and I decided we wanted to adopt, I spoke to my line manager about what we were planning on doing and she was brilliant. Together, we looked into AXA's policy wording to see what leave I would be entitled to. Before my leave commenced, the company was great about giving me time off to go to appointments and meetings with social workers, which helped to really speed the adoption process up. I was able to move my shifts when needed and get paid time off in some cases. As the process went on and we got closer to adoption, myself and my manager had a call with HR and payroll and they were super helpful, sending me all the information I needed, even the payment schedule, so I could see exactly what I was going to get paid every month, which made it much easier to budget during the time I was off. Because of my length of service, I was entitled to three months full pay, which was amazing. Any questions I had were answered quickly and with easy to understand information. In contrast, my husband – who was taking the second six months of parental leave – definitely didn't have the level of support I had at this stage.
Looking to the future
After lots of meetings and paperwork, our son finally came home. We'd only had him for six weeks when we had a call from our social worker saying that his birth mother was pregnant again, with a full sibling for our son. While we always expected to go through adoption again, we didn't realise it would happen so quickly. We put ourselves forward for the adoption and now I've been back for six months, I've been talking with my line manager about my next parental leave. She has – again – been really supportive and has been through all the policies and contracts with me to see how we can make it work. AXA really have been so supportive throughout the process and I can't fault them.
Interested in finding out more about how we're creating and inclusive environment for everyone? Read more about our inclusion agenda and our parental leave here.