AXA story
Grow your potential: Meet Mel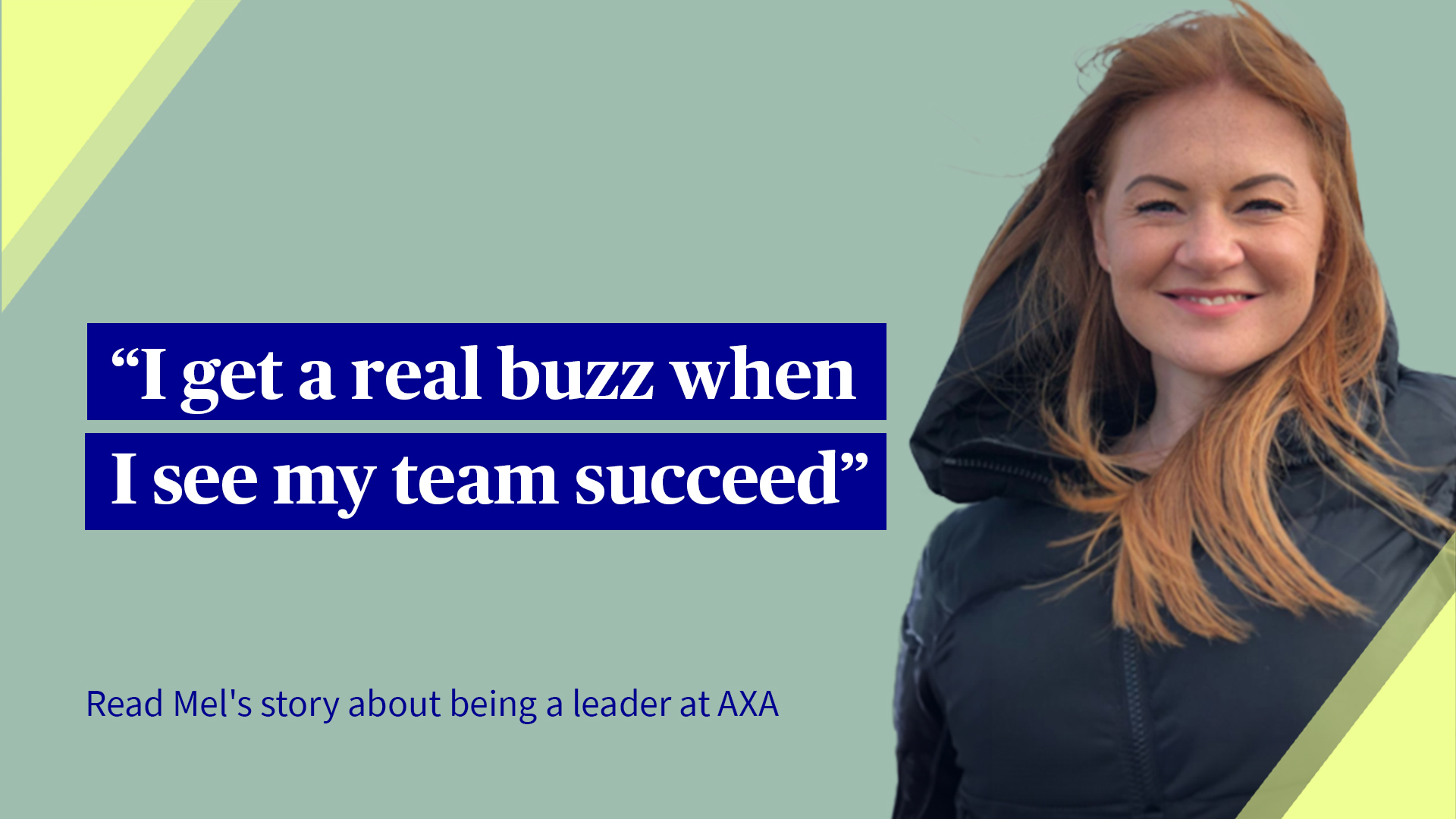 This November we're focussing on leadership. At AXA UK, we encourage our leaders to lead with empathy, care, trust and respect. So we caught up with Mel Byrne, who was nominated by her team as an example of leader who does just that.
What is your job role at AXA, and how long have you been here?  
I'm the Contact Centre Manager for the Bournemouth office. I've worked at AXA since 2005.
What do you do in your role?  
In short, I'm responsible for the smooth running of the department. I have 10 Team Managers who report into me, and together our aim is to ensure we meet the required Service Levels in all forms of contact with our members, and to maintain a productive and engaged workforce.
How long have you been a leader looking after a team?
I started as a Team Manager in the Contact Centre in 2010. I've managed several different teams across the Contact Centres in Tunbridge Wells. I started my current role in May 2022.
Do you enjoy it? And why? 
I love my role! Ever since I started with AXA, I knew I wanted to help others and always had my sights set on a leadership role. I get a real buzz when I see my team succeed, and knowing that I played a part in that success is the cherry on top for me.
How do you feel when you encourage your team to learn and develop? 
I genuinely get a kick out of seeing that lightbulb moment when something clicks for a team member. Seeing someone develop, achieve their goals and move into a role they have been working towards makes me really proud, although it's always hard to see them go!
How do you support your team through transformation and change? 
I think the key is to listen, understand and keep communicating. I understand that change isn't always exciting for everyone and some can feel hesitant at first. But keeping the conversation open between your team, sharing your knowledge about why the change is needed, and the potential benefits of this change - has a really positive impact. Revisiting a change at several stages along the way also helps, to make sure the change has landed as intended, and if it hasn't, listen to why and look for solutions to make it right.
At AXA, our leaders are encouraged to lead with empathy, care, trust and respect. What does this mean to you? And how have you seen this come to life at AXA?  
I naturally want to build trust with my team as quickly as I can, and show that I genuinely care about them and their lives. We spend so much of our week at work, I always want my team to feel that they're in a safe environment, where I care about them as individuals first and foremost. This builds trust and respect as the working relationship develops.
I started at AXA as a 19-year-old without much experience of what a good leader looked like. But throughout my time here, I have been shown the way by some fantastic leaders, some of whom I'm now lucky to work alongside as a peer. I was always trusted to explore my own management style, in a safe environment and I want to give new and existing managers that same trust.
How did it make you feel to be nominated by a member of your team as an example of a great leader?
Over the moon! I always want to do a good job and this nomination meant so much to me. Strong results are great to see, but when you get feedback from your team on how your work has impacted and inspired them, it genuinely is the best feedback I can receive. The team have been through some real challenges and a lot of change over the past few years, and I came in right in the middle of that period as a total stranger to them. (And to add that I am based 4 hours away from the office that my team are situated in, means this could have been a very different outcome!) So to see the hard work that we have put in as a team land so positively with my direct reports, is what matters the most to me.
What advice would you give to someone thinking about taking on a leadership role?
Be yourself! Lead in the way you would want to be led. Get to know your people, put your trust in them and remember the impact your actions have.
If you'd like to join a company focused on helping you to grow your potential, search our latest jobs to find a role that's right for you. Or follow us on LinkedIn to find out more about life at AXA.