AXA story
Grow your potential: Meet Mandy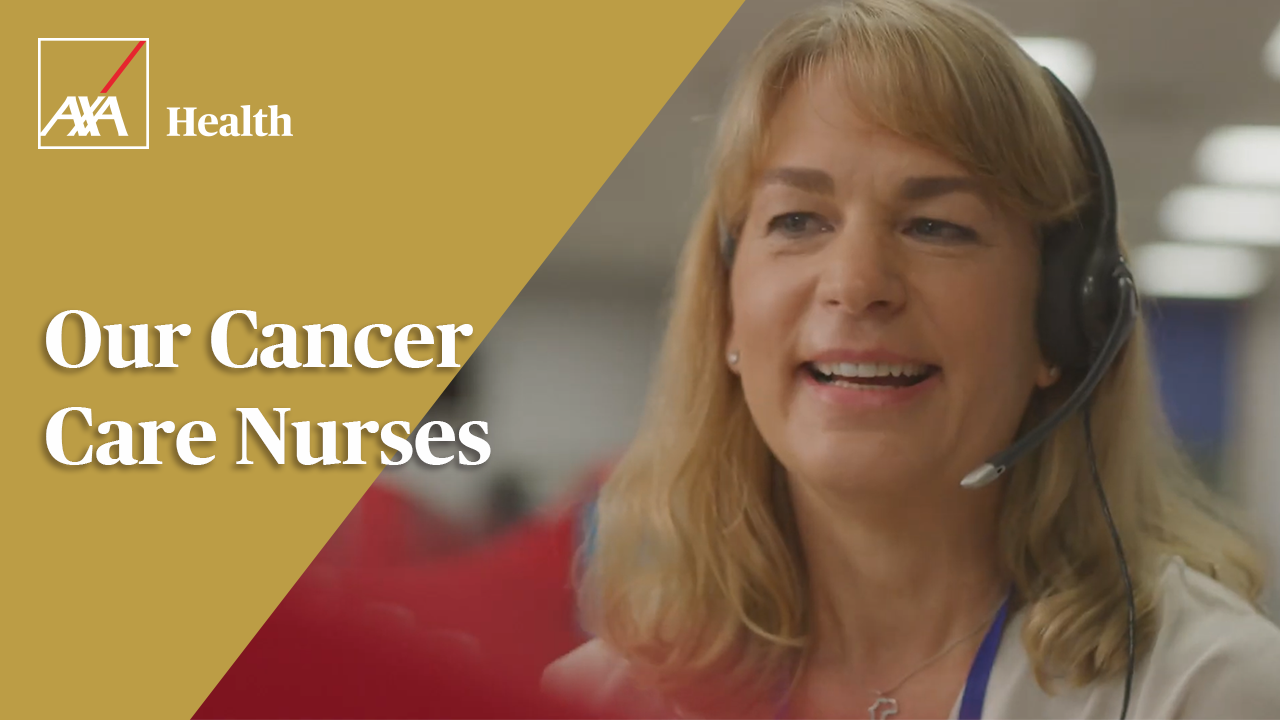 Meet Mandy, one of AXA Health's Dedicated Cancer Care Team. People like Mandy, and all the other members of our clinically trained Cancer Care team, know how much a cancer diagnosis affects lives and the extraordinary difference they can make by just being there.
Tell us about your career at AXA Health?
I've been a qualified Registered Nurse for the past 30 years working in a series of different hospitals and departments. I started working for AXA Health as a Nurse Case Manager in the Cancer Care Team. The Cancer Care Team is comprised of over 50 Nurse Case Managers and Case Managers. We're divided into various teams, and I'm part of the London team, which is made up of 10 Case Managers. We're a dynamic group who work closely together and always support each other, striving for the best possible outcome for our members.
Our role is to assist and support our members who have been diagnosed with cancer throughout their journey. This involves liaising with various specialists and hospitals, ensuring that treatment requests are eligible and authorized in a timely manner. We also support our members by making sure they have a full understanding of how their plans can be used and ensuring they obtain the full benefit of their plans. Each member is assigned a Nurse Case Manager, which provides a point of contact and continuity for the member.

What inspired you to join AXA Health?
I immigrated to the United Kingdom in July 2020 from South Africa and started working for the NHS. After completing my conversion exams and obtaining my nursing registration with the NMC I started working for AXA Health in December 2021. I heard about AXA through my cousin who was working for AXA. She had worked for AXA for the past 20 years and said it was a super company to work for and offered excellent career growth opportunities. I've only been working with AXA for a year, but I can honestly say the support and learning opportunities I've received have been amazing. I'm really excited to see what the future holds for me.
How does reassuring and raising the spirits of your members make you feel?
I feel so fortunate to be working in the Cancer Care Team, not only because of my amazing colleagues, but for the incredible work we all do. It's not always easy talking about cancer, and I think it takes a special type of person to do this kind of work. Some days can be difficult, but when you receive positive feedback from a member, thanking you and saying how appreciative they are for all you do for them, it makes it so worthwhile. It's gratifying to know that I'm making a positive impact, when a person could be feeling so vulnerable.
How do you find your Feelgood and what ways do look after your own wellbeing?
I think I have a sunny outlook on life, and I'm a positive person. This really helps me to stay upbeat and positive throughout my day. After work I unwind by either going to the gym, meeting a friend for a walk and a coffee or just relaxing with my family. I think it's important to have a good work/life balance and working for AXA has allowed me to achieve this. We've embraced a hybrid way of working, which offers me the flexibility to either work from home or go into the office.
What would you say to someone thinking about joining AXA Health in a clinical role or team?
I would definitely encourage a friend or person looking for a change to consider working for AXA. I have learnt so much in the short time that I have been working in the Cancer Care Team. I started at AXA as a nurse, never having worked in an office environment. I was nervous and skeptical as to how I could possibly perform my job. A year later I'm thriving, and it's purely due to the support and encouragement I received from management and my colleagues.
How does AXA give you confidence and support your career progression?
The support and learning opportunities are constant and continuous. From the weekly Clinical Training hour to the voluntary 'Lunch and Learn' sessions, to the monthly Clinical News circulars from Angela in our team, there is always an opportunity to learn and improve, which is amazing. When I first started at AXA, I found the weekly Quality & Audit results daunting. I now embrace them, as I find I'm learning and expanding my knowledge with each one.
If you'd like to join a company focused on helping you thrive, ​​​​​​search our latest jobs to find a role that's right for you. Or follow us on LinkedInto find out more about life at AXA.