AXA story
Grow your potential: Meet Linda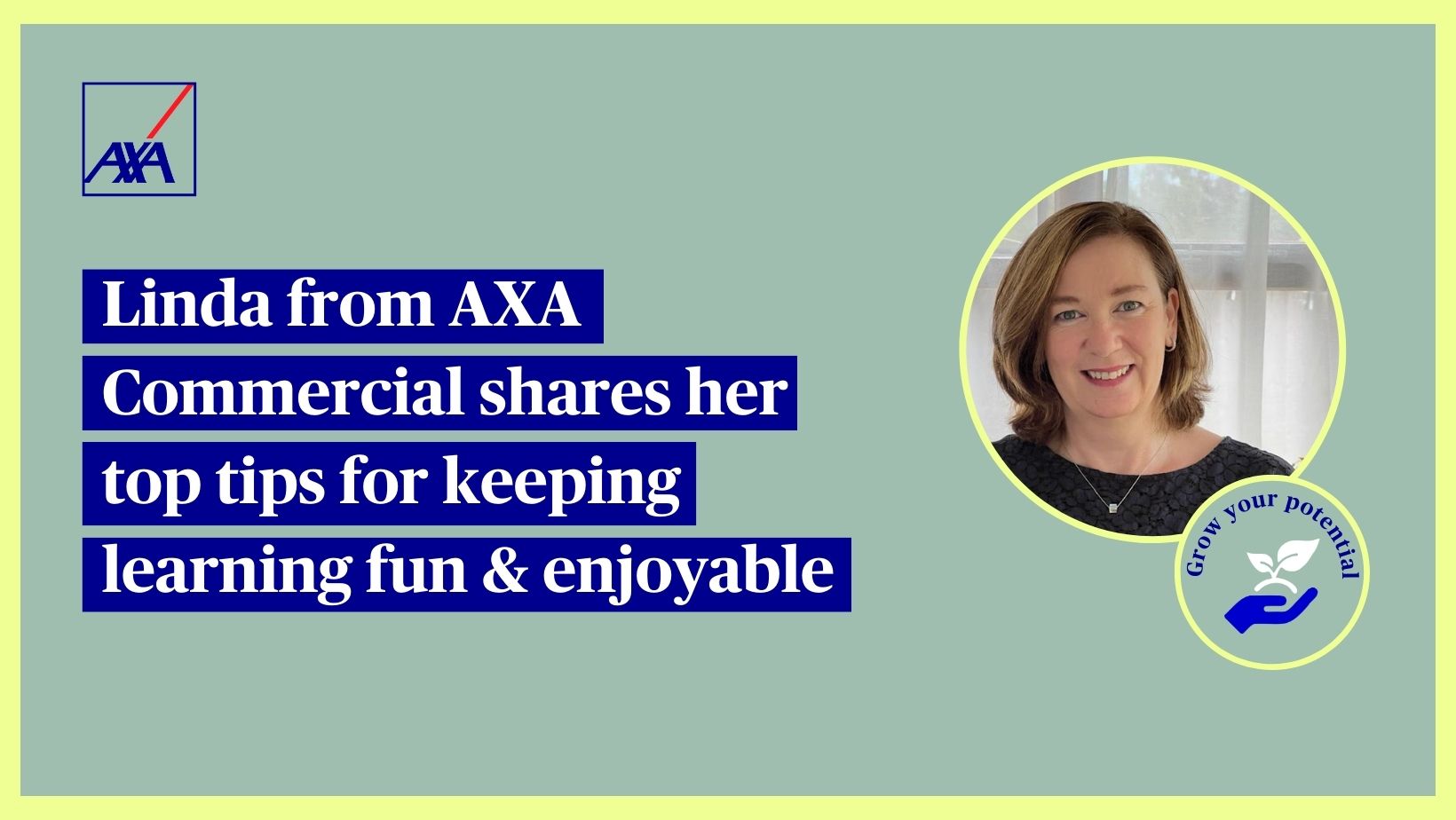 At AXA, we're investing in our people, so that they can learn, grow and develop. A culture of continuous learning is essential for our people and our business to thrive in a fast-evolving world. We're investing in our experts today, so they become experts of tomorrow.
In this blog, AXA Commercial Delivery Manager, Linda Procter, reveals how she manages her learning and development, including her top tips for making learning enjoyable and ensuring you stay on track.
Hi, I'm Linda Procter, Delivery Manager in the Commercial Pricing team which is part of Underwriting, Pricing and Portfolio Management. The Pricing team is running a lot of transformation projects at the moment, including new pricing models, new rating tools and improving how we use data from the data lake. Through my change and delivery experience, I help the team progress these projects and implement the changes into our systems and platforms.
I've worked at AXA for 10 years and have always taken a proactive approach to managing my professional development. As well as ensuring I keep my skillset relevant and up to date with a range of learning and development, it's helped me to do my job well and to develop personally.
At the start of each year, I think about the knowledge and skills I'll need to deliver my objectives, face into challenges, or build my skillset. This might include using new software or tools, improving my understanding of key topics, or developing skills like presenting or dealing with difficult conversations.
To set myself up for success, I always choose development areas that are meaningful and will help me or my team. I'm careful to plan the right learning media and be realistic about what I can achieve by when. The biggest mistake I could make would be to choose the wrong development area and the wrong way to learn it. For example, if the subject doesn't interest me and the only way to learn is by reading a book (which I would hate), then the learning is a chore and becomes a tick box exercise.
So, I create my plan following these steps:
Describing where I want to develop and why
Deciding how I will achieve it (eg. YES Learning, external courses, job shadowing etc.)
What I'll need to support the goal (eg. hours, training budget, access to key people)
Then I chat it through with my manager, agreeing what I'll prioritise and over what time period. Sometimes my manager will make additional suggestions.
Then I plan ahead, scheduling activity into my calendar exactly as I do for meetings.
The learning you do doesn't always need to relate directly to your role. Some of the development activity I've completed recently includes:
Improving my knowledge about Power BI, AXA's strategic data and reporting tool, using resources from YES Learning, the Microsoft website, and YouTube.
Listening to employee network podcasts discussing mental health. I love our internal inclusion 'pick n mix' – there's always something new to learn and I think it helps me to be a better manager in work and a better friend outside of work. I try to listen to or watch one thing every month.
Less formal learning is just as important and something I factor into my development on an ongoing basis. LinkedIn Learning is a great resource, with so many opportunities to learn. I follow industry groups that interest to me, such as the Chartered Insurance Institute and Databricks, which means my LinkedIn timeline is always full of interesting and relevant articles, plus I get to hear about online events or webinars I might like to watch.
I'm always Googling too, which is another informal way to learn. 'How to do xxx in Excel' is one of my top searches, and I'll always find a tutorial to tell me exactly how I can solve a problem!
My top tips for anyone looking to improve how they plan their learning and development…
Your development plan is YOURS. Own it! You're less likely to engage with it if the content has been prescribed by others.
Know your learning preferences. Do you learn best through reading, listening to a podcast, watching a video, or on-the-job training?
Actively manage your plan! Revisit it throughout the year, mark items as complete, and move dates where you need to. It will keep your development goals fresh in your mind.
Plan ahead by scheduling development time in your calendar. You might have to juggle them around, but the commitment is there.
If you'd like to become an expert of tomorrow, search our latest jobs to find a role that's right for you. Or follow us on LinkedIn to find out more about life at AXA.