AXA story
Grow your potential: Meet Kathryn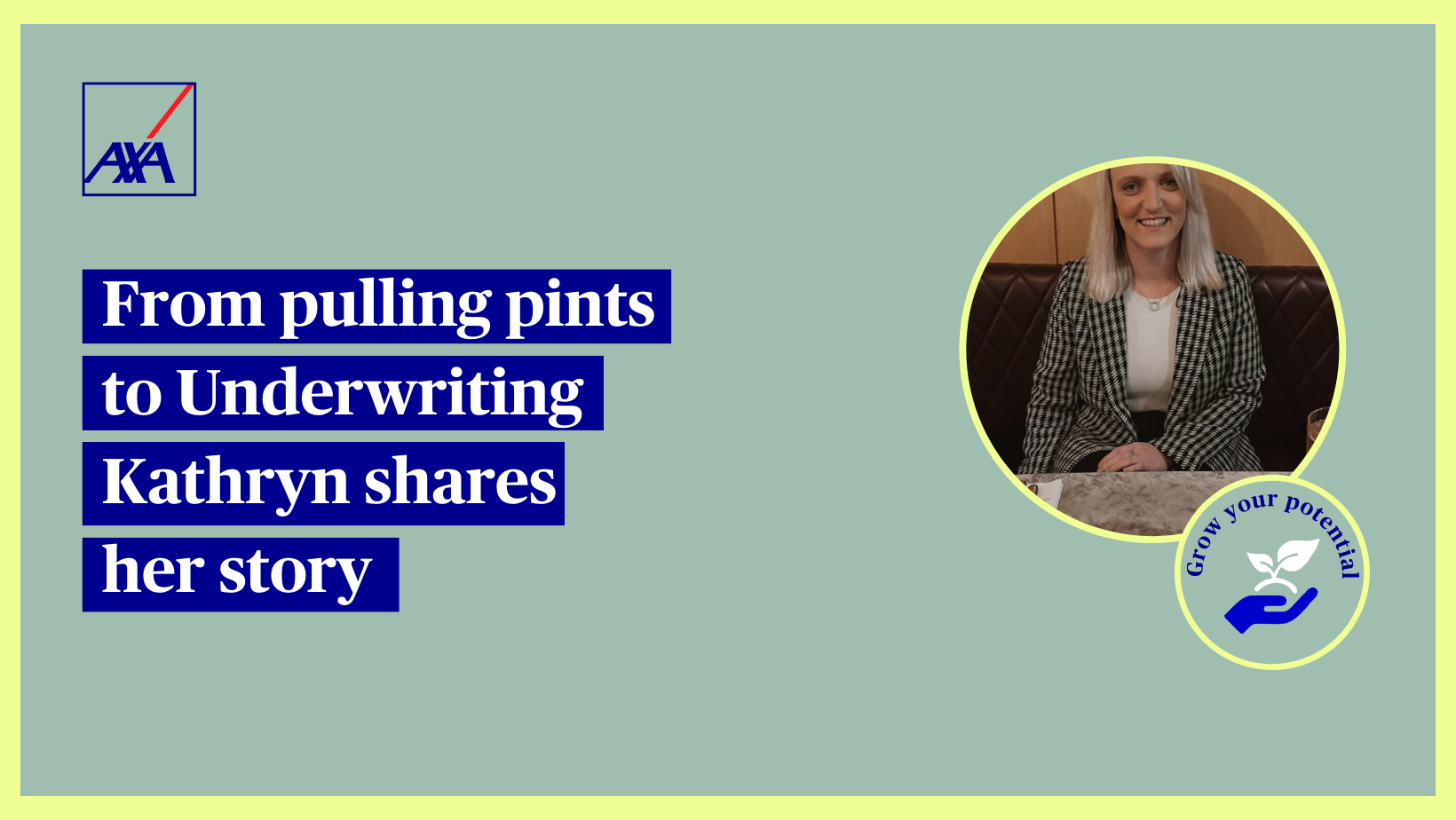 From pulling pints to underwriting
Kathryn never thought she'd go from pulling pints to protecting small business owners as an Underwriter at AXA.
What's been your journey to where you are now?
I used to work for Greene King in the local pub, as an Assistant Manager. After doing this for 5 years I realised I needed to get my social life back and find something with better hours. My friend Jonny worked at AXA in NTC and recommended applying for a role in the Online Trading team, which I was so happy to have got. Since then, I've grown from strength to strength at AXA, I've learnt all our digitally traded products, focusing on our Business choice product. Recently, I've just taken an exciting new role in the SME Team which I love.
Did you ever see yourself working in insurance or underwriting?
I did a sports degree at university and barely arranged my own car insurance before I worked at AXA! so from Insurance never really being on the cards, I'm building a really great career.
How does AXA support your learning and development?
AXA has been amazing at developing me and my team, since I've joined, I've learnt so much and my knowledge has increased over the 6 years I've been at AXA. There's just unlimited amounts of learning that can be done in so many different formats. I prefer in person learning but have benefitted greatly from the online learning available over the couple of roles I've had. I'm currently part of the Construction Capability Programme which was a new scheme at AXA and has been really advantageous to those taking part.
How do you feel about becoming an expert of tomorrow?
I look after Small and Medium sized businesses. I'm still quite new, so I really appreciate how my learning is accelerated by getting really close to customers - an example is the visit we recently made to the JCB factory.
If you'd like to become an expert of tomorrow, search our latest jobs to find a role that's right for you. Or follow us on LinkedIn to find out more about life at AXA.