AXA story
Grow your potential: Meet Jeff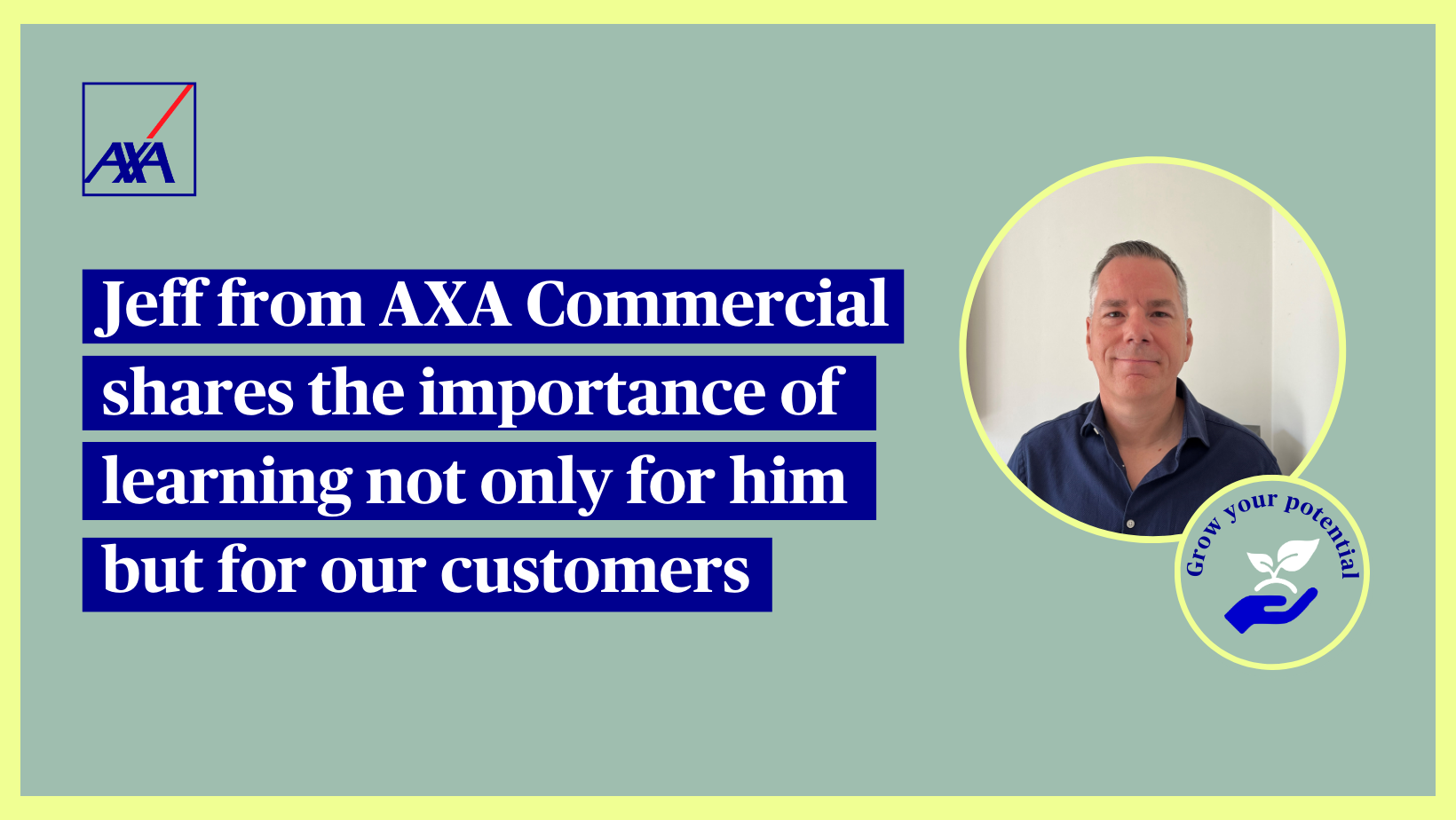 At AXA, we're investing in our people, so that they can learn, grow and develop. A culture of continuous learning is essential for our people and our business to thrive in a fast-evolving world. We're investing in our experts today, so they become experts of tomorrow.
In this blog, AXA Commercial Regional Business Resilience Manager, Jeff Hurlock, reveals how managing his development is important to him and our customers.
Hi, I'm Jeff Hurlock, one of three Regional Managers leading our national Business Resilience team who complete risk surveys at commercial customer premises. Our role is to support underwriters to make informed decisions and, more importantly, to help customers be more resilient to the risks from things like accidents, fire, flood, road risk, and theft.
Learning how to do a job doesn't finish at induction! To do our roles properly and deliver for our customers, continuous learning and development must be an essential part of what we do. The world is constantly evolving and it's vital that we keep pace with change to ensure we give the best guidance to our customers and support the business with informed and accurate technical advice. The customer trades we survey now simply didn't exist when I started – 3D printing wasn't a thing in the early 90s! New areas of risk have emerged, like those from lithium-ion batteries or autonomous vehicles, that need to be understood before they can be managed. We need to keep up with the constant technical advances in risk control, such as electronic security and remote alarm signaling systems. Innovations in trade processes and loss management are everywhere and, of course, the legal environment changes too, with new case law and new expectations of what is required to meet a duty of care, for instance.
Having an active development plan not only helps us structure what we need to learn or know more about, it can also help us spot opportunities to grow that we hadn't thought about before. Ultimately, it's an agreement with ourselves and a way to keep us honest to our development – keeping us on track and allowing us to see the progress and achievement we've made. Not having a plan runs the risk of not having all the knowledge or skills we need, which could lead to stressful situations and potentially poor decisions.
Personally, I get a lot of job satisfaction when I can quickly and easily resolve a customer query or solve a problem. But it's not all technical development – there are so many areas to grow in, from communication and presentation skills to mental health and supporting an inclusive environment. There are so many topics to choose from these days.
Making time for self-development is key – in my view it's as important as any other meeting or role-related activity. So, to make sure it happens, I plan and book time in my diary in the same way I would for a property survey, management meeting, or a team check-in. When the time comes round, that's what I'm doing. There will always be exceptions or emergencies that derail the plan, but we need to be honest with ourselves as to how often that's really the case.
I think all too often personal development is seen as the easiest thing to leave off the list or deprioritise. I know I've been guilty of it in the past, but to do that is selling ourselves short. Good personal development enables us to perform better and therefore contributes to the success of the business. It's difficult sometimes, but it's about sticking to the plan.
Some of the development activity I've completed recently includes…
Keeping up to date with new legislation in the residential property owners market following the Grenfell tragedy. As well as studying the new legislation, I've read industry articles, attended webinars and, importantly, made time afterwards to reflect and make notes to help consolidate my understanding.
Given I look after a group of people who spend their time in front of customers, I've prioritised learning more about Consumer Duty. There's lots of information available at AXA, but I also found useful resources on LinkedIn Learning and YouTube.
I'm also a Chartered Safety & Health Practitioner, so I try to block out time each week for ongoing development in this space.
Exchanging experiences, ideas, and learning from others in conversation is just as important as other, more formal ways to learn and develop.
This is one of the reasons why I make sure that my team (who are spread across the country) come together regularly in person. Those incidental and unplanned conversations that arise from sharing an experience while making a coffee for instance can often be the most valuable – generating nuggets of wisdom, creating efficiencies, and helping us to solve together.
My top tips for anyone looking to improve how they plan their learning and development…
Give personal development equal billing to other business goals.
Plan what you want to achieve, in chunks that work for you. Either week by week, or for the next month, but focus just on the next session to get it done. Big objectives can sometimes be daunting, so look at what's immediately in front of you and the steps will add up.
Reduce distractions in planned development time – if your role allows, close Outlook and Teams to stay focused on the task at hand.
If you'd like to become an expert of tomorrow, search our latest jobs to find a role that's right for you. Or follow us on LinkedIn to find out more about life at AXA.