AXA story
Grow your potential: Meet Aidan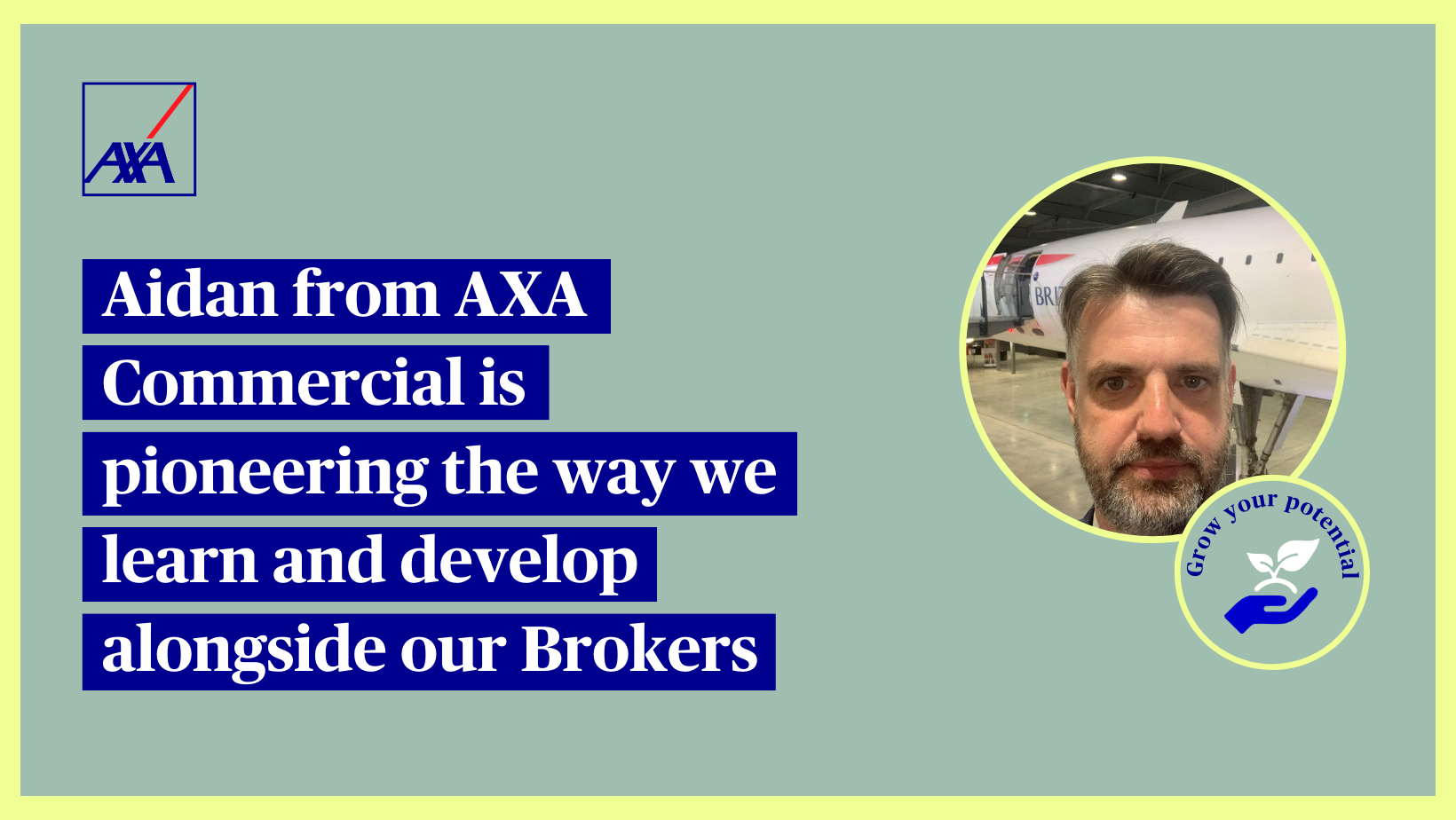 Aidan from AXA Commercial is pioneering the way which we learn and develop alongside our Brokers. At AXA Commercial we support the experts of today to become experts of tomorrow, creating enviable expertise recognised across the industry.  Aidan shared how his AXA career led him to Broker Development and what's exciting him about the future.
Tell us a little about your journey at AXA so far?
Since joining AXA, the opportunities to learn and develop were endless – it enabled me to have roles from telemarketing to bids and tender support. I always had a passion for Marketing, and I joined AXA Health or AXA PPP healthcare as it was known then as a Customer Service Adviser. I had 7 years learning my craft and then used that to secure a role working in the B2B marketing team for 15 years!. I wanted to stay with AXA but broaden my horizons, so when a role became available at AXA Commercial - our business insurance experts, it was time for me to fly the health nest and join Broker Marketing.
How have you been helping brokers learn and develop?
Without a doubt, my career has led me to a passion for all things brokers. They are a key part of how we operate in insurance and investing in them is crucial to delivering the best outcome for our customers, we couldn't do it without them!
Some of the highlights for me have been:
Supporting brokers learning throughout the pandemic, ensuring they had access to online learning platforms that provided bitesize learning they could continue with, despite not being able to come out and talk to us
Creating a hybrid learning programme for our experts of tomorrow – the next generation of brokers
Supporting leader development in the industry with a seminar programme
Supporting the women in finance programme, nurturing female talent in insurance
What excites you about this?
I wouldn't be able to do all of the great things above without the support of my own learning and development. Seeing both myself and the community I work with grow and grow has been really exciting and fulfilling. I'm very lucky to be a part of a team which comes together to build and develop networks, supporting future industry talent , that can ultimately deliver for our customers.
How are you creating the experts of tomorrow? 
In AXA Commercial, we're making some of the biggest investments to date, supporting not only our colleagues but together with brokers to harness the best industry expertise, and become experts of tomorrow together.
If you'd like to become an expert of tomorrow, search our latest jobs to find a role that's right for you. Or follow us on LinkedIn to find out more about life at AXA.