AXA story
Get ahead and stay ahead with an AXA apprenticeship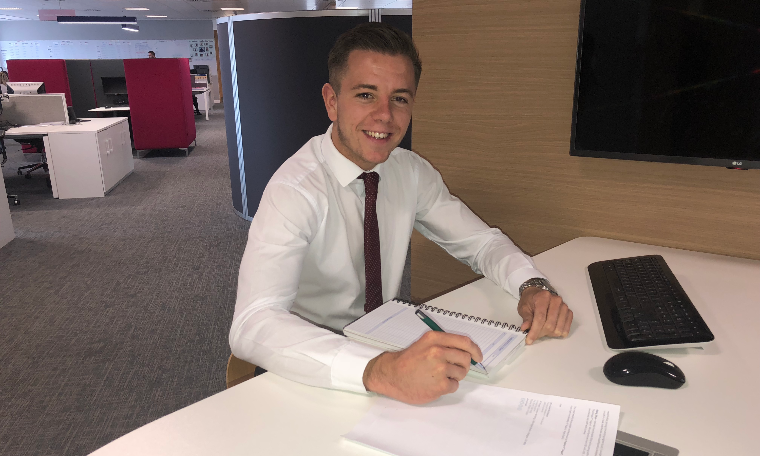 When people hear the word apprenticeship they often imagine a young person just starting out in their work career, but that's far from the case. Whether you're 16 and looking for practical, hands-on work experience as an alternative to staying in education, or you're 65 and an experienced worker wanting to learn new skills, an AXA apprenticeship is open to all. At AXA, we believe strongly in continuous learning. That's why we've built our apprenticeship scheme to offer a well-structured, challenging programme that sets you up for a successful career – and helps you gain a recognised qualification while working – no matter your age.
One major misconception about apprenticeships is that completing one can mean more risk and less flexibility in your career options once you've finished. The reality is very different. There's often the opportunity of a permanent role with your employer/AXA, or if not, the skills and experience you gain from an apprenticeship are highly valuable and much sought after by employers. You even have the option of continuing on to a higher level of apprenticeship, where you can quickly build your knowledge and capability. And when it comes to salaries, you may even go on to earn on a par with, or above, some university graduates.
"One recent apprentice in our Glasgow office, Dylan Murray, learnt a huge amount as he explains, "After the initial 10 weeks of training we were placed in teams with other advisors. We soon became an important part of the team, and were given advice and support by our colleagues, who all went out their way to help us. We all had a 'buddy' to help us with customer work, and if we had any struggles with the system, they would lend a hand. They were also our first point of contact if we needed information. If they were unable to help they would direct us to underwriters who could."
For Dylan, an AXA apprenticeship was not only a great way to get a foothold in the varied and fast-paced insurance industry, it also offered him fantastic career and skill-building opportunities. Since he completed his two-year apprenticeship he's gone on to become a fully qualified business insurance Team Leader, he got his SVQ Level 3, Certificate In Insurance and Institute in Customer Service Communication qualifications. He also completed a CCA Team Leaders of the Future course before applying and successfully becoming a Team Leader. As he explains, "AXA allow you to drive your career as far as you would like to go. They don't push you, but they do give you the platform to develop and explore different avenues and shadow different job roles. There was a real mix in our apprenticeship group and we became great friends. Two have become business analysts at AXA, another has had a secondment in marketing, while another is a test analyst with a different company."
Complete an apprenticeship yourself and you too could enjoy the flexibility of weighing up plenty of options afterwards, have a recognised qualification that you can build on, and boast practical skills learned through structured, 'on the job' training. You could even get a head start on friends who are off to uni, or enjoy a new lease of life in your established career. Well worth considering, isn't it?
We're currently hiring a Business Insurance Apprentice in our Glasgow office. If you're interested in joining us, get your application in by 4 June 2021.