AXA story
Flexibility that works for the whole family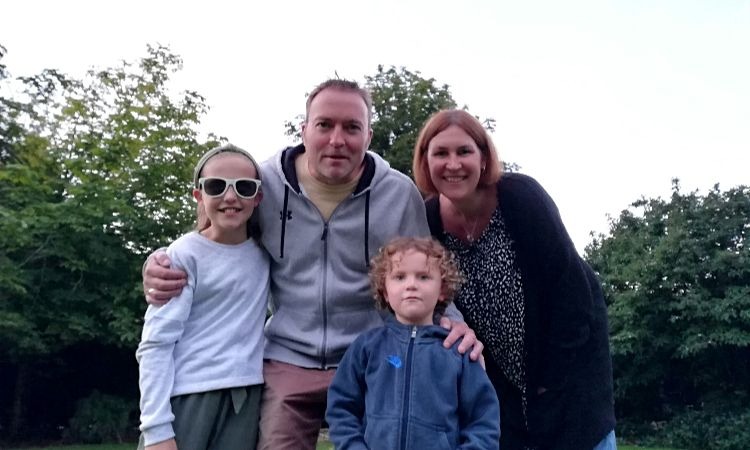 We want to support our people so that we all do the best job we can when it comes to looking after our customers. That's why, when the Covid-19 pandemic hit the UK, we extended our emergency leave policy to 20 days. Catherine Halson, Product Governance Analyst, explains what a difference AXA's emergency leave has made to her mental health while she's been working from home and balancing her family's needs.
23rd March 2020. The day will be forever etched into my memory, when the UK went into lockdown and we were left wondering if things would ever be the same again! Suddenly, I was plunged into a world of working from home, alongside my husband in our makeshift office – otherwise known as the dining room – trying to home school our nine year-old and take care of and entertain our four year-old. Initially, like many, we embraced the slower pace of life. Enjoying time together as a family and seeking beautiful new places in our surrounding countryside on our daily constitution.
However, the situation began to take its toll on all of us. I work flexibly three days a week but it's still a long 9am-5pm day and my husband also works full-time. This, along with home schooling and childcare, made me feel like everything was spiralling out of control and the guilt started to impact my mental health.
A new way of working
Thankfully, a conversation with a colleague turned to how we were coping during lockdown. For them it was going well. They had changed their hours to accommodate home schooling and when I asked how, they explained they were using AXA's emergency leave (which had been extended to 20 days in light of the Covid-19 pandemic) but in hours rather than whole days. Why hadn't I thought of this? For some reason I was reluctant to use the emergency leave, because I didn't think I was justified to use it just to manage my life a bit better. However, it suddenly seemed like such a simple solution. So I chatted with my husband to get his thoughts and, like my colleague, I suggested I would start an hour earlier and take a couple of hours at the end of the day to help my daughter with her schooling and give her a break from looking after her little brother. I then discussed it with my manager who had been supportive throughout and they said to do whatever works for us as a family.
And it really made a difference. The days now feel a lot less stressful and frazzled and I have a lot less guilt. It helped introduce a bit more of a routine. Our youngest, has now returned to nursery, so I've slightly reduced the emergency leave since then but it's still working well. My daughter and I now have a bit of time together to do things like going on a bike ride, although she misses her little brother to play with.
The social side
I noticed through lockdown that my daughter was slowly feeling more frustrated and angry. Thankfully, a month after I noticed this she was allowed back to school on a part-time basis, within a bubble. Her spark was lit and it made such a difference to her. It made me realise just how important school is, not only from an educational perspective, but a social one too. This September my daughter will be in year 6 and my son is starting reception, so it's a significant educational year for both of them.
Admittedly, it will once again be a juggling act in terms of work and childcare as my son will start school on a staggered basis for a couple of weeks, and the school's breakfast and after school clubs are not going to be running for the first term at least. This means we'll need flexibility once again and do you know what I'm going to do this time? Use the emergency leave!
Although lockdown is slowly changing and being eased, I would encourage anyone who feels they are struggling to take the opportunity to use the emergency leave. That's what it's there for.