AXA story
Fighting for gender equality 365 days of the year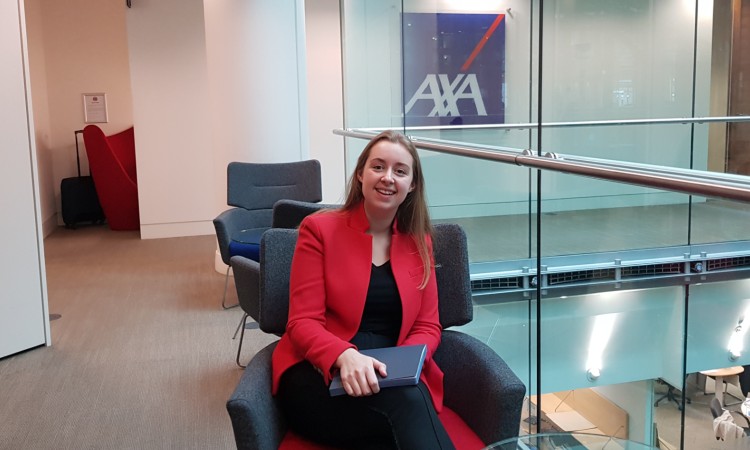 Gender equality does not happen overnight. It is an ongoing, collective drive to bring about change in every aspect of life. The Gender Equality employee resource group (ERG) at AXA has done incredible things to drive this agenda forward, but we still have a way to go. On International Women's Day 2020, the current Chair of the ERG, Amanda Ferguson, will be stepping down and Actuarial Analyst, Caroline Spence, will be taking over to continue the great work. Both of them got together to interview each other about the importance of International Women's Day, the ERG and what gender equality means to them.
Caroline Spence: What first inspired you to become the Chair of the Gender Equality ERG?
Amanda Ferguson: Back at the beginning of 2015, there was a message on our intranet about getting involved and reinvigorating the Gender Equality ERG. At that first meeting, there were just five of us. We were finding our feet over the first 12 months, but it became apparent that we needed a Chair role to drive the group forward. I volunteered and have done the role for the past three years. It was a great opportunity for me to look at the business through a different lens and interact with parts of the business I wouldn't usually get to.
CS: And what will you miss about the role?
AF: It's such a rewarding role because you can see the conversations that our sessions or events spark across the business. And certainly over the last three years, I can see the impact of what we've been doing across the business and how much more often those conversation are happening. I'm going to miss being at the forefront of that, although I will remain in the ERG, in a backseat capacity.
CS: What would you say was your biggest achievement as chair?
AF: There are two. The first is that I've brought together a large, engaged taskforce together who are all driven and passionate and volunteer in organising events. We now have 23 members, including five men, and an executive sponsor. And from a personal point of view, last November I was nominated by the ERG members for a gender equality award and was lucky enough to be the winner! It was really special because I was nominated by the people I work with and voted for by the industry, so it was a really proud moment for me.
CS: What plans do you have for the future? Do you still see yourself pushing for gender equality in other ways?
AF: Absolutely! Having done this for three years, I want to take the experiences I've had and share them more widely. So I'm looking to join some external networks and mentoring schemes and looking at getting involved in schools and things like that. Internally, I'll be looking at trying to drive forward gender diversity in the way we procure our services.
CS: Do you have any advice as an outgoing chair of the Gender Equality ERG?
AF: Do not be afraid to be bold in your conversations around gender and equality and, if you feel like you don't have that, then call out those behaviours and strive to amplify your voice to make a change.
AF: So what inspired you to become the next chair of the Gender Equality ERG?
CS: You were actually a key element in me joining the ERG in the first place – your drive to make it work was infectious! The more I worked with the group, the more I realised why it was so important to support gender equality. When you announced you were stepping down it was quite a shock because you'd done such an amazing job, but I wanted to channel my enthusiasm and passion for the work we were doing into a role where I could really effect change.
AF: And what are your plans as Chair?
CS: We have so much planned, it's very exciting! We've set some objectives and are circulating them far and wide so that we can reach people, but also so that we can be held accountable for what we achieve. The objectives we've set for the coming year, include:
Flexible working – we really want people to embrace this and be able to work in a flexible environment. We'll do this by sharing success stories to remove the stigma attached to it.
Parental leave – we want to make sure people are fully aware of their parental leave rights and make sure people who want to take their full parental leave are the norm.
Women's wellbeing – we want to make sure women feel confident and supported by management and AXA's policies.
Update AXA's menopause activities – we want to make these rights more relevant and supportive.
Collaborate with other ERGs – to make sure we're celebrating and promoting women no matter their faith, sexual orientations and beliefs, we want to collaborate with other ERGs – we've got Pride, Able, BAME and Working Families – and run events and workshops that recognise that no individual is the same as another and celebrate the uniqueness of everyone rather than silo people into areas.
AF: If you could achieve one thing as Chair what would it be?
CS: Long-term, I'd love to get to the point where treating both sexes equally is so engrained in our culture and our way of working that we remove the need for a Gender Equality ERG altogether. Short-term, it would be that employees see a tangible change in their working environment and the way they are treated. I want to create a working environment where people can feel that they're not held back from any opportunity, whatever that may be.
AF: Why do you think it is important for companies like AXA to support International Women's Day?
CS: For me, individuals should be celebrated daily for the work they do and the contribution they make to the company. At times, however, it can feel that women are not celebrated enough, especially when the gender balance and senior management is still not equal and that's what people look up to. So for me, it's a wonderful time to celebrate the work of women within companies like AXA and remind ourselves why we should be working to create more diversity within our organisation. Not only is it the right thing to do, but it also makes business sense. Forbes released a survey recently that said that companies in the top quartile for gender diversity out performed their competitors by 15%, so these stats can't be ignored.
AF: This year's International Women's Day theme is Each for Equal. What will you be doing to strive for this?
CS: To me, Each for Equal means that everyone has equal opportunities in whatever area they work in. Something highlighted to me recently was that women are much less well off financially than their male counterparts, especially by the time they reach retirement age. We felt it was important to raise awareness of the financial difficulties faced by women throughout their working life and provide guidance on how people can put themselves in a stronger financial position. In honour of International Women's Day we're running an event to help educate our attendees so that everyone is on a level playing field. We're going to be talking about pensions and investments, mortgages and savings and it's important that people are able to take something away from it.
AF: What can others do within AXA to push for gender equality?
CS: Speaking up can have a tremendous impact – whether this is standing up for a colleague facing gender discrimination or speaking up about their own experience in the hope someone else in the organisation can relate or be inspired. This helps to remove stigma around gender discrimination and encourage people to talk more openly about issues.
AF: That's true. From a recruitment point of view as well, we need to make sure our adverts are not biased to one gender or another, and not just gender bias but bias to neurodiversity and disabilities. We want to be as inclusive as possible in our recruitment. We need to make sure that our managers are given the training to recognise the fact that they can be inclusive in their recruitment and they need to make adjustments if required.
Will you be celebrating International Women's Day this year? Take a look at our AXA UK Careers Facebook and Twitter pages to discover what you can do to push for 'Each For Equal'.