AXA story
Cultural Cookbook Volume 2 - Age Inclusive Workplace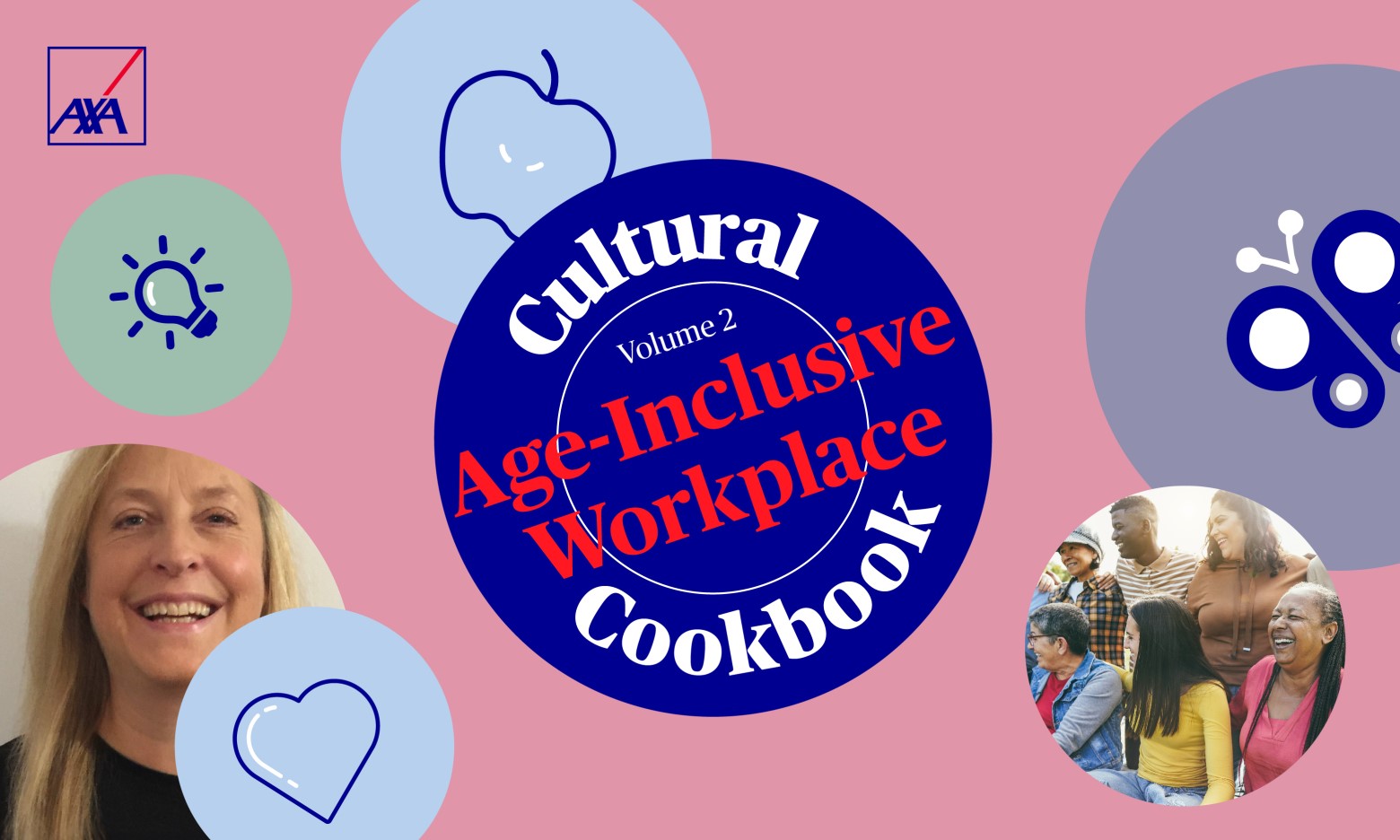 This volume of the Cultural Cookbook serves up a recipe for supporting a multi-generational workforce
Hi, I'm Emma Harvey, People Chief Operating Officer for AXA UK&I. I lead our Talent Acquisition, Learning and Development, People Services and People Change teams - between us we have contact with all of our colleagues throughout their time at AXA.
I've had the opportunity to work in AXA now for over 25 years, in a great career that has spanned across many different roles, entities and cultures. I've been in this role for over 4 years now, and I've cooked up some steps below which bring to life how we've been working towards creating an inclusive workplace for any age. It's because all these ingredients come together, I'm proud to be the first insurance company to achieve the Age Aware Accredited Employer Status from 55/Redefined.
Ingredients
Inclusive recruitment, leadership and development and policies that deliver a great colleague experience.

Put appropriate actions and policies in place so our colleagues can reach their full potential.

Empowerment.
A multi-generational workforce where everyone belongs.

Recognise diversity when recruiting new talent.

55/redefined accreditation.

Menopause friendly employer
Step One: Create a team who support colleagues at every stage of their journey with AXA
One of the great things about the culture at AXA is the people, and the support and collaboration that I see daily across the business. The People teams are no different, and with over 100 colleagues in the People Operations teams, there are many opportunities to connect and work together both in the offices, or virtually, and I really see the benefits that this delivers in terms of team engagement, motivation and the business results that are delivered.
It's really humbling for me at times to see how people support each other, particularly at difficult times. Also, the real effort and pride that they put into supporting our Managers and Employees in the everyday important work that we do – making a real difference and delivering a great colleague experience. It makes me very proud; I love being part of the team, and it's one of the reasons that I have stayed with AXA for so many years.
Step two: Create a culture where people feel included at every career and life stage.
At AXA, we want people to be their full selves at work, and to be able to reach their full potential. I can see through the actions taken, policies put in place, and support that is provided for everyone, we are doing all we can to make this happen. Feeling included, has meant that I can be open and honest and contribute my thoughts, ideas and concerns - which makes me feel empowered to do my job but also, I know that what I do is valued and recognised.
Having career opportunities at AXA that are open for everyone has also helped me to move around, get the development and support that I have needed to have an interesting (and challenging) career – with hopefully lots more opportunities still to come!
Step 3: Have a multi-generational workforce
Recognising diversity means we can attract and retain the greatest talent. In a tough competitive market, where there is a shortage of skills, building a multigenerational workforce is critical, providing a much wider and sustainable talent & skill source as well as building the diversity we need to succeed as a business. Whatever life stage people are at, we can harness and develop their skills and create a brilliant place to work. I believe that a happy and engaged workforce, that celebrates diversity, will enable us to be the very best we can be for all our customers.
Step 4: Celebrate success and achievements!
I was very nervous to be on the telly (not helped by my internet issues if you have seen the clip recently sharing our recent success and achievement but very proud to be part of an organisation that has become the first insurance company to achieve the Age-Aware Accredited Employer status from 55/Redefined, who have really been supporting us on age inclusivity. The accreditation really demonstrates our ongoing commitment to implementing age-inclusive policies and is testament to the company's belief that employees should be able to progress whatever their background, heritage, lifestyle or life stage.
Step 5: Listen to colleague feedback
The response to our accreditation has been fantastic, both from colleagues who are very supportive of the work we are doing in Inclusion, and from my wider network. I've had lots of messages from people that are very supportive e.g., may have experienced some of the challenges of getting new work as they get older, or people that are looking for new opportunities. The best feeling that I had was receiving a message from an AXA colleague who is over 50 and had recently joined the company. They contacted me to say what a great experience they had joining, how great the culture and team were that they are working with, and how welcoming they have been – that's was a moment when I knew that we are doing things right.
Bon Appetit!