AXA story
Champions of Feelgood - Eileen Mann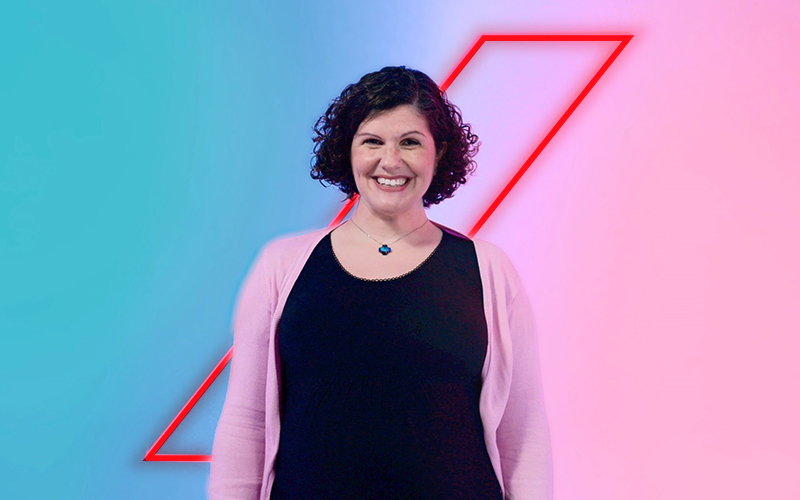 After over a decade working with AXA Insurance, Eileen decided to take on a new challenge – leading an exciting greenfield project with AXA Health. She's helping to steer our digital transformation and improving how we communicate with members.
Tell us about your career so far with AXA Health.
After working across AXA Insurance for 11 years, I recently took on the role of Principal Product Engineer for AXA Health. I've been in the new job for just over a month, but I'm already enjoying it immensely.
I'm working on our outbound communications, and helping to make them more user-friendly for our members. For instance, our policy documents. Right now, we send everybody the same very detailed policy handbook with lots of caveats that don't necessarily apply to the member reading it. No one wants to read a big scary legal document that doesn't tell you clearly what you're covered for! So we're working towards every member receiving a bespoke policy document. It will be clearer, more personal and far easier to understand. It will tell you – this is what you're covered for, and if this happens to you, here's what you can do.
I'm working on the technical side of this, determining our needs, and how we can set up our systems and bring in third-party software to achieve our goals.
You are working on a 'greenfield' project – what does this mean for you as a digital expert?
If you talk to anybody who works in IT and say the word 'greenfield', they all get excited because it means you're building something from scratch. Everybody wants to work on it. It gives you the chance to take ownership, and feel pride in the fact you've designed something new, rather than simply patching up a creaking old system built by someone else 10 years ago.
When you're maintaining something, you're limited by what that software can do, and how much effort and time it's worth putting into it, but when you're building something from the ground up, you have no limits. You can do almost anything with technology these days. It becomes about how we can achieve our goals, which is really exciting.
I've joined AXA Health at a great time. We're in the design stage, so I'm getting to make decisions about what we need now and in the future, and how we're going to get there. It's a brilliant opportunity, but it's also challenging because you need to be thinking and creating, not just coasting along and doing what's always been done before.
Why did you decide AXA Health was right for you?
It's really important to me that I work in roles that ultimately help people, and that's what AXA Health does, so when I saw the opportunity, I knew it would be moving closer to my own ethical goals.
I find it so rewarding to think the work I do will have a positive impact for AXA Health members, knowing our new documents will help somebody feel less alone and less scared if they've been given a diagnosis, for example. They can look at the handbook and be quickly reassured that they're covered. It gives me a real sense of purpose.
Moving to AXA Health also meant I could stay within AXA, which makes me happy because I love it as a company. They've really supported me in the past, in good times and bad, and I know I'll have a secure future and long-term stability with a company that cares for my wellbeing.
AXA Health is all about taking achievable steps towards being happier in body and mind. What does this 'Feelgood Health' ethos mean in your working day?
It's interesting how small things can have such a big impact on your happiness. For instance, at AXA Health everyone is always so supportive and encouraging of their colleagues. It's just a simple thing, but it makes a huge difference for our team. Also, the company is always thinking about how they can improve our days, whether it's providing online yoga classes, giving staff a day off as a thank you for working so hard during the pandemic, or sending emails to make sure we're looking after our mental health.
It makes sense, because happy people work better and are more likely to go above and beyond, which ultimately helps us provide better for our members. But it also makes me as a staff member feel very supported, which adds to my sense of happiness both in and out of work.
If you'd like to become a Champion of Feelgood, search our latest jobs to find a role that's right for you. Or follow us on LinkedIn to find out more about life at AXA Health.