AXA story
Champions of Feelgood - Connor Jackson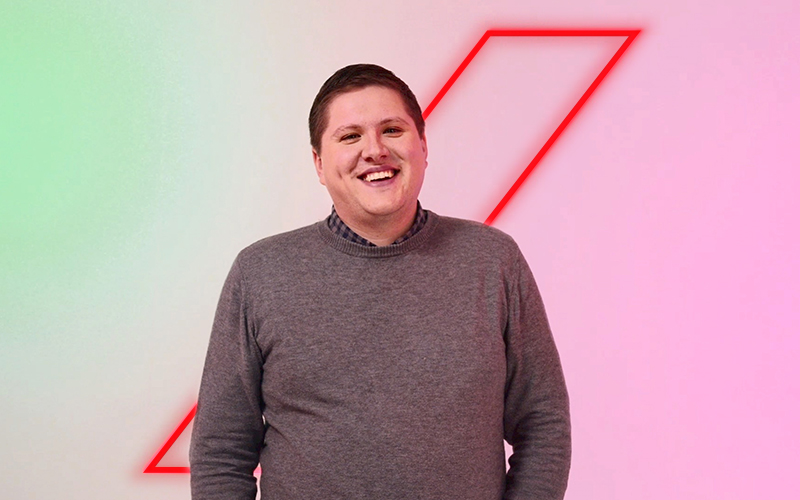 Connor wished to find a role where he could see projects through from initial ideas to delivery. He's now playing a pivotal role in AXA Health's digital transformation, building systems from the ground up.
Tell us about your AXA Health career so far.
I joined AXA's Technology Architecture team back in November 2020, to work on a new project as part of our wider digital transformation across AXA Health. A large part of my role is working to replace legacy systems with Salesforce, one of the largest 'software as a solution' platforms in the world, covering everything from sales and service to marketing.
As a Enterprise Architect, it's my job to work closely with stakeholders across the business to determine what components from the Salesforce ecosystem we can use to deliver their requirements. The changes we're making will have massive benefits for our colleague and customer experiences, and seeing these changes go live is hugely rewarding.
As a digital expert, what drew you to work with AXA Health?
I've worked for a lot of tech businesses as a consultant. I always found that you'd work on a project, then it would be signed off, and you'd walk away. You never got that end-to-end experience of building something and seeing it through. At AXA Health, we're not putting plasters on old systems. We're building fresh new systems, so I'll have the satisfaction of being part of that full life cycle from initial design all the way through to implementation.
The other thing that drew me to work at AXA Health was the opportunity to be part of a larger business. I've had senior technical roles on small teams at start-ups and charities before, but now I'm part of a big team, collaborating on a large-scale project. It's given me the chance to develop a lot more of the softer management and team-building skills, and to learn how I can get the best out of people.
AXA Health is all about 'Feelgood Health' – taking small, simple steps to increase your happiness and wellbeing. What does this mean for your day-to-day work?
Happiness in and out of work is really important, and AXA Health supports this not only with a range of benefits but also with a strong ethos of supporting each other. We all work together as one big team. When we're on a delivery deadline, we work hard, but there's no concept of pushing people until they break. There's no staying until midnight to get things done. The wellbeing of staff is important, so instead the approach is, 'OK, we need more time. We have to accept that as a business. Let's start fresh tomorrow morning.' They understand that pushing people like myself to the limit doesn't make sense, because if I'm burnt out then we can't deliver the overall programme, and we can't get those benefits to our members.
What simple steps do you take to increase your happiness, and how does it impact your work?
Taking small steps to increase my wellbeing has a big impact on my ability to do my job well. I love getting out in the open air, and most mornings before work, I go to an outdoor café in the market town where I live, get a cappuccino and watch the sunrise over the cathedral. Just seeing the sky changing colours and breathing the fresh air gives me a chance to recharge my batteries and contemplate what's before me at work. I've no doubt that these moments help me keep my energy and focus throughout the day.
It's also invaluable for my creativity. I spend most of my day problem-solving, and often it's when I've stepped away from my desk – getting a cup of tea or taking the dog for a walk – that I'll have a lightbulb moment. I'll look up and think, 'Oh, we could do it that way.' By taking those moments to rebalance, I'm allowing the space for these solutions to come to me, in a way they might not if I were just staring at my screen.
What would you say are the key qualities you need to do your job well?
I think you need to be a problem solver with a 'know you can' attitude. You can't come in and expect to have all the answers and processes given to you. We're building something new. It's exciting, but it is a challenge, so you need to be able to roll up your sleeves and get stuck in, even if you don't have all of the answers to begin with.
Within AXA Health, we always try to have a 'know you can' attitude. If we need to change a system because it can better support our customers, then the answer isn't no. It's yes, we know you can. It might take us some time and effort, and we might have to make lots of changes to dependent systems. But we can do it. Our people are empowered to know they can make those decisions and share ideas with other team members. So, if you have a great new idea, and you're willing to do the work, you'll be supported every step of the way.
If you'd like to become a Champion of Feelgood, search our latest jobs to find a role that's right for you. Or follow us on LinkedIn to find out more about life at AXA Health.