AXA story
Celebrating our inspirational people after a challenging year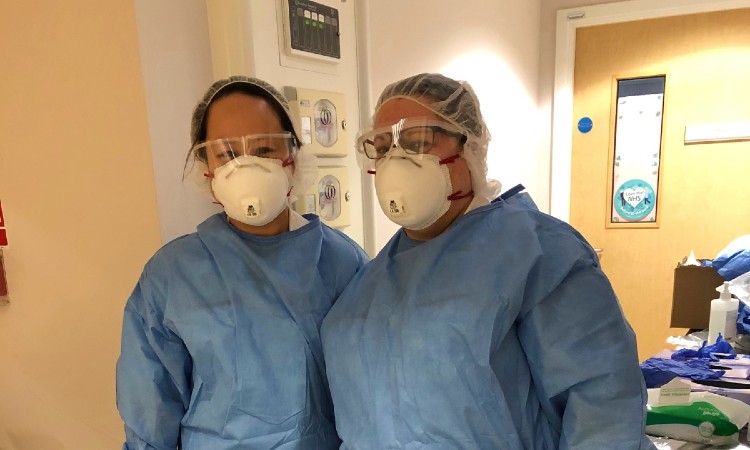 Who could have predicted that 2020 would be such a turbulent and chaotic year for the whole world? At AXA, we rely on the talent, courage and resilience of our people to succeed – and we can safely say that all our people have gone above and beyond to support each other and look after our customers during this hugely challenging time.
Every year, we celebrate our people's most inspirational stories. This year is no different. In fact, we believe that it's even more important that we share the stories that have made a difference to us and our customers. Whether they've been volunteering on the frontline of care during the pandemic, improving gender equality within AXA or creating a more supportive place to work, we want to celebrate them all.
Supporting the NHS during COVID-19
Lynsay Boyle, Occupational Health Advisor (OHA) at AXA Health was one of our people who had no qualms in heading to the front line to help the NHS when the pandemic started. Before moving into Occupational Health ten years ago, Lynsay had a background in critical care. "When the lockdown happened and everything started kicking off, I thought to myself that I had the relevant experience to help in critical areas," explains Lynsay. "I was prepared to do whatever it took to help." Likewise, Hermione Carr felt that volunteering on the NHS frontline was the least she could do to help. Already a long-serving volunteer for British Red Cross, Hermione transitioned into the crisis response team as soon as the need was apparent. She has since helped take patients to and from hospital alongside the ambulance service, experiencing what it's like to wear the full PPE required on COVID-19 hospital wards. We're so proud to have both Lynsay and Hermione as part of the AXA team.
Diversity and inclusion
We believe everyone should feel comfortable being 100% themselves while at work. That's why we're committed to creating an inclusive environment for all, and we'd like to say a massive thank you to our dedicated people who are helping us take big steps towards this goal.
Gender equality does not happen overnight. It is an ongoing, collective drive to bring about change in every aspect of life. The Balance employee resource group (ERG) at AXA has done incredible things to drive this agenda forward, but we still have a way to go. On International Women's Day 2020, the previous Chair of the ERG, Amanda Ferguson, stepped down and Actuarial Analyst, Caroline Spence, took over to continue the great work. Both of them got together to interview each other about the importance of International Women's Day, the ERG and what gender equality means to them.
This year has been very challenging for all our ERGs as they have had to find new ways to keep their members connected and offer support to those colleagues who need it. With Pride events cancelled all across the country, Arlene Stewart, Chair of AXA's LGBT+ (ERG) had to adapt the group's plans to ensure LGBT+ employees have the support they need during this time and for the future.
During 2020, Ross O'Brien, Change Manager at AXA Health, developed an online training module on LGBT+ inclusive language. Using inclusive language helps diverse communities, such as LGBT+, to feel like they belong. Being able to talk confidently about topics relating to diversity and inclusion is thought to be crucial in creating an environment in which everyone, regardless of who they are, can reach their true potential. And while the COVID-19 pandemic has shifted attitudes and forced businesses to adapt to remote working, many teams have faced challenges around the way they work. For people with disabilities, it's been an especially trying time. Becky Syms, Data Business Partner at AXA PPP and the Chair of the AXA Able ERG, explained how we were able to help support people during this time and what we have planned for the future.
Wellbeing
Creating a supportive place to work is really important to us. Even more so at the moment, with the pandemic situation, which is making all our lives harder. Katie Henley, AXA's Employee Engagement Manager, told us about My Wellbeing – a central hub on our intranet where employees can find everything they need to look after their physical, mental, financial and social wellbeing – and how it helped during lockdown.
We're so proud of all these stories, as it's testament to the people that make AXA such a great place to work. Interested in finding out more about the amazing people who work at AXA? Then you can read through all our blog posts here or keep an eye on our AXA UK Careers social media channels.