AXA story
Believing I can do anything I set my mind to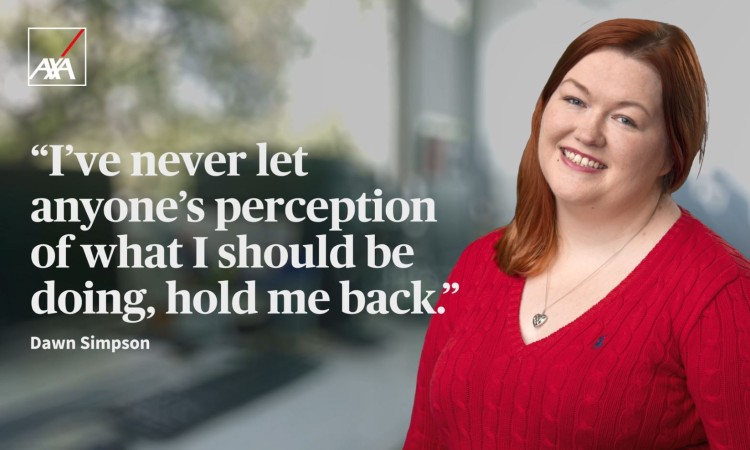 I've always done things that were considered more 'masculine', whether that's the sports I play or the career path I've taken. It doesn't matter if you're male or female, or non-binary, if you want to do something, you should have that opportunity. This is how I learned to trust myself and never hold back.
I used to play and coach rugby, and I practice Brazilian Jiu Jitsu. They're both really good sports for team work and team bonding. You get to know the people in your team and what everyone's strengths are. There's a position for everybody in a rugby team, no matter what size you are or how fast. For me, that idea that there's a position for everybody really resonates.
It's part of the reason I joined the Gender Equality ERG. I wanted to help change perceptions. The work that we do isn't just about making sure that women have the ability to apply for jobs at higher levels. It also recognises that there are some stereotypes that men face as well.
Say yes to opportunity
I actually started out in AXA as a telesales advisor. My first opportunity outside of this was in the underwriting team, where I learnt about more complex products. Shortly after I joined we had a new system being implemented and I was sent on a four-week course to test this. It ended up as a six-month project, which led in turn to a secondment within IT because I was really enjoying it. Then I paid to go on a course to gain a green belt in Six Sigma (which is a method to increase performance and efficiency). And following that, I got in touch with the Change team and offered to help out whenever I could.
It was a pretty difficult time for me at this point, because I lost both of my parents. After they passed away, I realised I'd been holding back because of everything that was happening personally. A few months after I lost my dad, I saw a role advertised for a Business Analyst in Bolton, so I thought to myself now is the time to go for this.
I've been in Bolton for two years now, but my role has moved on again. One of the courses I went on for the role involved a section on structured data and it piqued my interest. I started looking into being a data architect; what that would involve, where I might have to go and what would I need to develop into the role. Then not long after, an opportunity came up. I read the job description and I thought, I can't do half of these things, but I'll ring the hiring manager anyway and ask them what they think. When we spoke, they told me I wasn't quite at the level that the job was advertised at, but they wanted to take me on and train me up. That's how I got to where I am now – a fully-fledged Data Architect.
Believe in your own strengths
My manager is so supportive and encouraging, they're really keen to drive my development. I think when you have that self-belief already, others are more likely to have confidence in you. A lot of people don't realise that I suffer from anxiety and panic attacks, and when they find out they're quite surprised. Even now, with all the awareness around mental health, some people see it as a sign of weakness, but it's not. It means you've been trying to be too strong for too long and you've not been looking after yourself. It's part of the reason that I do sports like Jiu Jitsu, because it actually helps me to release some of the tension and pressure. And that in turn helps me to maintain a positive mind-set.
Really it just comes down to how happy you are with yourself and then making sure you're doing the things to make you happy. I've never let anyone's perception of what I should be doing hold me back. People often say to me that they wish they had my confidence or that they could do the things I do. I always think, 'Well, why can't you?' The only thing that holds you back is you. I think that if there's ever something that you want to do in life, just go for it. The worst that can happen is that you'll find out what it is you need to do to get there.