AXA story
Being an apprentice during lockdown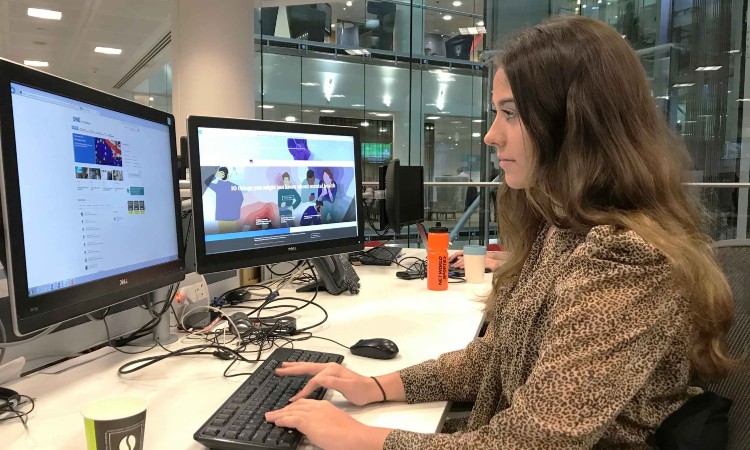 Being an apprentice is challenging. Adapting to a unique working environment, learning on the job, engaging with colleagues, it's all new. When you add a global pandemic into the mix, it might make you feel unsure about going ahead with the opportunity. But at AXA, you can be certain that you won't need to put your future on hold. You will feel supported to pursue your goals during this time, like any other. We spoke to Mia Simpson, Press Officer Apprentice for AXA UK, who told us how being an apprentice during the COVID-19 crisis has given her unparalleled skills and insight.
Deciding an apprenticeship was right for me
Going to university wasn't part of my plans. I wanted to get a job and be paid, but I still wanted to get a qualification. I decided my next step would be to get an apprenticeship in a field that interested me. I studied media at A-level and a lot of the units involved marketing and PR, which I really enjoyed. So I started researching apprenticeships online and that's how I found the Press Officer Apprenticeship at AXA. I felt that the job description matched my interests and my skillset, and after I found out more about the company I was excited at the idea of learning and working here.
Feeling supported along the way
As part of my apprenticeship requirements I need to apply 20% of my working time to studying. AXA lets me manage that time depending on what works best for me, which gives me a lot of flexibility. For example, I can block out a day in my diary for study and I know no one will interrupt me. My manager is in charge of planning my tasks, and we have regular catch-ups with my apprenticeship tutor to make sure that I'm getting the skills and experience I need in order to become fully qualified.
I also get a lot of support from my team, who are incredibly experienced in their roles, and who make sure to involve me in the projects that they're working on. One of my favourite tasks so far has been to support on an episode of the BBC show Claimed and Shamed, where I had to gather cases and brief the spokesperson. I also helped organise the filming to make sure all went swimmingly!
It's also been very interesting to see how the coronavirus pandemic has unfolded. A big part of working in PR is risk management; seeing how the biggest crisis of my lifetime so far is being managed and dealt with is giving me invaluable insight for a future career.
A new normal
I started at AXA in January. When lockdown was announced I was quite nervous about how it was going to impact my apprenticeship. I was used to sitting with my team, shadowing them and joining meetings – but now I would be working from home on a full-time basis. Looking back, whilst some things have changed, I think that some of them may have changed for the better.
Before lockdown, I worked from home two days a week, so when our office closed it didn't feel like it was such a drastic change. I'm constantly in contact with my team through video calls, so in a way it's almost like talking face-to-face. My line manager is always available and we have regular 1-2-1 meetings. And every time I'm given a new task we have a call first to make sure I understand it, and I'm comfortable with the work - there's always plenty of support. Plus, during this time, AXA has been offering equipment to anyone working from home. That means an office chair, desk, or whatever I need in order to work more comfortably.
Although COVID-19 has brought in new challenges, lack of communication and support hasn't been one of them. If anything, I feel I've grown closer to my team now more than ever – we have regular chats and increased meetings with the wider communications teams, to make sure everyone is involved and no one is feeling left out. We've actually had a new person join our team since lockdown, and although I've never met her in person I see her so often on video chat it feels like I have, and she's definitely just like any other member of the team.
Interested in an apprenticeship at AXA? Find out about our current opportunities here.