AXA story
Becoming the person I knew I could be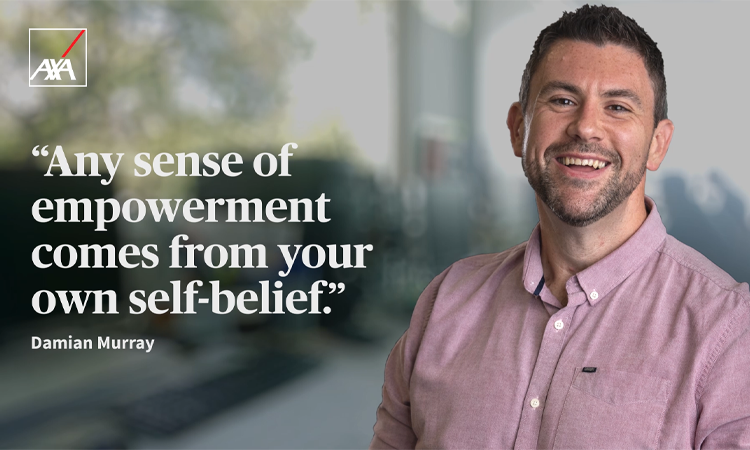 Any sense of empowerment comes from your own self-belief. You can drive it in other people, but ultimately it has to come from within. This is how I found mine.
I'd always been big. In my late teens, I stopped playing rugby and gradually started to put more weight on. I fluctuated in my mid-twenties and after returning from travelling with my wife, we settled down and had a baby. In those first few years after my son was born, I got significantly bigger and eventually it started to have an impact on my health. I couldn't go upstairs without getting out of breath and began to have real health issues.
Just say yes
The catalyst for me was my wife. She ran her second London marathon in April 2017. We were celebrating her success afterwards, with her friend and his wife, and they suggested that we sign up for it the following year. I agreed to it, with a nod and a smile, and put in for the ballot. At the time, I never thought it would happen, but you don't find out for months if you've got in. So naturally I started thinking 'I might need to do something about this' if I was to run.
The first thing to tackle was my weight. My wife suggested Slimming World, but I was worried about being the only man in the group. She found me one with a male consultant. He'd been in a very similar situation to me and his story resonated with my own. We clicked and after just the first week I'd lost a tiny bit of weight, so I kept going back. That was May 2017, and after about three or four months I got myself an exercise bike. I put my trainers on one day and decided to run to the end of my road. It was 1.1 miles and my lungs felt like they were going to explode, but I got there and that was a turning point for me.
Small steps, big dreams
There were ups and down to my training of course, but I've always been very process orientated. Having a training plan and sticking to it really paid off. I followed the process and saw the incremental gains. You don't just go out and run a marathon, you go down to the park and then you go a little further and you gradually increase it. Self-belief is very similar. It's an amazing feeling when you're pushing yourself and you check in, mentally, to see if you can go further. It's knowing that you can, which gives you the confidence to keep going.
One of the most significant motivators for me was my son. We do a lot more together now and by being as active as I am, I know I'm encouraging him to be active too. For my first marathon I also wanted to raise money for a charity. My dad has Myeloma, which is a form of cancer of the blood. It's not terminal, but it can't be cured. So I chose to raise money for Myeloma UK and that was a real drive for me.
Empower each other
I had a lot of support here from my colleagues at AXA, and together with my friends and family we managed to raise £6,000. There's always been a real family feel to the team I work with and there's this belief in and appreciation of one another which really helps. I remember the day I returned to work, after the marathon, some of my colleagues had decorated my desk with congratulations balloons and a chocolate gold medal. That emotional support was amazing. Then add to that the support from AXA in terms of flexible working. I've been able to work remotely, and work from home, meaning that I could go for runs in the evening rather than having to commute to and from work every day. It's made it that much easier to be able to fit in running and training.
When it comes to my team, I try to encourage them to know that they can achieve anything they want to. Any decisions that we make, I ask for their contributions. We come together and we talk through solutions so they know they always have a voice. I think if you want to achieve something, it's important to focus on your dreams and the end goal. Commit yourself, and then break it down into smaller chunks so that you can nudge yourself along. It's important to hold yourself accountable and be realistic – forgive yourself if things get in the way but don't let it hold you back or stop you from moving forward.
Follow your passion
I ran the London Marathon in April 2018, which coincidentally was the hottest marathon on record. Now, I run three times a week and I take my trainers with me everywhere I go, even on holiday. I run on my birthday, and my wife and I run on Christmas day. Overall, I've lost around 12 stone, which health-wise is just amazing.
Now my goals are to try a sub-4 marathon next year (running a marathon in under 4 hours) and then an ultra-marathon which is longer than the traditional marathon length. Whatever happens, I know now not to compare myself to anyone else. You never know what's going on in their lives or what they've been dealing with. I only compare myself to me from a few years ago and I go from there.