AXA story
AXA Confidence Champions: Meet Sonia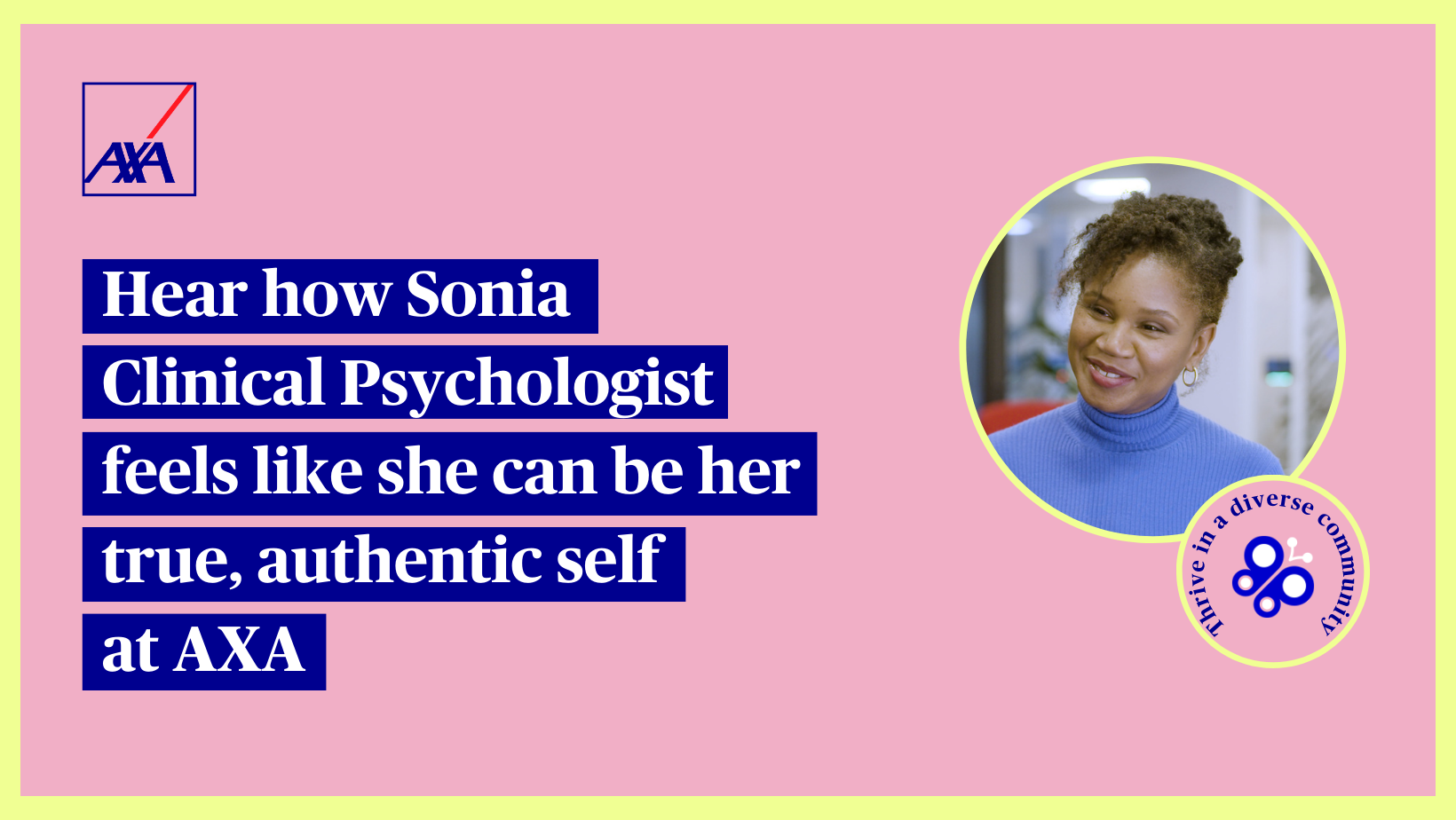 Paralympian and AXA Brand Ambassador, Amy Conroy chats to some of our AXA Confidence Champions to understand what challenges they have overcome to build big and bright careers at AXA UK.
We know the importance of creating confidence in the workplace, and that large or small, every step our colleagues take makes a difference in their lives as well as others. Our Champions show us that everyone can be their best selves, and create change, with the right support and a 'Know You Can' mindset.
Sonia from AXA Health, shares her story.
"I could talk about being a clinical psychologist all day. If you asked my friends and family what I used to do I'm sure they wouldn't be able to tell you, but these days my work is my passion - they know all about it!
I was unable to see a long-term future in my previous career in investment banking/IT. I just felt like I was in the wrong place. I knew I had the ability to do a lot more and that I wasn't fulfilling my potential - but how do you go about finding your 'life's purpose', especially when you're years deep into an established career? It took a lot of self-reflection and research. I wanted to find something I could feel truly passionate about.
So, I did a little bit of everything to find out what that was. Life-coaching. Counselling. Reading self-help literature (What Colour is Your Parachute, The Road Less Travelled, Seven Habits of Highly Successful People are a few favourites). I also did a few personality/aptitude tests - I'm a Myers-Brigg INFJ. That's how I landed on clinical psychology, and it's turned out to be an excellent fit.
In August 2022, I joined AXA as a clinical psychologist in the AXA Health Employee Assistance Programme. This is a programme we offer to our corporate clients to support their employees' mental health and wellbeing, and I'm loving the role. It's very different from anything I've done before. AXA has encouraged me to make the role my own, and I've been able to continue shaping it in a direction that fulfils the business' needs, as well as my own self-development. As I'm still relatively new to the company, I've received a lot of help from my team to navigate AXA's systems and processes. Working in such a highly supportive culture has given me a smooth start.
I've learned a lot about life, myself and setting the right goals over the past ten years. Sometimes that is hard to do. So even if you're unsure about what you truly want, you can always set finding clarity as your first goal. For me this was the longest and hardest part of my journey. If it's legit, don't give up, even when it feels too hard or that you might not make it. It took me a decade of baby steps to get to the very fulfilling place I'm in now and I'm so happy I stuck it out. I shared my dreams with others, took all the well-meaning advice and support that came my way and now I get to spend every day being exactly where I want to be."
If Sonia's story has inspired you, search for a role that's right for you now. Or follow us on LinkedIn