AXA story
AXA Confidence Champions: Meet Karl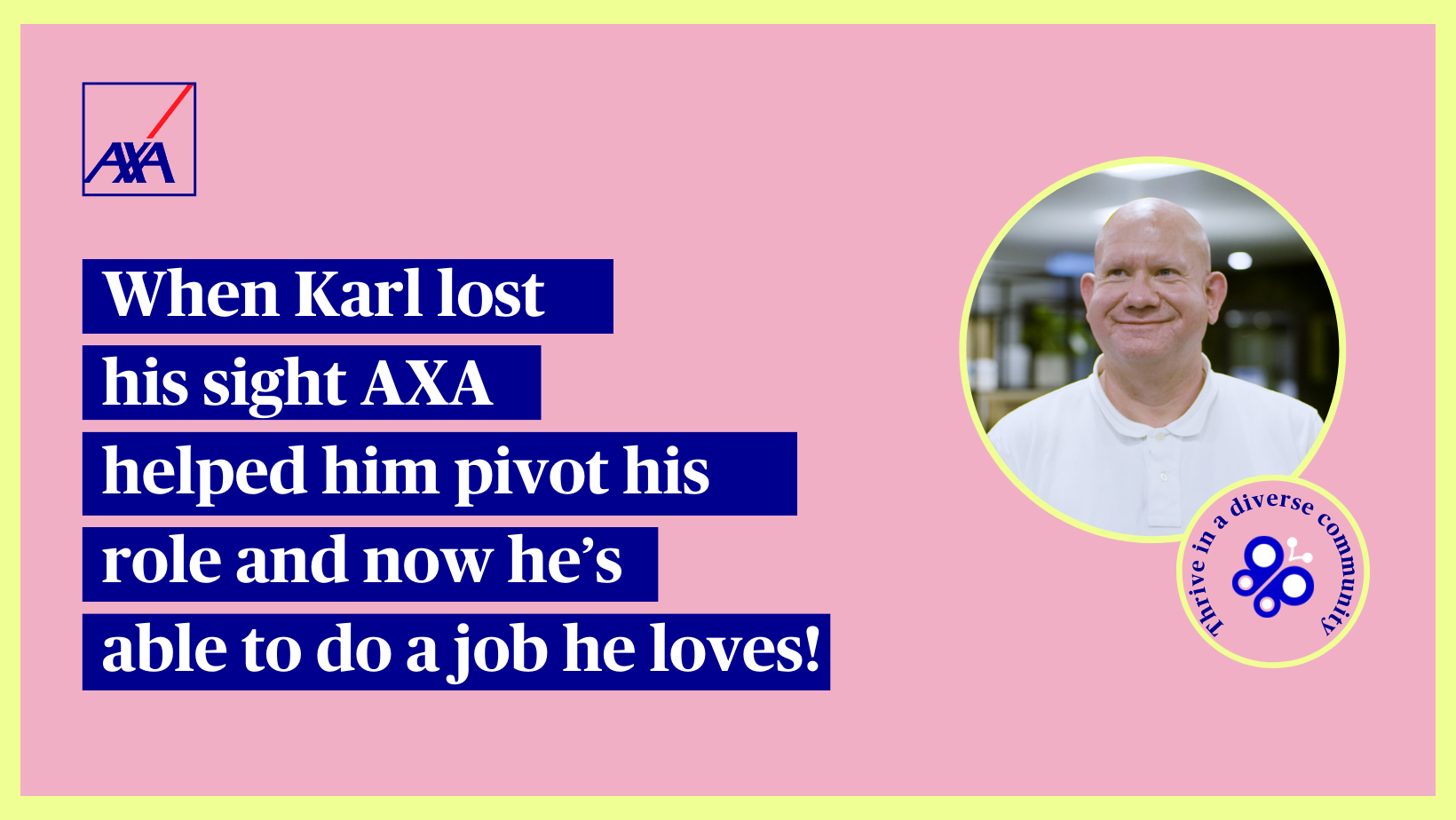 Paralympian and AXA Brand Ambassador, Amy Conroy chats to some of our AXA Confidence Champions to understand what challenges they have overcome to build big and bright careers at AXA UK.
We know the importance of creating confidence in the workplace, and that large or small, every step our colleagues take makes a difference in their lives as well as others. Our AXA Confidence Champions have overcome challenges, and they show us that everyone can be their best selves, and create change, with the right support and a 'Know You Can' mindset.
Karl from AXA UK, shares his story

"I've always had 'poor' sight and had a full retinal detachment in my right eye as a child – I lost all vision in that eye at that point. I retained useful vision until I was diagnosed with Retinitis Pigmentosa (RP) later on in my mid-to-late thirties. The last part of any residual vision failed about 4 years ago now putting me into the fully 'blind world'.
From a work perspective however, one of the main frustrations is web and application accessibility. When I first started at AXA (ten years July 2023!) I still had some residual sight left, but as my (RP) progressed to its final stages, I had to make the emotional move to a screen reader. The reader is called Job Access With Speech (JAWS) and enables a blind user to navigate screen elements using text to speech, in a rather Texan voice.
The Personal Assistant role I was in at the time wasn't really working with my unfolding situation. It was largely because the myriad of systems I needed to use within that role were not yet compatible with JAWS. I found myself in a vocational 'wilderness' and very unsure where, or even if, I could do something else within AXA.
I had a conversation with Mark from the Digital Team. We instantly clicked and I learned he has a strong passion for digital accessibility. Mark wanted to develop auditing and testing within the business for both our customers and our employees with visual conditions. His goal was to improve access to our systems using assistive technology.
I now work with Mark and the Digital Team, carrying out various tests and educating our business about accessibility. As part of our educational platform, we're advising both our internal developers and external vendors on their obligations to ensure our products and the wider digital estate are accessible to a minimum WC3 WCAG (Web Accessibility Guidelines). In basic form, this means folks like me can use our screen readers and read and enter any information into our web pages to purchase and service insurance products, in the same way as a sighted person would use the site.
While losing my sight has certainly been a difficult journey, I've connected with some really genuine and supportive people at AXA who've made it easier. In the earlier stages AXA provided me with counselling and a great guy called Stuart really stepped up and has been a rock for me.
Naturally I've had my struggles day to day, but my current immediate and wider team are truly fantastic. All of them are so supportive and encouraging - especially big shout out to Mark, my A11Y guru and evangelist, and Gary and Chris who are also so passionate about accessibility within the wider business. I'm now starting to feel that the winds of change are gathering force, and I'm very excited to 'see' where we can take this!"
If Karl's story has inspired you, search for a role that's right for you now. Or follow us on LinkedIn