AXA story
Adapting our application process to support candidates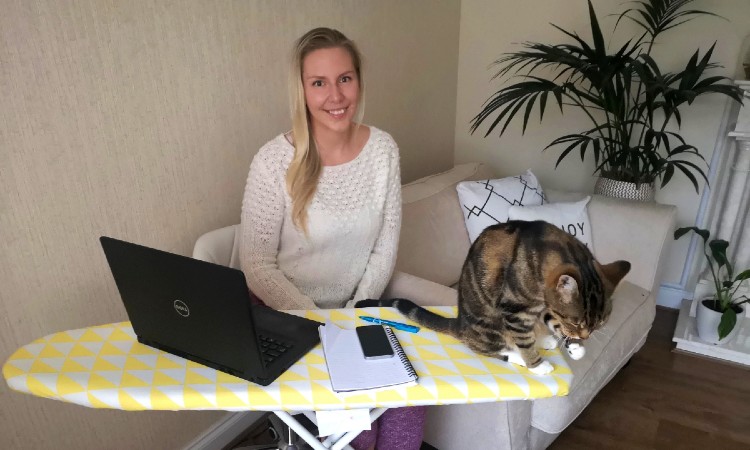 As a Resourcing Consultant within AXA's in-house recruitment team, Jo Potts helps AXA's managers based around the UK with the full recruitment process, from helping find talent, to assessment, onboarding and giving advice on a candidate's journey into AXA. With COVID-19, all the usual processes have changed and she explains how collaboration and resilience have played a key role in being able to continue hiring for our front line customer service roles.
"One of our key objectives is to make sure candidates feel as comfortable as possible with our recruitment process – and, despite COVID-19, this hasn't changed. One of the ways we'd usually do this is by inviting candidates to come to the office for an interview to meet us over a hot cuppa and see how we work but we very quickly had to adapt our approach once lockdown was announced. It was really important to us that we kept the warmth typical of our face to face interviews throughout the virtual interview process so we found new resources that would help us stay connected to candidates as well as fairly assess everyone in the best way possible. We also wanted each candidate to know what to expect at each point throughout the process and made it clear that there was no such thing as a silly question – it was as new to them as it was for us, so ultimately we were all on the same page.
Keeping the human element
We're currently hiring for customer facing roles and the first stage is a telephone interview with team leaders, which is quite informal and a good way for us to get to know candidates, understand their skillset and make sure that they feel the role is a good fit for them. The next stage is online testing, which will see the candidate receive a call and they're then required to navigate their way through an IT system to find the information they need to best answer a selection of customer queries. This will generate a report on their IT, problem solving and navigation ability, which are some of the key skills we look for in the role. Next up is the video interview with two members of the team where they'll run through some competency based interview questions. Prior to this stage, we'll send out a candidate preparation pack with lots of information on AXA and our values, what we expect to see as part of a competency based interview and some top tips on how to answer these types of questions. We want the candidate to feel as prepared as possible so they can bring their best self to the interview.
For the video interview, make sure they're sat comfortably and there are no distractions which may prevent our candidates from performing at their best. We'll send a test video link prior so they can do a test run beforehand, for their own reassurance. We're all finding our feet with digital meeting solutions and we know things will go wrong or not as smooth at first - I've found myself on mute much longer than I should have been and so have candidates – but it's OK, have a giggle and just be yourself. It can feel unusual speaking into a laptop or computer, but after the first 5 minutes or so our candidates can get into a flow.
Supporting candidates during difficult times
We're being as flexible as possible when it comes to our interview process because we understand this is an unusual situation and things are changing quickly. We've noticed that lots of candidates have asked to rearrange interviews because of the fast-changing nature of things, and while lots of people have been nervous to come forward and ask to do that because of how it might look, we've tried to make it clear in our communications that we're happy to move times and dates around because we want people to be able to perform at their best.
Lots of the candidates we've spoken to have suddenly lost their job or have been furloughed. We had one gentleman whose interview was in the morning, and by lunchtime he was unfortunately told that he'd been made redundant by his current employer. That afternoon, we called to say he had the job, so it was a roller coaster of a day for him. On top of that, as part of his redundancy package, he had to stay with his current employer for a designated amount of time and he was worried about taking the job with us. While we were hoping he could start as soon as possible, we agreed that it was the right thing to do to wait for him to be able to join us in August.
Working together
There's no doubt that this has been an unusual time to hire people but I've been so impressed with the collaboration and resilience of the team in coming together, cracking on and achieving amazing things. It's taken a huge team effort from IT, onboarding, training and the hiring team themselves, to make sure each step aligned and everyone knew their part in the process, going the extra mile to get the job done, offering solutions to one another to ensure the right people are hired and given the warmest of welcomes."
Interested in joining us at AXA? Take a look at our latest customer service vacancies in the North East and elsewhere else in the UK and apply online today.