AXA story
You never know who you might be sitting next to at work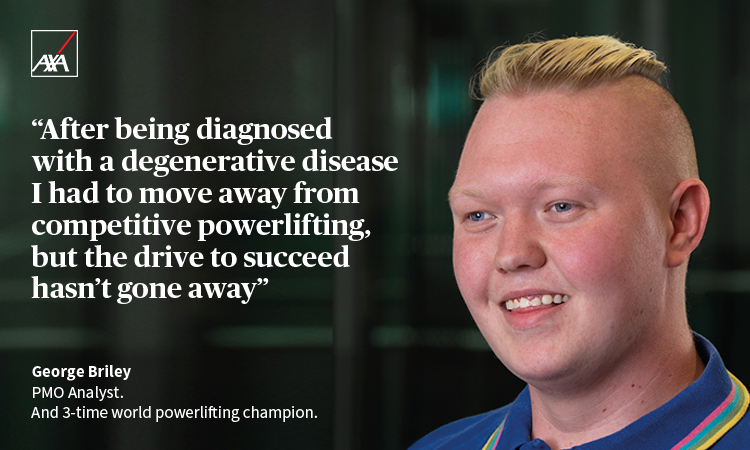 To you he's George - the kind, humble and supportive IT Project Management Office Analyst who's worked at AXA in Tunbridge Wells for the past three and a half years. But did you also know that he's a three-time world champion in the Powerlifting sport of Squat, Bench Press and Deadlift? That he's broken nine world records and earnt himself the nickname of the 'Baby Faced Assassin'?
Inspired by his hero Arnold Schwarzenegger, it started when he was 16 and still at school. The trainers at his local gym soon realised he had a talent for Powerlifting and encouraged him. With George's drive, persistence and ambition he became the best. It's not been easy and when a lack of sponsorship seemed like it would mean he was unable to attend the world championships in Florida he turned to the modern innovation of crowd funding to raise the necessary money.
A few years ago, an injury and previously undiagnosed degenerative disc disease meant he could no longer train for the sport he loved and which had become a massive part of his identity. But George is not one for dwelling on what he can't do - as Arnold would say "you can't climb the ladder of success with your hands in your pockets". So he's currently studying with the Open University for a BSc in Computing, IT and Statistics which will help him achieve his career goals.
Physically his recovery has been slow although he recently completed a 12 mile walk in 4 hours and is now cycling to work on the bicycle he purchased with the help of AXA's Bikes4Work scheme. His manager and colleagues have also been supportive in allowing any adaptions he might require to his workstation and working day.
Where others might quit, George's goal setting mindset means he has now set his sights on becoming the best in the 'bench press' discipline within Powerlifting and with his resilience and determination to overcome obstacles, it's likely he will achieve it.
Interested in finding out more about life at AXA? Read more of our #LifeAtAXA people stories here.