AXA story
You can have a disability and a career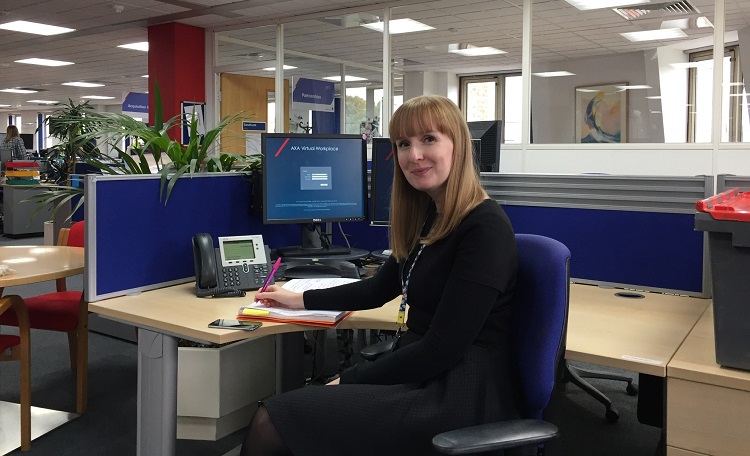 It's important to us that AXA is an inclusive environment where people with disabilities can get the support they need, either from their managers or the AXA Able Employee Resource Group. So, for International Day of Persons with Disabilities, we spoke to HR Resourcing Partner, Jen Manuel, to find out more about what it's like to live and work with MS.
What is multiple sclerosis?
Multiple sclerosis (MS), an auto-immune disease that affects the brain and spinal cord. Jen describes it as "When you see a phone charger with the outer coating broken and the wires underneath are exposed, that's what has happened to the nerves in my brain, neck and spinal cord." She was diagnosed in July 2015 and her main symptoms are fatigue and numbness down the left hand side of the body. "Both of those symptoms are invisible so unless I told you, you wouldn't know I was disabled when you look at me."
New challenges and new friends
With support from the AXA Health @ Hand team, a 24 hour health information service, she's been able to adapt to working with MS. Jen's become close with AXA PPP nurse Rhiannon, who she calls her 'guardian angel'. "When I was first diagnosed, I spoke to the team leader at Health @ Hand who told me Rhiannon had an interest in MS. When we first met it was quite formal in a work environment, but we now see each other as friends. I can go to her and talk about how my symptoms are impacting me at work, she's a great asset to the company"
AXA has helped Jen to adjust to her disability in other ways too, "I've had occupational health assessments and one of the adjustments made is that I am able to work from home two days a week. So I have a full set up exactly the same as it is in the office, dual screens, a chair, and laptop." For Jen, it's just like being in the office apart from one small detail. "I don't have to worry about being presentable for the office."
Importance of different perspectives
She believes International Day of Persons with Disabilities is important because it celebrates diversity. "Our customer base is diverse so there's no reason why our workforce shouldn't reflect that as well. We're a true representation of society."
Jen has some great advice to others with MS. "We've got equally as much to give to a role and have a different viewpoint on the world with an appreciation of others as well. Be open about it, there is support available and adjustments that can be made to a job. You can have a career and a disability such as MS."
If you want to work with a company that celebrates diversity and enables people of all abilities to succeed at work, view our vacancies here.
Or you can find out more about our diversity and inclusion policy by speaking directly to Diversity and Inclusion Manager, Jess Hardy.