AXA story
You can have a career at AXA and follow your passions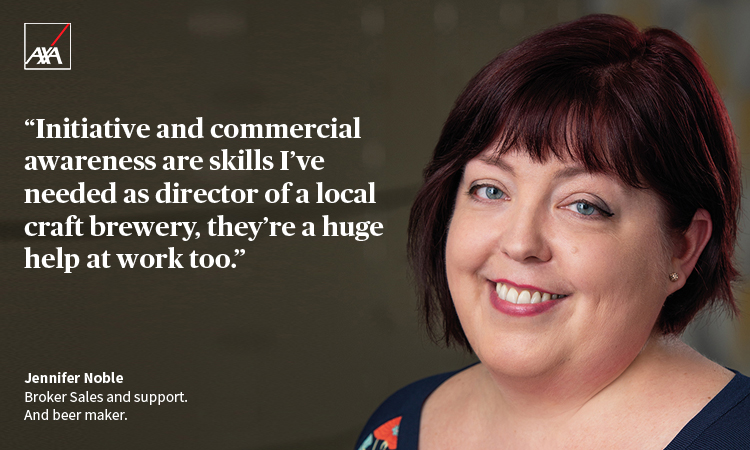 Jennifer has been with AXA Ireland since January this year, but has worked in the insurance industry for 22 years. She works in the broker team as a motor fleet underwriter. She's also an entrepreneur and her passion is craft beer. Craft beer is still a relatively new concept to the UK but is a thriving industry in the USA and Canada.
When she was younger Jennifer lived in Belfast and after many years of running her own insurance business in Canada, decided that she wanted to become an employee again, so decided to move back to Ireland. The move was partly inspired after reading an article about an entrepreneur who had moved back to Belfast from the USA to start a craft brewery. She wanted to get involved in something new and saw this project as exciting and something that a city like Belfast, which was going through a regeneration process, could really benefit from. When a local craft brewery was due to open, there was an open call for shareholders and Jennifer signed herself up. The business is set up as a co-operative and has now been running for three years with Jennifer recently being elected on to the board of directors.
At the moment all the brewers in her brewery are men and Jennifer's aim is to get more female brewers working for her. She's ambitious and determined to change attitudes and the stigma attached to the beer industry of being a 'men only' world. So, she's set up and manages a local 'Belfast Women's Beer Collective' which has about 350 members and is for women who want to learn about craft beer. She also organises local events for her members including tasting evenings to help educate women about craft beer and she also plans to bring this concept to the UK.
Jennifer feels that AXA has been very supportive of her passion and this has allowed her to have her professional career and a life outside – she says that there should be room for both and she can talk openly and honestly about her passion at work, something she has never felt able to do with previous employers.
Jennifer is a very inspiring individual and is a credit to AXA in terms of both her experience in the insurance industry and her business expertise. She believes in going out and getting the life you want, don't sit around and wait for life to happen!
Interested in finding out more about life at AXA? Read more of our #LifeAtAXA people stories here.