AXA story
Working mum, influencer and inventor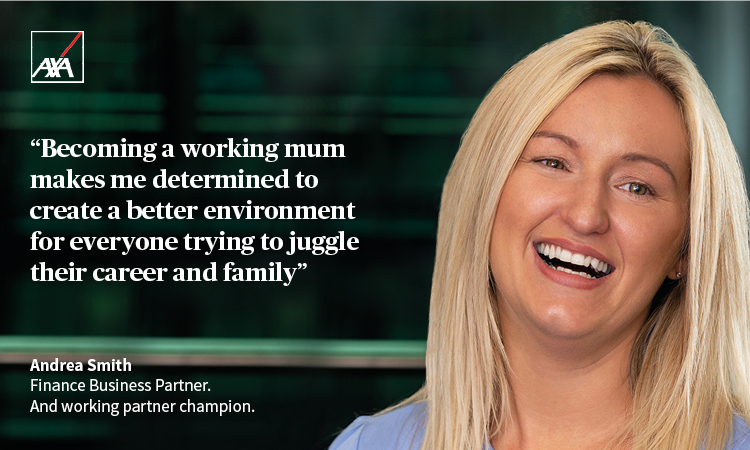 Andrea has worked for AXA for five years. Presently, she's a Finance Business Partner in Glasgow. Having worked hard to put herself through her finance exams, Andrea took time off when her son was born. Returning after seven months, it's not been easy to adjust to the challenge of juggling her home/work life and Andrea admits she is still finding the right balance. While she was off work she kept up to date with business changes through her manager and 'keeping in touch' days. When she returned she was determined to show that being a busy working parent should not get in the way of a successful and fulfilling career.
A change in her role led to the opportunity to meet and network with colleagues from other parts of AXA outside her immediate business area. Their different, diverse ideas, outlooks and ways of thinking helped spark her own creativity and, with the encouragement of her supportive manager, she volunteered to become an influencer for her team's Collaboratory sessions. After developing fun and interactive sessions she was amazed by the number of ideas generated in such a short space of time. In the end it was one of her own ideas - for a water leakage sensor - that was selected as a finalist in the Top 10, which led to an opportunity for her idea to be pitched to the judging panel in London.
She also now sits on the Gender Equality employee resource group board and leads on Glasgow activity and communication. Andrea's also part of a new finance initiative #BetterMe, working with others to think about their career development.
Andrea relishes the daily challenges she faces and grabs the variety of opportunities available (both large and small) to learn more each day. Her advice to anyone thinking about taking up an opportunity outside their usual day-to-day role is 'go for it' as you never know where it might lead!
Interested in finding out more about life at AXA? Read more of our #LifeAtAXA people stories here.