AXA story
With change comes innovation and improvement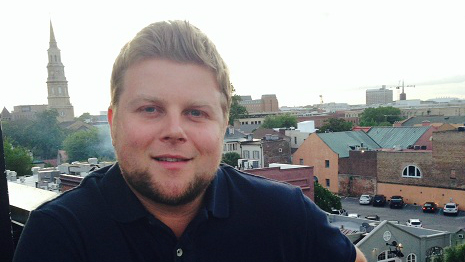 Hi, I'm Jonathan Marlow and I'm a Digital Partnership Manager. At AXA we offer our own insurance products direct to customers and also work with other companies to help them meet their customers' insurance needs. Current partners include Marks & Spencer, British Gas, TUI and Lloyds Bank. I look after and manage the websites of these external partners, working with developers to build a highly engaging online customer journey across all devices that deliver commercial business objectives.
I started at AXA back in 2004 as a Business Development Executive. My team was dedicated to winning new business and my role was to support the whole team, which meant getting insight into how the company worked and operated with other companies. I gradually saw clients and began writing my own deals, which was great.
I then had the opportunity to work with existing clients and worked on the Thomas Cook account, followed by the Northern Rock account. At this point, I genuinely thought about leaving AXA and potentially moving back into politics as I'd worked on new business, travel and household insurance and was worried I had no specific skills. But then a secondment to the ecommerce team came up. They were mostly technical people so they wanted someone with relationships skills to talk to clients and liaise across different departments.
After a successful six months they wanted to make me permanent in the ecommerce team, but I said I was ready to take a step back from that and learn something new; I wanted to be involved with online customer behaviour and the way audiences react differently to online content. Luckily I was allowed to do just that and so I spent quite a long time researching and learning about the sector: why certain websites work, why some don't and the philosophy behind it all. It was really interesting and it just so happened that this coincided with the movement of all our corporate sites to a new online platform and a complete redesign of the sites.
While there are limitations to the websites because of the financial regulations we have to reference, my aim was to make each website as engaging and easy to use as possible, which took almost three years. I was involved in the whole customer journey and had input on every element from design and testing to liaising with clients.
More recently I've been involved in a unique project, something that has never been done before. Within the Lloyds product range, there's an account that you pay a monthly fee for to give you added value, such as free travel and mobile phone insurance. Due to the number of different options for travel insurance the only way to be able to tailor that was on the phone or via post. But we've developed a website that does all this, so whatever your medical screening status, skiing preferences or family upgrade, it's all doable online – all 1200 potential combinations. It took 18 months just to design. But it was all worth it when we won an Insurance Times Tech Award for Best Use of Technology for the End Customer Experience award.
Since this project I've been promoted to my current role. I love the variety of the unknown online world and looking for the next technological innovation. The online world doesn't stand still: we could do something today and then in two weeks time Apple has changed its app settings and we need to reflect that change. Some people might find the constant change disheartening, but I love it. I like approaching something and making it better, continuously improving it. I love working with real people and having a direct impact on the customer.