AXA story
Why we need to shed light on the impact of Lupus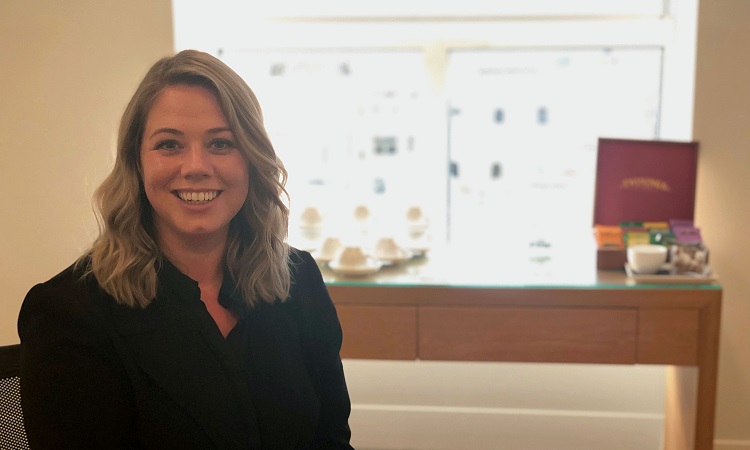 Lupus is an incurable autoimmune disease, which causes your immune system to attack your healthy tissues and organs. It can affect any part of your body and cause inflammation to the joints, skin and organs. It's a complicated disease to diagnose and can mimic a lot of the symptoms that are similar to other illnesses or diseases. So, for many people it can take a long time to be diagnosed. There's no cure, but there are a lot of different medicines that you can take to help manage the symptoms.
This October is Lupus Awareness Month – created to promote awareness and help improve people's understanding of the disease. That's why Ellen Ashton, HR Business Partner, and Chloe Bradley, Client Director, have been sharing their stories about how being diagnosed has affected them and their work at AXA.
Understanding my diagnosis
Ellen's journey to discovering she had Lupus began after the birth of her second child.
"I had a number of miscarriages," begins Ellen, "That's when the doctors began to investigate and they diagnosed me with a blood-clotting disease. After I had my third child they began to realise that it was something else. My symptoms had flared up after each birth and it's only now that I have the diagnosis that I know it's all linked. They sent me to a rheumatologist who diagnosed me with incomplete Lupus. I started taking an anti-malarial drug, which has been proven to help people with Lupus, but I was still having really bad symptoms and eventually I was diagnosed with full Lupus. I'm now in the care of a rheumatologist for the rest of my life.
I have extreme fatigue and joint pain in my hands, wrists, knees and ankles. I think when I was first diagnosed, I didn't really realise the degree to which it would impact me. There have been periods since then where I've had to be hospitalised and I think that's possibly the scariest thing for me. Other symptoms flare up and then I've been diagnosed with additional conditions that are related to Lupus.
Learning to adapt to Lupus
I'm a HR Business Partner. My role is regional and there's a lot of travel involved. So when it came to work, I had to make a few adjustments. Now, when I travel, I try to work from home the following day, so I can minimise the impact that the travel might have. On the whole I cope really well with work and a lot of that is down to my manager, who's flexible. She trusts me to manage my illness and my workload in the right way. Overall, AXA have been absolutely fantastic – they're such an inclusive employer and they offer me the kind of flexibility that I need to keep going.
Speaking up to create change
The most complicated thing is that Lupus is an invisible disease. You can't see the symptoms I'm having, so often people will look at me and they're totally unaware of the pain I'm in. Right now there is a stigma attached to invisible illnesses and that's why it's so important to start talking about these things. We need to remove some of that stigma and make sure that people can bring their whole self to work. That's why I reached out to Lupus UK to share my story as a fact-file for Lupus Awareness Month. I think by sharing my story I can be a kind of role model for other people; I work full-time, I have three children and right now I'm feeling good, so it really shows that being diagnosed with Lupus isn't the end. People can go on and lead healthy, happy lives."
Being open and honest
For Chloe, the support she's received has made all the difference to her experience.
"I was diagnosed about six years ago," Chloe explains. "I think if I hadn't been working for AXA, my entire experience with Lupus could have been very different. I had access to services at work that meant I was diagnosed fairly quickly and I've benefitted from our medical scheme and support services. My managers have been absolutely brilliant too and they've done their own research to understand what it can entail.
When I was first diagnosed, I explained to my manager that while I wanted to be at work, there could be days when if I was in pain or struggling with Lupus 'brain fog' I would find it hard to stand up in front of 50 people and present. I knew I could manage a range of other things and they were so accommodating and supportive that it made it much more manageable. As a business AXA really promote inclusivity and develop manager's skills to really understand what's happening with people. And that gives them the toolkit to really deal with almost anything that might be causing someone a problem at work.
I try to be open and honest with my colleagues, so that they understand what I'm going through. It really helps when I'm having a relapse and I'm not doing so well, that I can then say look this is happening, and they're there to support me."
Find out more about how we're committed to creating an inclusive environment at AXA.