AXA story
We're there when customers need us the most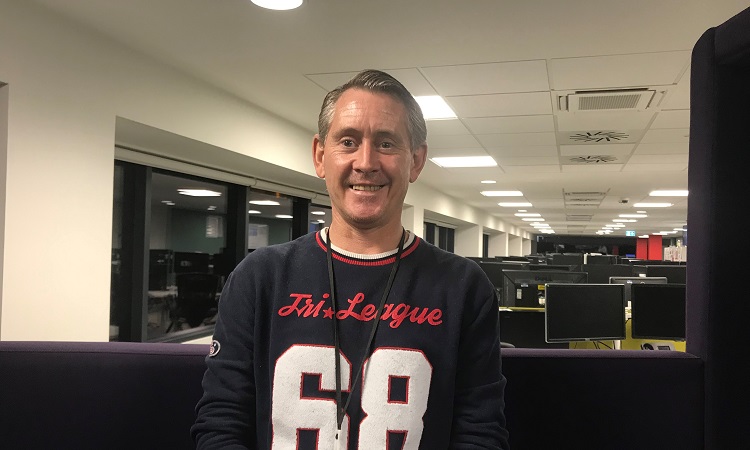 Ben Fowler and Maria Hill are Emergency Call Case Handlers for AXA Travel and help customers who need to use their medical insurance cover. They explain why it can be a challenging role, but is ultimately hugely rewarding.
Whether you're on a short city break, travelling for business or planning the adventure of a lifetime, travel insurance means you're prepared if something goes wrong. And if things do go wrong, you may end up speaking to our Travel team. Ben originally worked in Barcelona as an Emergency Call Case Handler, before moving to the Redhill office in May 2018. He explains the typical calls that come in: "Normally, we receive a call from somebody abroad and either themselves, a family member or friend, needs medical assistance. This could be a simple ear infection or it could be a broken leg, either way you open the initial claim, and that means that they can claim back any costs on their medical insurance. If it's more complicated, we'll secure their medical records, or their booking confirmation and use that to determine the cover from an insurance point of view. We may need to arrange medical repatriation – helping them get back to the UK with medical assistance – or organise new flights or a hospital appointment, it all depends on the individual situation. The aim is make sure the caller has everything they need to be safe and sound, understand how the healthcare system works, get the medical attention they need and that they get home safely."
Emotions can run high
Ben explains that the calls can take an emotional toll. "One of the calls that has really stuck with me was from a family on holiday in Egypt. One of their children had an accident in the pool. Obviously, it was a pretty traumatic experience to be on the other end of. It can be overwhelming. But we're well trained to expect these sorts of cases and it's this sort of situation where we can help the most by being in contact as much as possible and offering all the support we can. While it can be tough, we're well supported ourselves to take breaks when we need them and take time to reflect on what's happened by speaking to a manager if you want or need to." However sad or simple the story, Ben and Maria agree that the role is very rewarding because you're able to help people and put their minds at rest, making the best of a bad situation.
Maria explains that one of her first cases has really stayed with her since she started as an Emergency Call Case Handler last November. "I'd been in the role around a month and a lady phoned up about her ill husband. It wasn't anything serious and it wasn't a complicated situation, but I helped them find a hospital and organise a new hotel and flights. When they returned from holiday, she sent a lovely email saying how much I'd helped. It was such a great feeling knowing that I'd helped someone and made a positive difference to them in a tough situation."
Trained for the job
Our training is very thorough. We introduce our new recruits to the role with four weeks of classroom-based learning, before they begin working with experienced agents to understand what the calls really involve. Then, once they are answering calls, a trainer sits close by and answers questions. "At all times, the managers and supervisors have time for you and are available to answer questions," explains Maria. "After the initial call we'll often be in contact with the customer quite a lot, keeping track of their progress and making sure they're OK. The continuity of care is really important. And if we can't reach them or they are likely to call when we're off shift, we'll make sure whoever is due to take the call is fully briefed on the situation. It's busy but we're a close team and all support each other when we need it."

So what characteristics do you need to be successful in the role? "Empathy is hugely important," says Ben. "You need to take it case by case and you need to be able to help people, so empathy is a must. However, you also need to be a logical thinker. You need to be cool and calm and think about how to relay information to make people feel safe and sound." Maria adds that you need to have a genuine passion for helping people, as well as listening skills and good attention to detail. "We all come from different backgrounds in the team – I have a law degree, some colleagues used to work for the NHS, we've got a hairdresser, someone with their own business, etc. You can come from anywhere and do well in this role as long as you have the core skills."
If you think you'd fit right in, and you'd like to find out more, we're currently recruiting new Emergency Call Case Handlers to join our friendly team, in Redhill. Click here to find out more and apply online. Applications close on 15th November.