AXA story
Travelling for work and how it brings us closer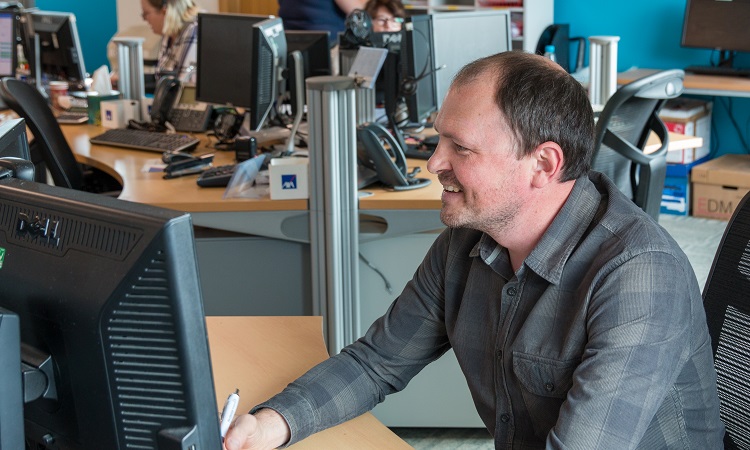 When you start a new job there's a lot to take in. Learning people's names, finding your way around, beginning to see where you fit in. It can also be an exciting time when you start forming important relationships with your team and understanding how you can work together. That's why we feel it's important to support our people any way we can when they start a new role. For Jamie, a development leader in our finance operations department, his new role involved not only employees in the UK, but an office in India too. So we decided that the best thing to do would be to send him there, so he could get to know them better and get a real feel for how he could support his new teams.
I'm a development leader, which means that I oversee the departments to make sure they have capability and can develop people in finance operations. There are about 35 people in the UK and 100 in India. We have really close links with India and quite a few people from our department visit the office there on a regular basis. Even though we outsource, in finance operations we have a hands-on approach. We're really there to support as much as possible and try and help people grow and develop to be the best they can be.
Exploring my new role
With my role, AXA were really open and honest right from the start. I found out that it would involve going to India when I was going through the interview stages. I knew that was going to be difficult as I've worked abroad before, in Cyprus, but I was young and didn't have as many responsibilities. Now I have a family, so I had to consider that and make sure I could balance my work away from home with my family life. What I didn't expect was to go to India so soon. I started in January and by the end of February I was flying out to India. It was really beneficial to me as it gave me a chance to understand what it was like in India and that really helped me to understand how to do my role at the start.
AXA helped me to prepare for the trip as much as possible, which made it all much easier. They have a travel guide and my manager was really supportive and explained everything that was going to happen. The only parts I had to take care of were the injections and getting to the airport in the UK. When I got to the office it really surprised me. I suppose you don't really know what to expect, but it's a really modern, open plan office with great facilities.
Part of the family
Everyone I met was so friendly and accommodating. We were invited to get together for food and people took the time to show me around and explain how things are done. There was a really strong feeling that people go to the office for more than work. There's a sense that it's a place where family and friends work for the same employer and want to spend time with each other. It's not just a job for them, they go out and socialise and once or twice a month different teams will go out together. It really felt like they embody the spirit of One AXA, which is all about team work and coming together.
Finding ways to improve
I was there for two weeks in total: meeting people, getting to understand how finance operations work over there and doing a little bit of time management training. There is quite a high turnover of staff in India, so we also wanted to make sure the induction is seamless. We actually built a whole new induction programme while we were there, changing everything from who's notified when a new hire is starting, to the training programmes they'll be going through. We set up development records so that people know exactly what they're going to be learning and how they're going to be developed. This was a fairly big task to do in just two weeks, but we had quite a few new people in and they were learning more, faster and were more engaged than we'd previously seen. We still have a lot of work to do, but it's already made a difference.
I plan on going back again in September or October and I'll probably go twice a year depending on what's needed. It's really beneficial to get to know people face-to-face and to build those relationships in person, because you get a lot more out of it. It's great that AXA support me in doing this. I'm hoping next time I'm there I'll be able to do a bit more training. We'll see how they're getting on with the changes we've introduced and then see what else we can do to improve things.