AXA story
Tomorrow's talent - apprenticeships at AXA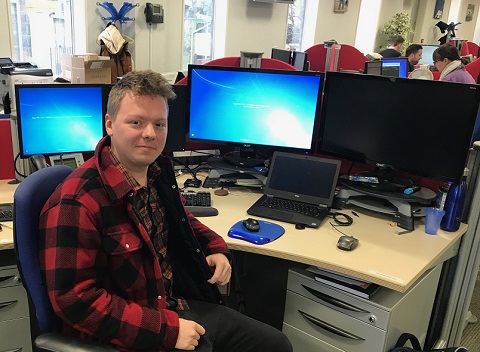 Dawn Keijzer, our Early Career Consultant, and Kieran Brown, a recent apprentice turned permanent employee, explain why apprenticeships are such an excellent opportunity to earn while you learn.
Eight months ago, Dawn Keijzer became an Early Careers Consultant, whose role involves developing the AXA UK early careers strategy, including graduate and apprenticeship schemes to upskill careers across the company. The introduction of the apprentice levy last April has had a big impact on how organisations offer apprenticeships. At AXA, Dawn has been helping structure and promote apprenticeships to ensure they provide the best benefits for the business and apprentices.
"Apprenticeships are valuable because you're learning alongside doing the role – it can be tough to do both together, but compared with University, it's actually a very attractive proposition because you come out with both a qualification and the experience," says Dawn. "There's definitely a change in mindset that University isn't the obvious choice now for college leavers, which is exciting and changing the types of people we have applying to our apprenticeship schemes."
Hands on and helpful
Among the number of recent qualified apprentices at AXA is Kieran Brown, an IT Local Support Analyst. Following a successful and enjoyable week of work experience at AXA, Kieran applied for a one year apprenticeship, which he spent getting hands on experience in the role, as well as receiving in-depth training at our London office.
"It was an extremely varied year," explains Kieran. "Some weeks I'd be in the classroom learning, and others I'd be busy taking calls and investigating issues. What was great was the opportunity to ask as many questions as I needed to, it really sped up the learning process. When my apprenticeship was up, I spent the next 18 months on the service desk and progressing to increasingly complex IT issues as on-site support."
Today, Kieran's role sees him setting up meeting rooms and equipment and working with managers to make sure they're happy with their IT service.
An amazing opportunity
For Kieran, his apprenticeship was an amazing opportunity and he would recommend them to anyone. "What's better than earning and learning at the same time and qualifying with a wealth of experience to progress with? Even now the apprenticeship is over, I can still see plenty of opportunities to progress within the company and continue growing my skillsets. I'm very appreciative of the chance to stay with the company who've invested time and effort into growing my career. I can't speak of apprenticeships highly enough."
That's not all
And the great news, says Dawn, is that apprenticeships aren't just for those debating their career post college and university, but also for people who are considering upskilling and attaining a professional qualification during their career.
"We are also using the apprenticeship funding at AXA for existing employee development. Anyone of any age can have the opportunity to study a professional qualification via apprenticeship, as long as it is applicable to their role. This can suit many different types of people, for example a parent returning from a career break who wants to update their qualifications, to those wanting to advance their career and achieve a degree or masters via an apprenticeship. The opportunities are endless, it's an exciting time."
Explore our careers website to find out more about our early careers options. You can also sign up for alerts if we don't have anything of interest to you right now.