AXA story
The Great Global Adventure returns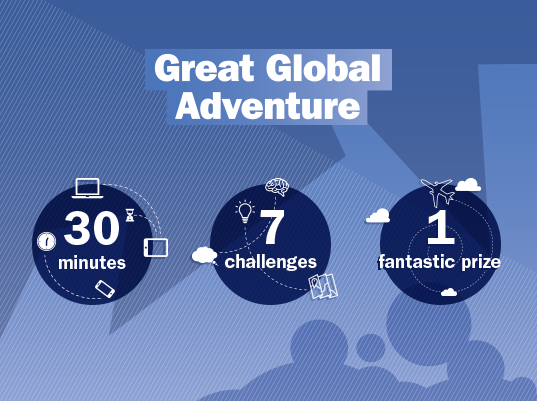 AXA's Great Global Adventure is back! Last year, more than 25,900 players from 221 countries and territories played the game. Comprising of a series of fun challenges, it's available to students and graduates worldwide. AXA employees are also eligible to take part in the game, competing to win a digital prize.
The global winner will be offered a once-in-a-lifetime adventure with:
A year of tailored travel.
Valuable work experience at two global AXA offices.
A rewarding community project with one of AXA's CR partners.
Last year's lucky winner Will Moore is halfway through his awe-inspiring adventure, which has seen him go from the Forbidden City in Beijing to sipping tea in a Mongolian Ger Camp and crossing a continent on the Trans-Siberian railway. He has also spent his first internship with AXA Investment Managers in Hong Kong. Will is only part-way through his adventure and having an incredible experience, revealing "these are stories that I will have for the rest of my life".
So, are you ready for your own adventure? Your journey starts now, with a single click, because this year's Great Global Adventure game is now open!
Play now: www.greatglobaladventure.com
Good luck!
For weekly updates and clues to help you along the way, visit us on Facebook and Twitter. To find out more about Will's adventure, follow him on Instagram.