AXA story
Ten amazing facts we learned because of Will's Great Global Adventure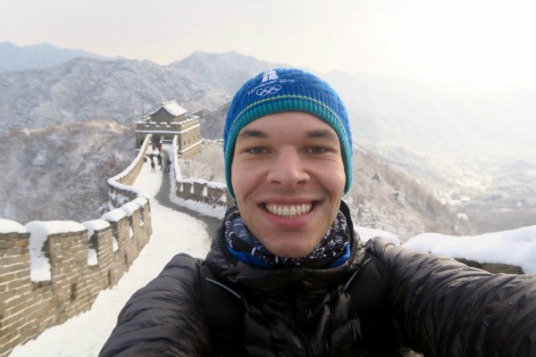 As the lucky winner of the first ever Great Global Adventure by AXA, Will Moore has already enjoyed some incredible experiences. His prize was unlike any other; an all-expenses paid trip around the world including a volunteering opportunity, as well as completing two different internships with international AXA teams.
As avid followers of Will's Adventure, we've celebrated his successes and explored the sights with him. So what top ten facts have we learned from Will and his Great Global Adventure so far?
Great walls and warriors – what Will taught us about China
An impressive stone giant found in Chengdu, the Leshan Buddha is the largest and tallest in the world. It stands at 71 metres high. No wonder it took 91 years to build!

The city walls of Xi'an are over 1,500 years old, and have protected 13 different dynasties. The wall encircles the inner city, which has a population of two million, while the outer city is home to the remaining eight million residents.

The iconic Terracotta Warriors were found in the tomb of Qin Shi Huang, the first Emperor to unite China as one country. Built over 2,000 years ago, it would have taken 40 years and 720,000 people to construct the tomb. Remarkably, it was only discovered in 1974 when Chinese farmers were digging a well.

As well as showing us the legendary Shaolin Temple, Will paid a visit to the Pagoda Forest. Every carefully built pagoda has its own Sanskrit script inside them, with a Buddhist master buried beneath. The oldest pagoda dates all the way back to 791 BC.

Above the Shaolin Temple, a 12 metre statue to Dharma sits on Wuru Peak. He was the founding father of Zen Buddhism, who travelled from India through China. The statue honours Dharma's meditation on the mountainside, which lasted for an astonishing nine years.

Built in 220 BC, the Great Wall of China spans an astonishing 20,000km of the Chinese landscape. "There's nothing else quite like it in the world," says Will, "it was awe-inspiring to be able to explore such an iconic cultural and architectural triumph."

The Forbidden City was the royal palace for two dynasties with 22 emperors residing there. No-one was allowed to enter or leave the city without the Emperor's permission. It's huge, with 999 rooms across 180 acres, and yet only took 12 years to build. No wonder around 80,000 people visit each day.

The Dragonsback hike took Will 284 metres high to Shek O Peak, offering spectacular views over the South China Sea. He also stopped by Stanley for a city escape, which is one of the oldest villages in Hong Kong.
Gers and Genghis Khan in Mongolia
In Mongolia's Terelj National Park, Will spent some time on a traditional nomadic Ger camp. The Gers are made from sheep or camel felt with wooden frames, making a safe home in the harsh conditions that can be moved quickly. The Gers always have their doors facing south, to act as a compass for passing nomads.

There are more horses in Mongolia than people, with nomads learning to ride from as young as five years old. So it's not surprising that the largest equestrian statue can be found here – honouring Mongolia's founding father Genghis Khan, the statue stands 40 meters high and is made from 250 tons of stainless steel. It symbolically points east towards his birthplace, and the ruler is shown with the golden whip from local legends.
What's next for Will?
As his first leg of his journey draws to a close, we'll see Will back in the UK to spend Christmas with family. Then Will jets off in January to take part in a voluntary community-work opportunity in Indonesia. Soon after, he'll be exploring Australia and New Zealand, going on to tour South America from Lima to Rio. He will round off his globe-trotting adventure by joining the AXA Lab in Silicon Valley, San Francisco for his second internship experience.
Get involved
If you want to keep updated with Will's Great Global Adventure, follow him on Instagram with @greatglobaladventurer, or on Discover AXA's Facebook and Twitter pages. You can also find his vlogs on AXA's YouTube channel.
Do you want the chance to live, work and travel across the world? Register now at www.greatglobaladventure.com for the first chance to play the Great Global Adventure by AXA, and have the adventure of a lifetime.