AXA story
Talking teeth on World Smile Day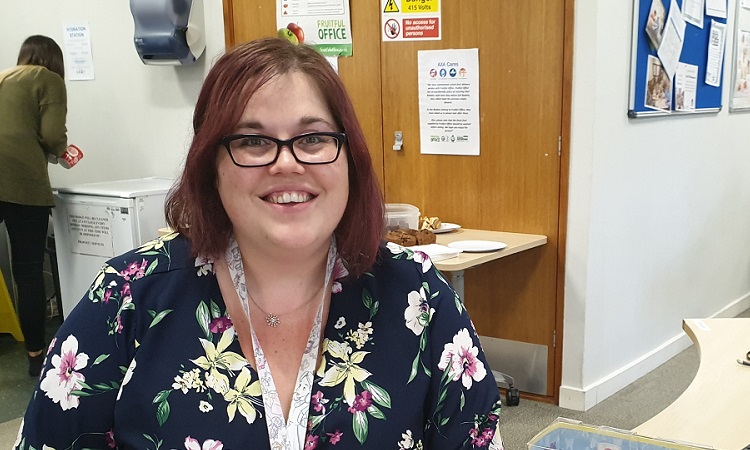 A smile can go a long way, from brightening someone's day to improving your wellbeing, and World Smile Day is the perfect time to spread the cheer with friends, family and colleagues. It's also a good opportunity to talk about dental health. You may be surprised to know AXA has a dedicated dental nurse team as part of our healthcare service. We spoke to dental case manager, Holly, to find out how they help give our customers a reason to smile.
Discovering new opportunities
After working as a dental nurse at a small family run practice for about 10 years, Holly decided she was ready for a fresh challenge and made the switch to join the dental team at AXA. "The AXA dental department looks at all the dental surgical claims that come in. So it's been a nice change from the dental practice. I've been here for around five and a half years and it's worked out very well, not just in terms of the work but for my home life as well."
Holly collaborates with advisors from across the world on a wide range of conditions and handles all kinds of claims, from troublesome wisdom teeth to problems with jaw joint reconstruction and inner-ear disorders.
Getting your teeth into insurance
Making the switch from practical dentistry into insurance can seem like quite a leap, but AXA gave Holly the support she needed to make the transition go smoothly. "It is really different coming from a clinical background into insurance, but we had two weeks in the academy where they trained you up on the systems and taught you the insurance side of things. I was very well looked after, everyone is so supportive. Whether they're in your team or not, everyone will be there to help you.
"After the academy my team showed me the daily work and what to look out for, how to make the decisions and how to proceed. Then you learn all the different issues and under the wing of your senior, you can start to make decisions independently."
A new life to smile about
Holly really values the flexibility offered at AXA and the better work/life balance was a welcomed change from the demands of her old practice. "AXA are brilliant with work/life balance, certainly in my team. Before, at the dental practice, if you had an emergency, you'd have to stay late, you didn't get a lunch hour, because the emergency patients took priority, whereas here, we fit in a lunch hour and we normally head home at five o'clock. I can pick up the kids after their afterschool clubs and I've still got a few hours at the end of the day for family time."
Spreading the cheer
Holly and the team often try to raise awareness of dental health in the office by handing out toothpaste samples to colleagues and putting up posters that champion dental health with fun facts. So for World Smile Day we asked her to share her top tips for dental hygiene.
Make sure you have a dental check-up twice a year, even if you don't have any issues.
Remember to floss and don't use mouthwash straight after you've brushed your teeth as that will wash all the fluoride away. It is better to wait about 20 mins.
If you plan on eating a lot of chocolate or sweets, it's better to eat them all at once, rather than slowly throughout the day, that way your mouth can neutralize it and help prevent decay.