AXA story
Supporting mental health for a better tomorrow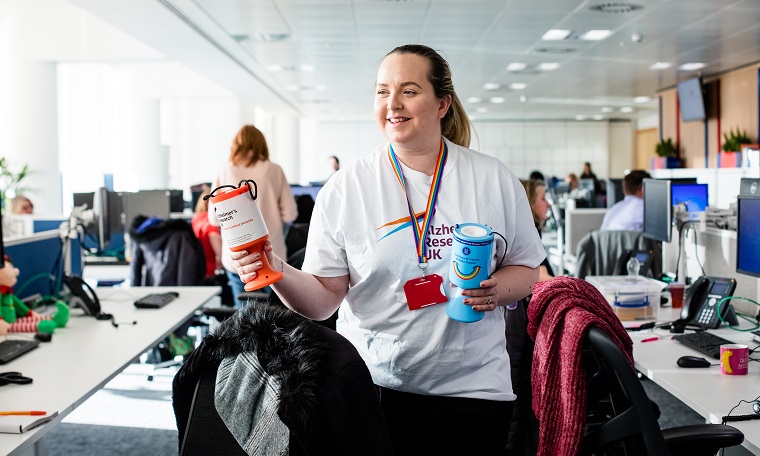 We believe that things can always be better. We go above and beyond to protect the things we care about; our customers, our people, our environment and our communities, so that we can make our lives better and safer for tomorrow. That's why supporting charity partnerships is such a huge part of the work that we do.
For the past three years we've been supporting Alzheimer's Research UK as our charity partnership. Now, our people have voted for what comes next and we're proud to say that we're supporting not one but two charities. Over the next 12 months, all our fundraising and charitable efforts will go towards supporting mental health charity MIND and Alzheimer's Research UK. Both charities are very worthy causes and fit well with our values of empowering people to live better lives.
"I'm really pleased that we're in a position to support both Mind and Alzheimer's Research UK, as we know the impact of dementia is something that really resonates with our people, and it's clear that they have the same passion for addressing mental ill health in society – another key challenge of our time."
Sonia Wolsey-Cooper, Chief Corporate Responsibility Officer, AXA UK & Ireland
Our UK executive and leadership teams are now on a mission to get everyone in AXA trained as a Dementia Friend. We kicked off the initiative at the Leadership day last October and it had a profound impact on those who took part. Currently there are 850,000 people with dementia in the UK and the numbers are set to rise to over 1 million by 2025. This means that each one of us will either know someone with dementia or will come across them in our daily or work lives.
That's why it's so important to us that we not only do our part to help research ways to combat Alzheimer's, but that we help to spread the word too. It doesn't take much to become a Dementia Friend, but knowing what to do when you come in to contact with someone living with it can make a big difference both in and outside of work. So here are three things to keep in mind:
Alzheimer's isn't an 'old person's disease'
It's actually a disease of the brain and just one of the diseases which are grouped under the term 'Dementia'. While most people with dementia are aged over 65, it's not just a natural part of aging.
Dementia doesn't just affect your memory
There are many different symptoms associated with the different diseases grouped under dementia. Memory loss is one of them, but people can also experience changes in behaviour, confusion and disorientation, and sensory changes to name just a few.
We can all help people with dementia
All it takes is a few minutes to find out more about what life is like for people with dementia and the little things that you can do that could make a difference.
We've now made the Dementia Friends training available to all our people on our YES Learning platform. And don't worry if you're not part of AXA (yet), you can still become a Dementia Friend and learn everything you need to know over on the Dementia Friends website and Alzheimer's Research UK.
Let's not forget our second charity partnership with MIND. Watch this space to discover how we'll be supporting MIND and raising awareness about mental health over the coming year.