AXA story
Start with sharing: Andrew's advice on dealing with depression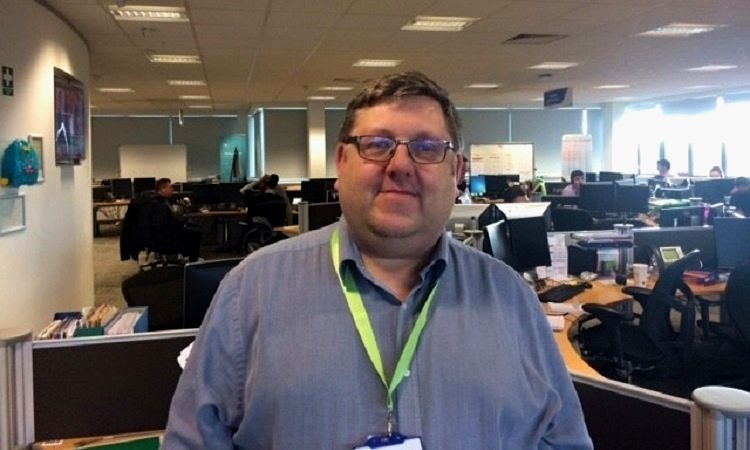 Let's say you've not been feeling well. You really need a day off work, but what do you tell your boss? Do you tell the truth, that you're feeling anxious and you've been struggling with depression? Or do you avoid the issue, and say that you've come down with a mysterious sick bug? It's a question that more and more of us are being faced with, as the number of people with mental health issues continues to rise. Research shows that 1 in 4 people in the UK will experience mental health issues each year1. So how do we deal with the growing numbers? Being open and honest with one another is a great place to start. That was the idea behind Time to Talk Day – to encourage people to start a conversation around mental health. We've been speaking to Andrew Platt, Digital Business Development Team Manager, about his own experience with depression, to learn more about how to handle tricky situations and how we can help one another.
"I started at AXA in November 2017 to lead the new Digital Business Development Team. Unfortunately, between October 2017 and July of 2018 I had a lot of things thrown at me. I had a cancer scare, and at the same time both my Mum and my wife's Dad were extremely ill. I had a lot on my shoulders at work too, managing the team and working to tight deadlines – something that I would normally cope fine with. I'd experienced both anxiety and depression before, but I'd always managed to cope. Now, I was faced with meeting it head on as I was very poorly and keeping it hidden was getting almost impossible and so exhausting.
Opening up at work
I decided to let everyone know that I was dealing with depression. I was worried beforehand, because I'd been a manager and while it shouldn't, I knew that it could cloud someone's perception of you. Despite this, I told my manager Anita and she was superb. Individually she knew nothing about depression, she'd never experienced it or known anyone who had, but she gave me so much support. Now, if I text Anita and ask her to ring me using a certain phrase, she'll know it has to do with depression.
Later, I was in a team meeting and was running a 'getting to know you' exercise – the opportunity to share something personal about ourselves. I took that opportunity to share with them that I was dealing with depression. They were initially shocked – but it really turned out to be such a good thing to do. Once it was 'out there' it was amazing how many people decided to share with me their mental health challenges once they knew I was a sufferer.
Sharing my experiences
The effort the business is taking to understand me and my version of depression has been really admirable too and that's been led by Anita. Just last week, I became a qualified mental health first aider and that's part of an initiative organised by AXA. I wanted to start giving more back and to help other people. It feels really powerful to share what I've been through, what kind of things I've done to improve and how these things could impact you. I've since been told by several people that have been struggling that I have inspired them to deal with their mental health issues – and that has made sharing my 'story' so worthwhile.
For me, there are three things I want others to remember. Share it, deal with it, treat it and then beat it. You have to share it first with the right people. You have to then deal with it by seeing the right medical professional, then you can start treating it and getting on with beating it. Initially, sharing it may seem the scariest thing to do, but ultimately this has the biggest value. It's so worth it and you'll be surprised at how compassionate people are and how good your friends are."
Making a difference
While talking about mental health issues is helping to change perceptions, we know that it's also important to take positive action. Which is why we've been training people like Andrew, across our offices, to become Mental Health First Aiders. Stacey Davis, Resourcing Team Leader explained why training employees in Mental Health First Aid (MHFA) is so important:
"When life gets overwhelming it can be really beneficial to talk to someone, and that's where MHFA's come in. We have an open approach and we're here to listen to people when they need it. We can also help guide people to professional help that they never knew existed, but mostly we're a trusted ear to listen. I've always been an advocate of mental health so when the opportunity for training came up it felt natural for me to apply. I don't want people to be ashamed of talking about it. They need to know that it's OK to not be OK."
We've also added our voice to a discussion around Mental Health First Aid in the Workplace, led by Luciana Berger, in the House of Commons. She spoke about our initiative saying, "The insurance company AXA has trained over 100 of its staff to become mental health first aiders, so now each of its UK offices has one." At AXA, we're committed to ending mental health discrimination and to looking after the wellbeing of every one of our employees. So we're doing all we can to help them live better lives and change the way mental health is perceived at work.
1 https://www.mind.org.uk/information-support/types-of-mental-health-problems/statistics-and-facts-about-mental-health/how-common-are-mental-health-problems/#one