AXA story
Speaking up for yourself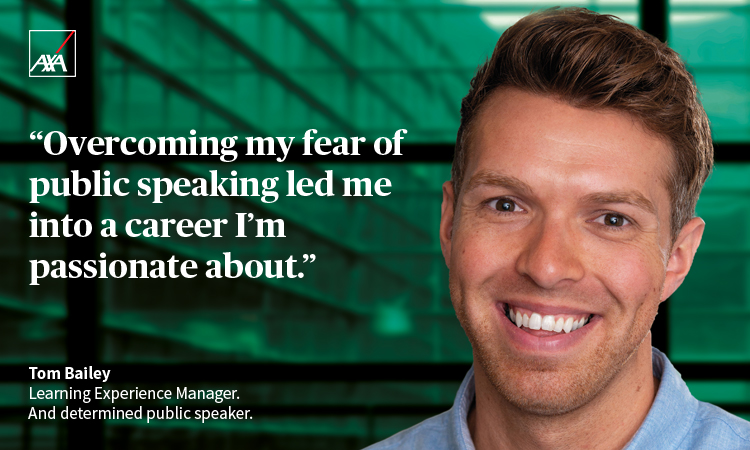 Tom has been at AXA UK for five years and works in the Learning and Development team. While colleagues would describe him as a very confident and personable individual, this wasn't always the case.
At school he was shy and had an acute fear of public speaking which would often lead to an intense physical response. This fear stayed with Tom throughout his university years and despite graduating with a degree in Financial Services, he struggled to get job interviews due to his lack of confidence and self-esteem.
The turning point for Tom came when he was asked to speak at a family funeral. He couldn't do it. This made him realise that something needed to change dramatically because his fear was taking over both his personal and professional life.
He decided to take action and bought books on public speaking, improving confidence and presentations. Although this theory was insightful, it was useless without real practice. Tom joined a local Toastmaster's public speaking club. For the first three sessions he didn't say a word or speak to anyone, but slowly and after two years of hard work and determination, he built up confidence and skills, going on to be the club's President.
After gaining some much needed confidence, he went for job interviews and received positive feedback. Tom joined AXA's Partnerships Development team and had to visit clients and deliver presentations to their staff as part of his role. Tom was finally able to put the skills he learnt in the Toastmasters club to good use!
People at AXA have been very supportive, sending him to external workshops, and giving him the opportunity to speak at team meetings and in front of senior leadership. His most memorable achievement was delivering a talk at the CEO event in London in 2017. In return, Tom is helping to build a culture of learning across the company by encouraging managers and teams to engage with learning and personal development.
Tom has a real commitment to his own personal development and in his spare time continuously improves on his public speaking skills by visiting local schools and talking to school children about the importance of public speaking and overcoming those fears.
Tom is a strong believer of authenticity – just be yourself and don't try to be perfect - it's definitely an important trait when doing any public speaking.
Interested in finding out more about life at AXA? Read more of our #LifeAtAXA people stories here.