AXA story
Sharing experiences, changing perceptions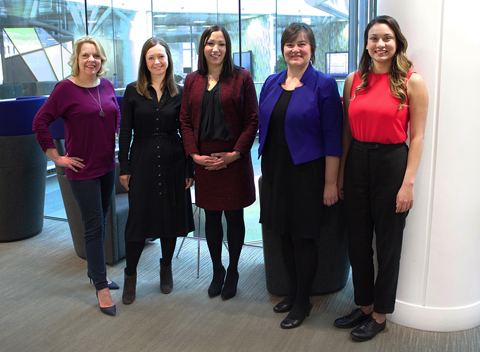 Changing the way society thinks is a mammoth task. Yet that's the challenge that International Women's Day embodies. While being a global day to celebrate all the achievements of women around the world, it's also a reminder to us that we still have a way to go.
We've been speaking to some of our people to discover why International Women's Day is important to them and to share their experiences, in the hope that we can inspire people everywhere to #PressForProgress.
The challenges that women face within society start from a young age. For Jelena, Chief Architect at AXA UK, one of her biggest challenges was the choice she made at university.
"At the time I chose to take Computer Science at university it was a very male dominated area and definitely not an easy choice for young women. Even now, it can be scary to be one of five women amongst 150 delegates at a conference.
What helped me was to turn the fact that I was different into an advantage. Maybe I just offer a slightly different point of view. I've had a really interesting career so far and it's my versatility that's helped me to progress."
For Chelsie, Project Manager within the HR department and an avid traveller, solo travel has played a huge part of her early career so far. Yet she still comes up against the idea that women shouldn't travel alone.
"As the winner of the AXA Great Global Adventure, I spent my first year with AXA travelling the world and meeting people from across AXA's entire global business. It was an invaluable life experience and I'm glad I didn't let those comments hold me back. You may not always feel like you're in a position to stand up to comments, but my advice would be to prove them wrong. You'll prove to yourself what you're capable of and be an example to others of what women can achieve in the face of outdated ideas."
It's not just the comments that people make that have the potential to hold us back. For many, like Amber, Finance Director for AXA Health, it's a mentality that grows over time when you see others facing challenging situations.
"There have been lots of points along the way where my own self-belief has been a bit of a challenge. Starting a family was one of them, as everything I'd seen and heard up until then had led me to believe that I would have to sacrifice something in my career. But I have to say my career has probably accelerated more since having children. The support I've been given here has pushed me rather than held me back.
Every woman has a different story to tell, but when you start to talk you realise that many of us have the same issues. We need to be open about those issues, more transparent and honest and have the courage to share our weaknesses. That's why I think we need more women in senior positions, to help us do that."
We agree with Amber. In fact, we've already launched a tailored Leadership Development Programme to help women achieve their full potential. We also appreciate that not all women want to be at the very top of the ladder, for instance in CEO or CFO roles, but that they still have high aspirations for their careers. For many women, it's about achieving a good work-life balance, as well as feeling that they can develop and that they're continuing to be challenged. Joanne, Senior Counsel Group Legal and former Sponsor of AXA Women UK, told us about the importance of not making assumptions about women and their appetite to climb the career ladder.
"There's a traditional view of what 'having it all' means to women; having a very high-powered senior role while being the 'perfect' mother. But having it all means something different to different people. For some, it means being able to have a child while working, for others it's about also having the time to pursue your interests outside of work.
I've been given opportunities to move role since having my two children, but I had the self-awareness to know that I was at my capacity at those points. What's great is the open conversations between me and my manager. It's empowering to know that I can make that choice about what is right for me – and through my work as Sponsor I hope I fostered that confidence in other women."
Everyone develops in their own way. Some of us are fortunate to have mentors who help guide us and a self-belief that drives us, like Nicola Green, HR Director, who refused to listen to outdated ideas.
"On the whole I've had really supportive people and really strong women behind me in my career, who've helped mentor me to get where I want to go.
In my past career at another company though, I was told very clearly that girls don't do management. Most people who know me know that I'm a little bit opinionated and I'm a little feisty, so of course I thought 'I'm having none of that, I'm going to fight my way through'. I now lead a large team and I'm proof that women can do management."
We're taking steps to tackle many of these issues for our people. We've signed the women in Finance Charter and we've recently released our Gender Pay Gap 2017 results. Bertrand Poupart-Lafarge, Chief Financial Officer and our Women in Finance champion, is responsible for our gender diversity agenda. Here's what he has to say:
"We must press on towards achieving gender parity. We need to take action to ensure that women can develop in an environment of equal opportunity and gender parity."
Have a story of your own about the challenges you'd faced in your career? Share them on our AXA UK Careers Facebook page or tag us on AXA UK Careers Twitter with #PressForProgress.