AXA story
The secret to being 100% yourself at work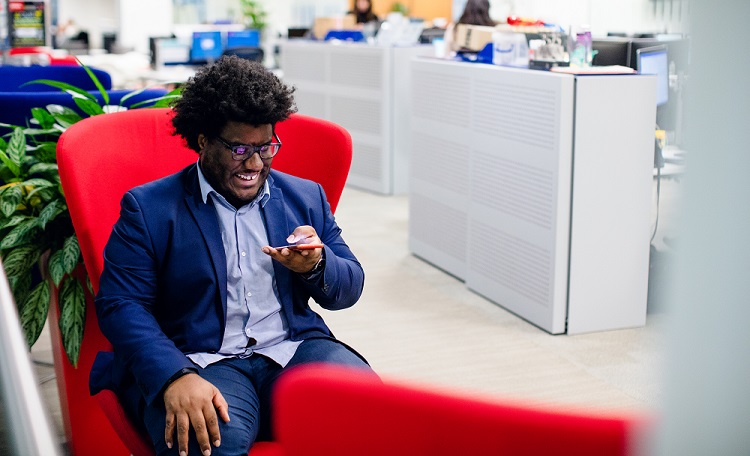 Our customers come from a huge variety of backgrounds and cultures, so for us to provide the best service possible it's vital our employee base reflects that. But it's not enough to simply change a company's employee demographic. We want all our people to feel 100% comfortable to be themselves at work.
So, to celebrate Black History Month, we spoke to Public Relations Manager and Chairman of the BAME Employee Resource Group (ERG) at AXA, Leigh Jackson, to find out why it's important for companies to embrace diversity and inclusion. Here's what he had to say.

Bring 100% of yourself to work
For me it's about being free and feeling comfortable in your own skin while in the office. You shouldn't feel as though you have to hide who you are, as this will only cause you to suppress your personality.
For instance I never tuck in my shirt. It's not something that I do just to make a statement, it's more the fact that I don't feel comfortable doing it. I never wear a tie. I wear my hair in a way that 10-20 years ago wouldn't have been called professional – no short back and sides.
Have your voice heard
AXA does a lot to encourage diversity in the workplace. We have five different ERGs covering a range of areas; from gender and LGBTQ, through to ethnic diversity. These groups are managed by members of staff and in them people are encouraged to share their thoughts, fears and ideas as well as content around what it means to them to be part of the groups.
At the highest level we have our Diversity & Inclusion board looking at ways to change the business to help make our workforce as diverse as our customer base and the population in general.
The importance of BAME employee resource groups
Nationwide, black and ethnic minority workers are underrepresented in many companies and industries, so we want to help change this. I've been on the D&I board for 18 months and Chairman of the BAME ERG since it launched in March. Our main aim is to make the company as diverse as our customer base and the larger public. We also want to strike the right balance, as we understand places like London and Birmingham will be more diverse than places such as Tunbridge Wells. So we want the local community to feel that people from all walks of life work at the company, but we know that is not going to happen overnight.
We're interested in introducing things like blind CVs where you can't necessarily tell the ethnicity of a candidate, to help eliminate perceptions or unconscious bias. We also have lunch and learns and webinars where members are able to express themselves, and I also hosted an internal Q&A session as part of Inclusion Week.
Celebrating Black History Month
I think some people don't fully understand what it's like to be a black person in the modern age. There is an assumption that because people are open about racism now, it's solved and there is no more racism. It's not like that at all. So I can't stress enough how important Black History Month is. That's why I'm writing a series of blogs about lesser known events in black history, just to highlight events that have happened and why they are important.
Spreading the message
I would urge others to be confident and comfortable being themselves. Don't feel like you have to conform to what you think is office appropriate. Obviously there will be rules that you have to follow, but if you wear your hair in a certain way or have tattoos, continue with that. Don't feel as though you have to cover yourself up.

At AXA we want everybody to come to work feeling happy and comfortable in their surroundings.