AXA story
Running from zero to hero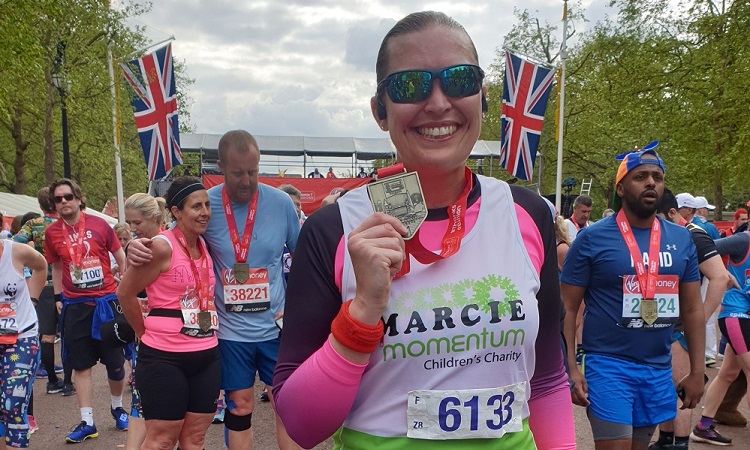 By day, Head of Resourcing, Marcelle Foxcroft, is responsible for making the AXA candidate experience the best that it can be and positioning AXA as an employer of choice in an incredibly competitive market. However over the last few months, you may have also spotted her racing along the streets, getting ready for her first marathon, just six months after her very first run. How's she done it? It's all thanks to the incredible support from across the business.
"I would never describe myself as a runner. I've never even done a 5km park run. But when a notification popped up on my desktop about the London Marathon entries being open, I had a moment of insanity and entered. Then, on 13th October last year, I found out I had a place. Later I found out that getting a place the first time you apply was like winning a golden ticket for Willa Wonka's chocolate factory – if you get a place, you have to run! That evening I put on some old trainers and jogging bottoms and found myself, mainly walking, a 3km route. At this point I realised I was going to need some help if I was ever going to progress to a full marathon. I downloaded a beginners training plan and phoned a friend, who was a runner. She put me in contact with a trainer and a sports physio and that was the start of my marathon journey."
Training for charity
Marcelle completed the London Marathon in an impressive 5 hours 38 mins, which is an amazing achievement for her first ever run! In the process she managed to raise a whopping £1,602.20 for her chosen charity.
"I figured that if I was going to do a marathon, I should do it for a really good cause. When I was setting up my charity page, I was scrolling through all the options, probably for about two hours, when I came across Momentum Children's Charity. It's local and set up by a nurse who used to work at Kingston Hospital, where my daughter was in hospital with bronchial-pneumonia at both six weeks and six months old. The charity is for children with a life limiting condition or cancer, and it was a no brainer for me. I couldn't imagine my family going through this, and I wanted to be able to do my bit to support this amazing charity.
Knowing that what I'm doing is helping families has actually helped me to get through some tough times when I've been running. As has the incredible amount of sponsorship I've received – I've kept running because people believe in me. I've had so much support from AXA, not only from the generous sponsorship, but there are two runners from within the HR community here who've done a marathon before so they're very much my go-to support team. They've been invaluable, from giving me advice on what to wear and fuelling advice and what to do or not do, as well as asking how my runs are going. The support has been phenomenal."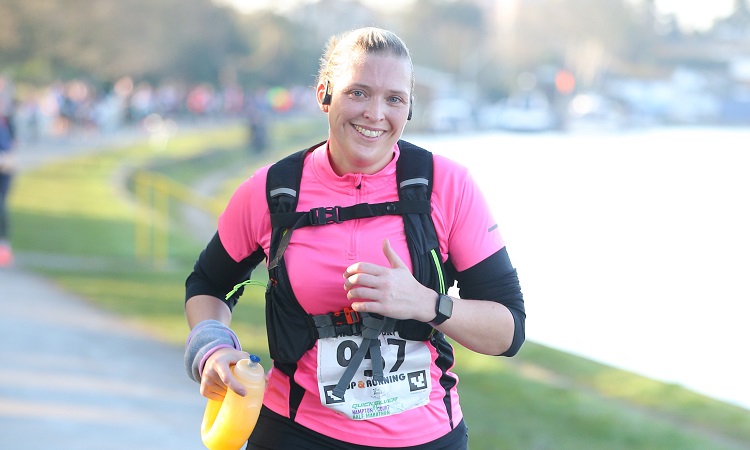 Adapting my working week
"I didn't realise how much time would go into training – I see my personal trainer on a Tuesday, do swimming while my kids have their lessons on a Wednesday and fill the rest of the week with running. It's the longer runs, where you're taking three to four hours out, plus prep and recovery time, where I started struggling. There weren't enough hours in the day while working full time and with two small children. So I spoke to my boss and asked if I could put in an informal flexible working request. I asked to start really early on a Friday morning, so I could do my full day by lunchtime and get my five hours in on the afternoon, so the running didn't impact my home life as much. My boss instantly agreed, which was fantastic because I can now do those long sessions in the afternoon when it's warmer, plus my husband and my children get to see me at the weekends again!"
Interested in finding out more about life at AXA? Take a look at our #WeAreAXA people stories here.