AXA story
Representing Team Ireland with pride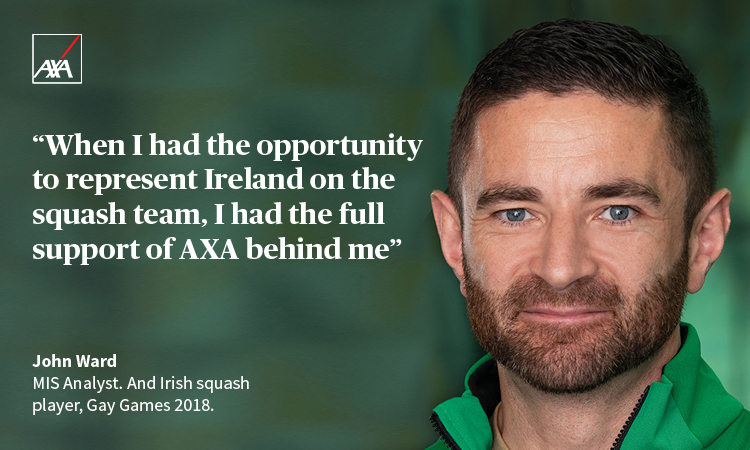 John works for AXA Ireland in the finance department and is a keen sportsman with a passion for squash. He's part of the AXA Ireland squash team and attended the Gay Games in Paris in 2018. John describes the whole experience as an amazing one; both he and the team thoroughly enjoyed themselves. John came 8th out of 88 in the squash competitions – a fantastic achievement.
His involvement started when he joined his local gay tennis group in Dublin, after a while he was looking for a new challenge and so decided to try squash. Being a tennis player, he took to it well and has only been playing for four years.
The team kit was sponsored by AXA: a result of John approaching Bertrand Poupart-Lafarge, Chief Finance Officer and diversity and inclusion sponsor, when he visited the office in Dublin. Bertrand emphasised the importance of diversity and inclusion in the workplace during his talk, and John persuaded him to sponsor the Dublin Pride event. This subsequently led AXA Ireland CFO, Richard Whelan, to sign off on sponsorship for the AXA Ireland squash team. The team received star treatment at receptions by the President of Ireland, The Office of the Taoiseach and while in Paris a visit to the Irish Embassy.
People at AXA have been very supportive of John's participation in the Gay Games. He feels that from an AXA Ireland – and, in particular, from a Dublin – perspective ideas about diversity and inclusion are getting going and that attitudes are changing. He is on the D&I committee and one of his goals is to encourage more conversations about the importance of diversity in the workplace.
John's ethos is to bring 100% of you to work – make sure you're comfortable in your own skin and this will make you more approachable. John believes that every individual at AXA has something to offer and that includes the things that make us different.
Interested in finding out more about life at AXA? Read more of our #LifeAtAXA people stories here.